Wine Excise Taxes Cut as House and Senate Pass Tax Reform Legislation
The U.S. Senate joined the House last night in passing sweeping legislation to rewrite the tax code, and though the The House will be taking a second vote today, the White House is expected to celebrate the tax bill's passage later today, as it's nearly a done deal.
The legislation includes a significant reduction in the excise taxes wineries pay based on every gallon they produce.

The legislation will reduce excise tax payments for every winery in the country by expanding the value of the existing producer credit and doing away with a phase-out that currently prohibits many wineries from receiving any benefit.

That's because the comprehensive tax legislation includes the Craft Beverage Modernization and Tax Reform Act.

The legislation provides a $1 credit per gallon for the first 30,000 gallons produced; $0.90 for the next 100,000 gallons; and then $0.53.5 for up to 750,000 gallons.

Additionally, the legislation allows wines with up to 16 percent alcohol levels to be taxed at the lower rate that previosuly applied to wines with less than 14 percent alcohol. Wineries producing wine that's 14.5 percent alcohol are going to pay $1.07 per gallon instead of $1.57. Some of the maneuvers wineries go through to bring wines down to 14 percent for tax purposes won't be necessary.

"This ranks right up there with all the work that we've done over the years on direct to consumer shipping, Wine Institute president and chief executive Bobby Koch told Wine Business Monthly. "Wineries are going to be very, very happy ... "

Wineries will receive a maximum tax credit of $451,700 annually under the bill.

Small and, especially mid-sized wineries, will benefit most, though for the nation's largest wineries – those paying $150 million, $200 million, and even more in excise taxes - $451,700 isn't as huge.
That said, the change in the tax class from 14 to 16 percent probably is huge - much more significiant to the larger wineries.
Sparkling wine producers get excise tax relief under the legislation too, and the legislation increases the carbonation limit for still wines, which is expected to lead to innovation with effervescent low-alcohol wine products. Some of the low-end sparkling wines could change their C02 levels to get to that lower tax class.
The provisions also apply to imported wines. That's a change, because the small producer tax credit that was enacted when excise taxes on wine were raised 500 percent back in 1990, didn't apply to imports.
Jeff Gutsch, CPA, partner and group leader with Moss Adams LLP, said the Craft Beverage Modernization and Tax Reform Act includes a useful provision for wineries producing wines that age before release. The act considers wine finished and no longer subject to cost capitalization after the manufacturing process – previously that threhold was met when wine was held for sale. "If you're making big Napa Cabs, and you're ageing them for a couple three years before they're relased, it's helpful," he said.
When the Craft Beverage Modernization and Tax was initially introduced, Wine Institute opposed it, because it provided tax relief for breweries and distilleries, but not wineries. Sen. Ron Wyden (D-OR) subsequently included wineries, accepting a number of modifications Wine Institute requested. With a unified industry, the legislation garnered more support. Wine Institute has been working since 2015 to pass the legislation. More than 300 Representatives and 55 Senators signed on as sponsors of the bill, co-sponsored by Senator Roy Blunt (R-MO).

Senator. Rob Portman (R-OH) offered the amendment that added the bill to the broad tax reform legislation.
The excise tax credits, scheduled to go into effect in January 2018, are effective for two years but Koch said he's confident they can be re-upped given the broad support for the legislation.

Beyond the Craft Beverage Bill, other changes in the tax legislation expected to benefit wineries include: modifications to the estate tax; pass-through tax provisions for LLC's and partnerships; leaving the tax treatment for LIFO, or last in, first out inventory accounting, untouched; and immediate first year expensing for capital improvements, a five year provision that will appeal to wineries interested in expanding their crush pads or purchasing new farm equipment.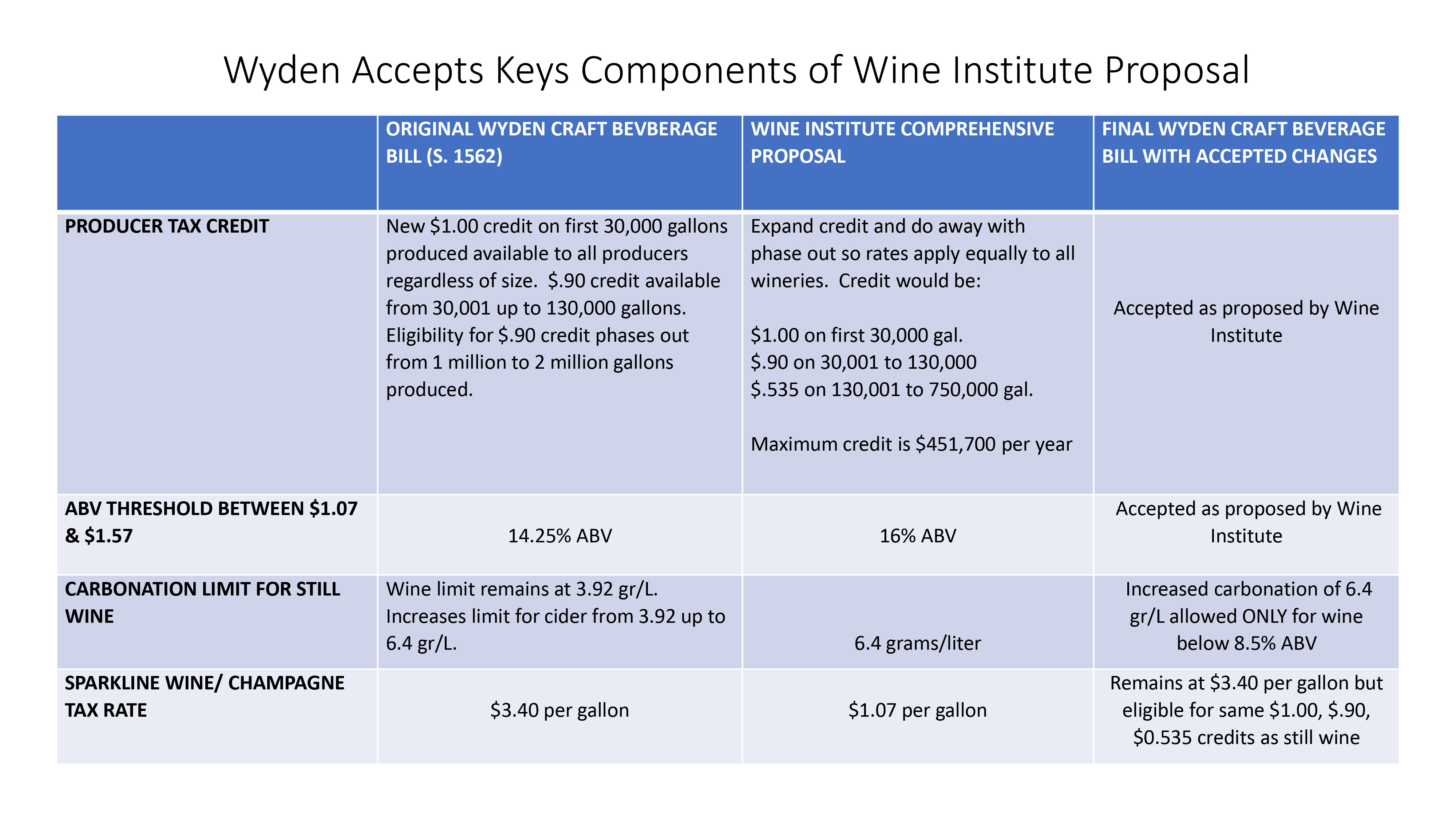 a reader comments:

WineAmerica had a significant role in getting the House and Senate sponsors, giving our presence in so many states. ... A winery like mine benefits. I am just now crossing the 100,000 mark so I will save $1 per gallon on my incremental sales up to 130,000, and save $1.2 per case on all wine labeled over 14%. I am guessing $50K plus per year. The big guys really win. $417K plus $1.2 per case on wines over 14%. Millions.
a reader comments:

And these tax savings will be passed along to consumers? Employee raises? Delayed price increases? Increased marketing? (Increased investment seems already covered by better writeoffs.)

a reader comments:

Am I the only one that is worried that the TTB will interpret this new regulation to allow only wines that were actually produced by the winery that removes the wine to be eligible for the new credits? The language specifically says "Produced and Removed". This is the same language that has been interpreted as disallowing wines that were transferred to warehouses and removed by the warehouse, when the winery that holds title didn't actually produce the wines inside the bottle, making most, if not all, wines removed by the warehouses ineligible for the credit. This will cause massive disruption in the existing system of wine distribution for small, medium and large wine companies. I for one am not advising any clients on what I think the tax implications will be for January 2018 until I see what the TTB has to say next week. Of course, we only have three weeks to sort this out before the first semi-monthly period ends on January 15th. I for one am very concerned.
Liz Holtzclaw,
Principal
Holtzclaw Compliance