Business of Wine Leadership Honorees
Randy Short - Tony Correia - Frank Farella - Greg Scott
Sonoma State Launches Business of Wine Video Series
Wine Business Monthly Publishes Top 50 Leaders List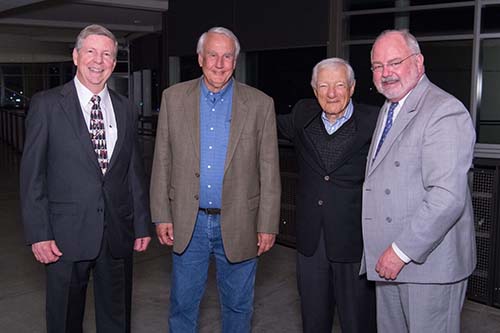 left to right, Randy Short, partner, Sheppard, Mullin, Richter & Hampton LLP; Tony Correia, president, The Correia Co; Frank Farella, founding partner, Farella Braun + Martel, Greg Scott, partner, PricewaterhouseCoopers (photos by Bob McClenahan napasphotographer.com)
It was about leadership, a gathering with top leaders recognizing four of their own.
Recalling that Ernest and Julio Gallo had extraordinary vision and understood the leadership it takes to be successful in the wine industry, Master of Ceremonies Roger Nabedian, Senior Vice President and General Manager at E. & J. Gallo Winery, stressed the importance of fostering new talent and mentoring new leaders.
"This evening is called 'business of wine leadership' dinner for good reason," Nabedian said. "We're here to celebrate the leaders of today as well as the future leaders of the wine industry."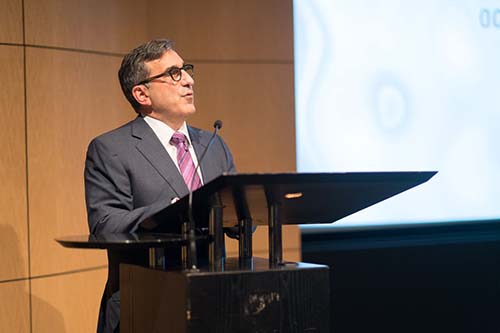 Roger Nabedian, Senior Vice President and General Manager at E. & J. Gallo Winery
Four individuals who've been incredibly influential in contributing to the wine industry's collective success were honored in a gathering at the Culinary Institute of America's new Napa, California campus, the former site of Copia.
The honorees were Tony Correia, the industry's best known real-estate appraiser; Taxation and accounting wizard Greg Scott; Attorney Randy Short, who has handled some of the most high-profile wine industry mergers and acquisitions of the last four decades; and Frank Farella, counsel to many leading vintners, the late Robert Mondavi among them.

"Leadership is about making a difference, making a difference for the organizations for which you work, but also making a difference for the communities in which you live," Sonoma State University School of Business and Economics Dean Bill Silver said.
Attendees previewed highlights from a first round of interviews conducted for Sonoma State University's Business of Wine Video Series, directed by Emmy-award winning filmmaker Dennis Scholl. The multi-year project, just getting started, will entail hour-long videos with fifty accomplished leaders discussing their entry into the world of wine, their achievements, goals, challenges, setbacks, regrets, views of leadership, and so forth.
Each interview will be turned into a free-standing documentary, a teaching tool meta-tagged so answers to questions can be searched for by students. Scholl plans to eventually produce a documentary based on the interviews to pitch to PBS.

"The wine industry here is undergoing a lot of transition and this is a moment to capture voices who we've all listened to for decades," Scholl said. "We're approaching this project in a way that will allow the knowledge that we capture to be used in a number of different formats."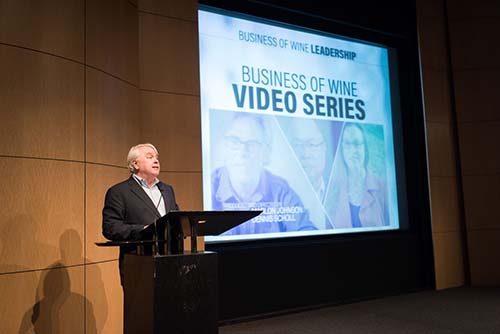 Dennis Scholl discusses Sonoma State University's Business of Wine Video Series

Sonoma State's Business of Wine Video Series is being made possible through support from Jeff Menashe and Demeter Group, which conceived of the Business of Wine Leadership Dinner
Honorees were acknowledged by some of their peers, who recounted working together, sometimes (with) tongue in cheek.
Silverado Premium Partners president Mark Couchman called Tony Correia "the fastest appraiser in the business"- not because of the speed at which he produces appraisal reports - but because of the pace at which he outran a Pitbull one day when he was inspecting a property.
Andy Beckstoffer, always an effective negotiator, recalled convincing Randy Short and his wife Mary to babysit his four children for a week when he left the country for a vacation in the 1970s.
Bill Phelps of Joseph Phelps Vineyards thanked Greg Scott for helping his family transition from the first to the second to the third generation. "This guy's mind works faster than anybody else's," Phelps said. "I know he talks faster."
Jeff O'Neill with O'Neill Vintners and Distillers recalled meeting Frank Farella in the early 1980s, when Farella's hourly rate exceeded O'Neill's weekly rate, and O'Neill recalled the extraordinary lengths Farella went to in order to adopt an abandoned dog that befriended him in Italy (the statute of limitations has passed).
"We've seen how important good leaders are, not only to individual companies, but also to the health of the overall industry," Wine Business Monthly publisher Eric Jorgensen said, noting the fortuitous timing of the event: the December WBM includes a list of the Wine Industry's Top 50 Leaders.
"Our four honorees are going to be on this list and I'm happy to say that many of you in the audience tonight will be joining our honorees on the list," Jorgensen said. "One of the reasons we did this was to acknowledge the great leaders we have in this industry and how fortunate we are to have them."
"I hope tonight's dinner is just the beginning of a group like this coming together as an industry to honor and celebrate our own and that we have more events like this where we can assemble and celebrate the leaders of today and look to a bright future with the wine leaders of tomorrow," Nabedian said.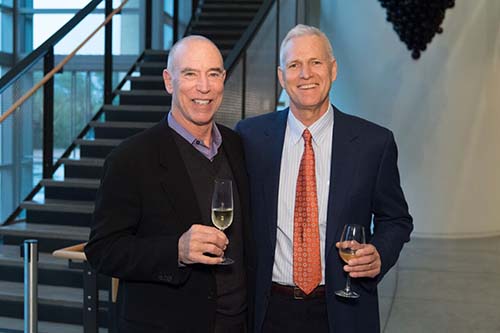 Michael Mondavi and Mark Couchman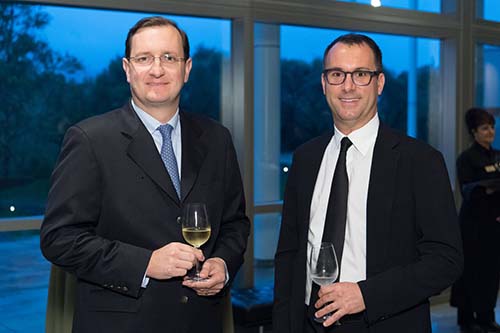 Fetzer CEO Giancarlo Bianchetti with Jeff Menashe, CEO of Demeter Group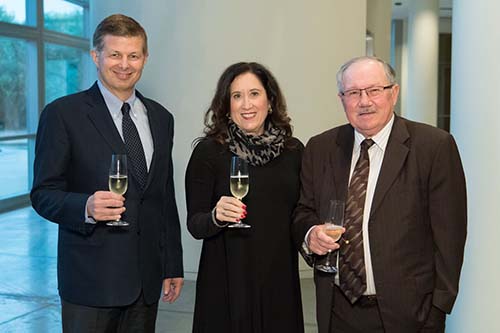 St Michelle Wine Estates CEO Ted Baseler, Korbel VP communications Margie Healy, and Korbel president and owner Gary Heck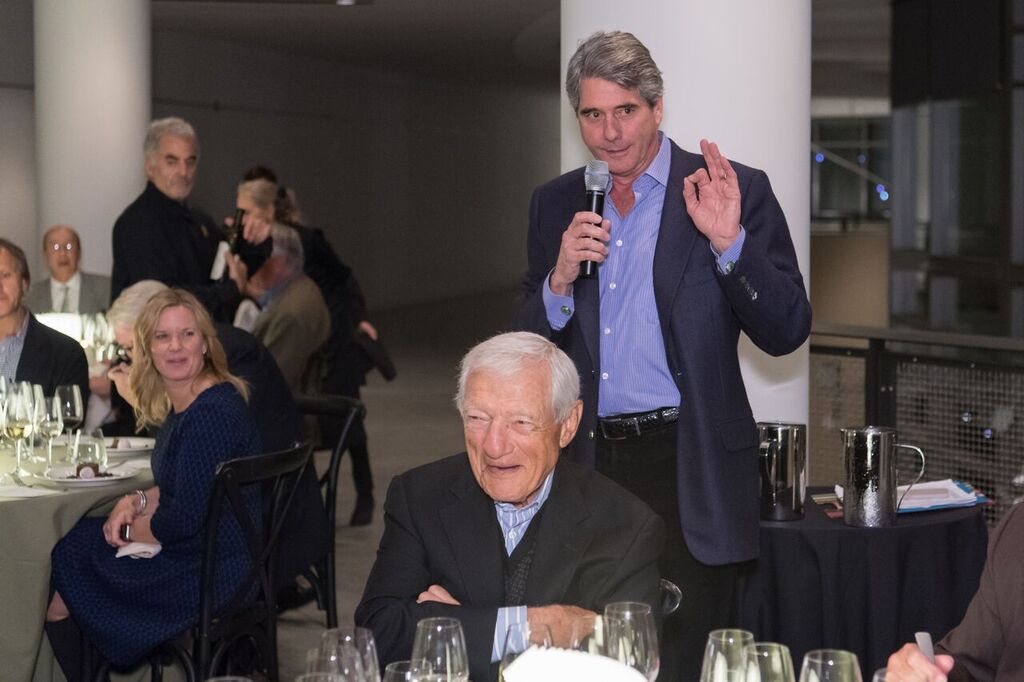 Jeff O'Neill with Frank Farella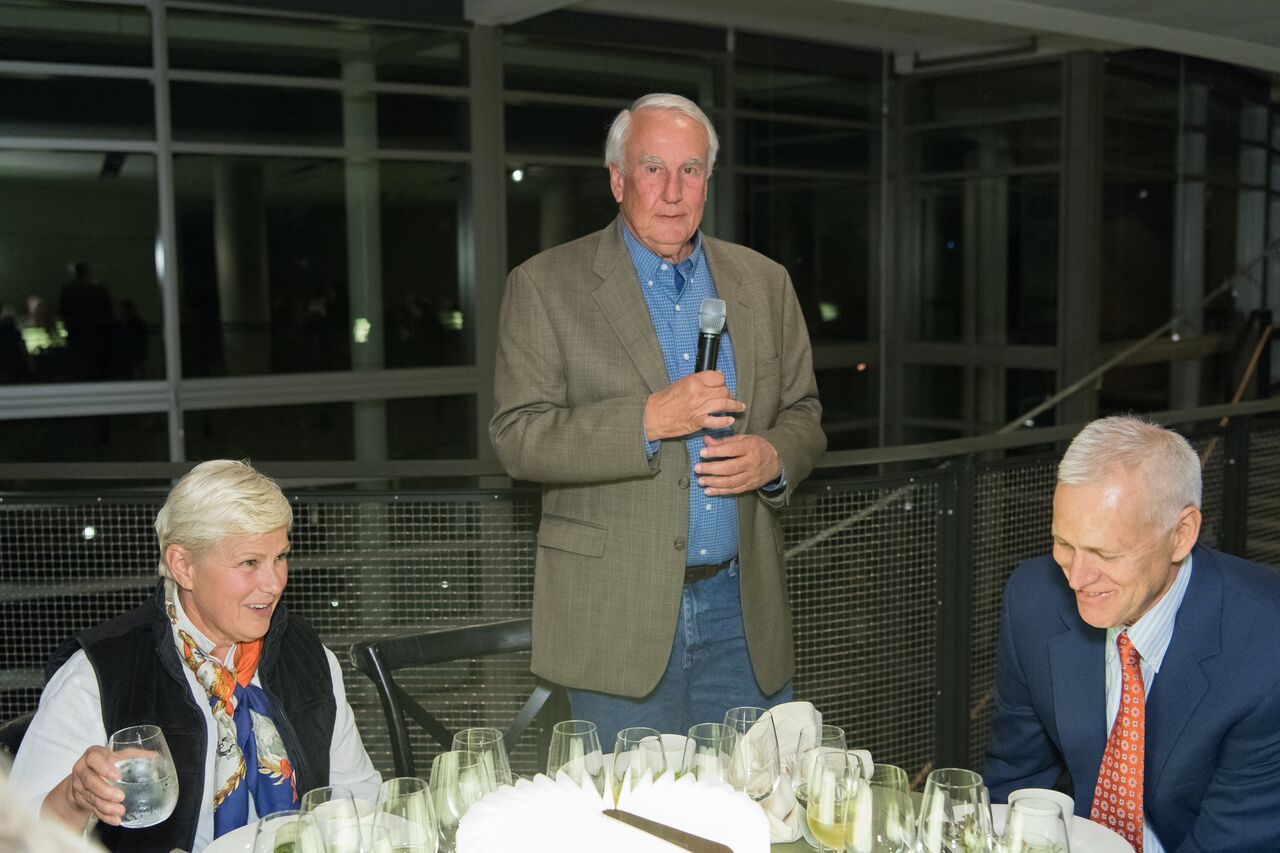 Tony Correia said 'the selection process was rigged' (his wife Stephanie is on the left with Mark Couchman seated to the right)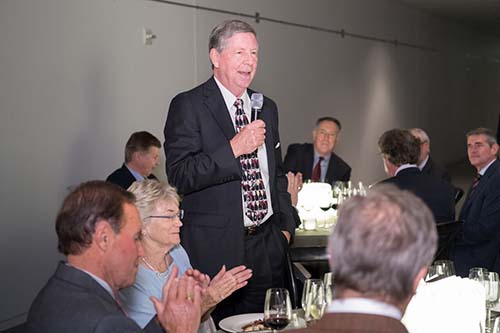 Randy Short, go-to attorney for large companies in winery transactions, recounted 45 years representing wineries, including Heublein and later, Diageo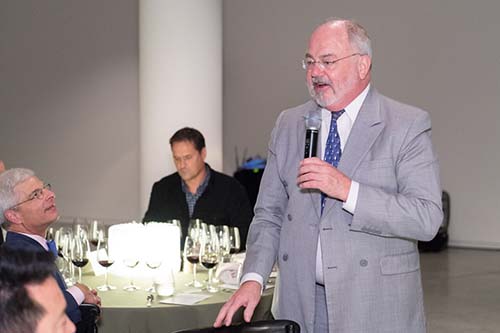 Greg Scott said that as a kid from a small town Indiana, he never thought he'd end up doing what he did. "I did my research and figured out that there were some things in tax you could do that nobody was taking advantage of," he said. One of those things involved separating the value of an appellation for tax purposes.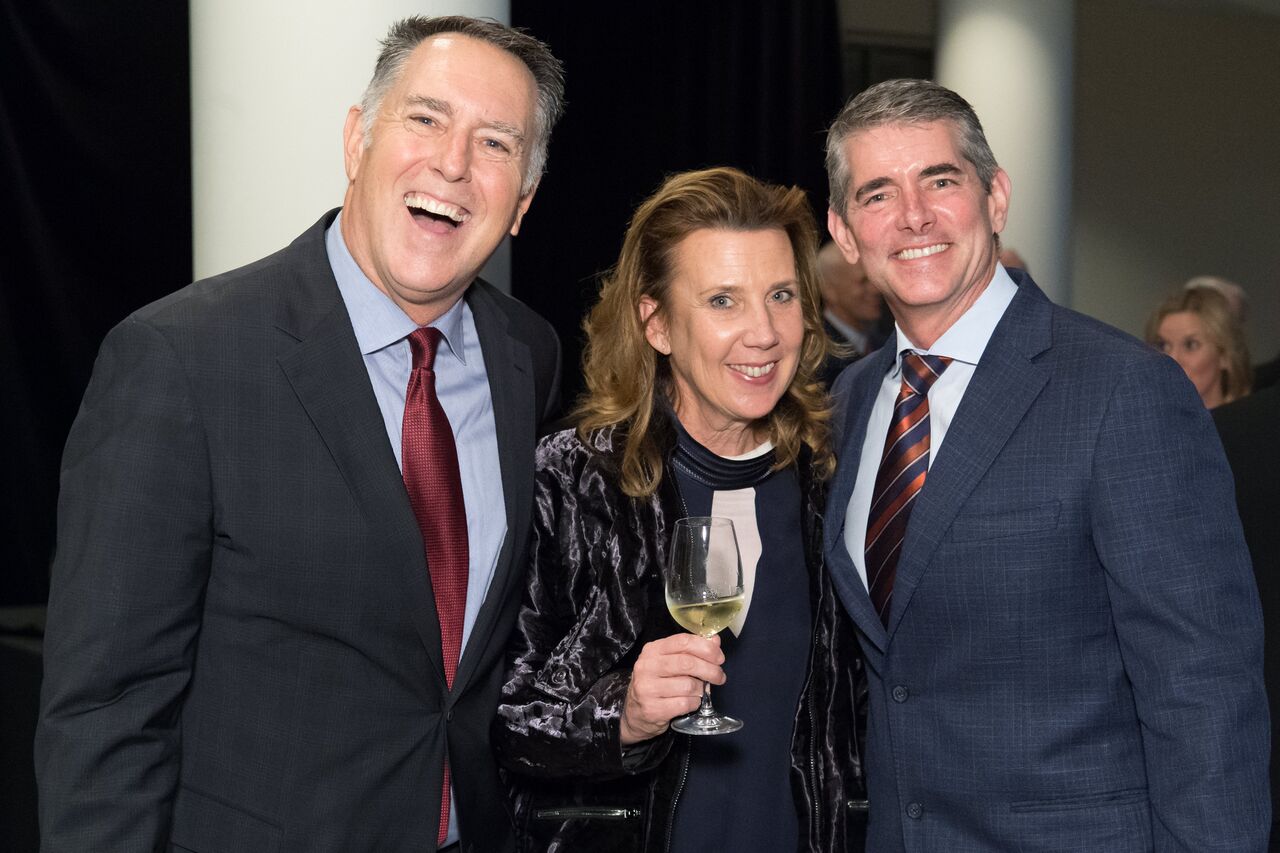 Steve Burns with Gina Gallo and Josh Heiser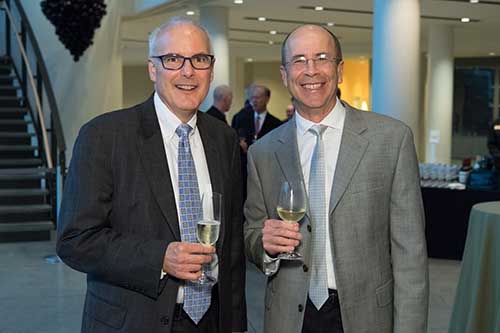 Ray Johnson, Executive Director, Sonoma State Wine Business Institute and Wine Communications Group President and Wine Business Monthly Publisher Eric Jorgensen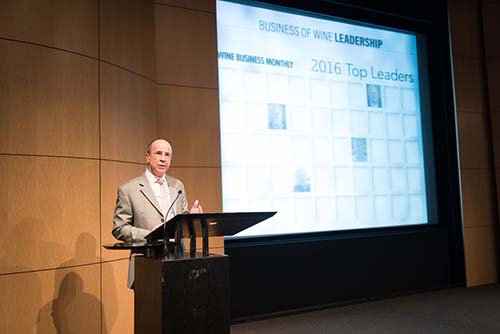 Wine Business Monthly's 2016 Top Leaders appears in the December 16' issue