Rombauer's new underground cave tours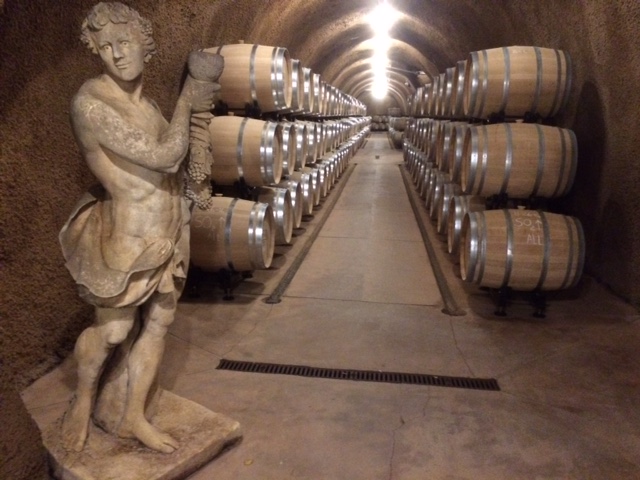 Rombauer's new underground cave tours, takes you on a a stroll by some 2,500 barrels while sipping on Sauvignon Blanc, Chardonnay and Cabernet Sauvignon.

Rombauer is the latest winery to open its doors for regularly scheduled tours of its underground caves in the Napa Valley. Other wineries include Schramsberg Vineyards, Del Dotto Vineyards and Jarvis Estate.

For the past few weeks, Rombauer winery has begun to offer small tours of its underground caves.

The visits last about an hour. Visitors are led down a gravel path along the hillside property to reach a plain barrel door that opens to 1,900 linear feet of underground caves. The labyrinth is home to 2,500 wine barrels, where temperatures remain a cool 62-degree Fahrenheit year round.

Why the new tour at Rombauer? "We thought it was a really different way to be able to tell our story and share our wines – particularly the red wines," said Brandye Alexander, Rombauer's director of marketing and consumer relations.

"We also have very limited space in our tasting room," Alexander added. "Being able to offer the tours no only gave people a different experience to learn more about Rombauer, but it also allows us to accommodate more people on the property because we're not limited to just the small space in the tasting room."

Visitors, led by a guide, now make a loop of sorts while stopping at different stations to taste various wines and learn about Rombauer's vineyards, grape sourcing and wine making.

About 150 people have taken the tour since Sept. 5, when the tour was first offered to the public.
Tours are limited to 10 visitors, in part for safety reasons. Has anyone gotten lost in the web-like underground caves? "We try to pride ourselves on good hospitality," Alexander said. "That includes 'No guest left behind as our motto," she added, tongue-in-cheek.

The caves have been visited by members of the public on special occasions. But in these rare instances, wings were blocked off with barrels.

"Cave Tour & Tasting" tours are scheduled daily at 11 a.m. Beginning in October, a second tour will be added at 2 p.m.

Wines served this week included Rombauer's 2015 Napa Valley Sauvignon Blanc; 2015 Carneros Chardonnay; 2010 Napa Valley Le meilleur du Chai and 2013 Stice Lane Vineyard Cabernet Sauvignon. The Cave Tour & Tasting is offered daily at 11 a.m. by appointment. A second tour will be added in October.