When Wine Business Monthly creates its annual Hot Brands list, we aim to celebrate the breadth and diversity of our industry. We seek out wineries that have superior wines, creative techniques, unique sites or heartfelt philosophies behind their brands. We look for winemakers that are willing to take risks and commit to their vision regardless of the whims of the market. We like wineries and winemakers that love what they do and want to honor that love with well-developed, meaningful wines.
This year we have 10 wineries from four states and six different regions in California, and virtually all of our Hot Brands are dedicated to sustainable, organic or Biodynamic practices, and several to natural or hands-off winemaking techniques.
We are releasing the Top 10 Hot Brands in alphabetical order, one per day, leading up to the Unified Wine & Grape Symposium (plan your walk on the trade show floor here). Wine Business Monthly will be serving these wines to winemakers, grape growers and industry members at our annual gathering Bottle Bash during Unified on Tuesday, Jan. 28, 5:00-8:30pm at cafeteria 15L (1116 15th Street, Sacramento).
Riverbench Vineyard and Winery
2011 Estate Pinot Noir, Santa Maria, California
Pinot Noir Blends Eight Clones From 40-Year-Old Santa Maria Vineyard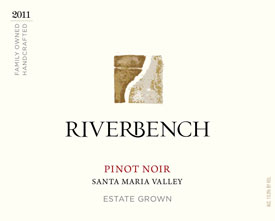 Though the 260-acre Riverbench Vineyard in Santa Maria, California has been a fruit source for Central Coast wineries since the early 1970s, it wasn't until recent years that a winery was established. The winery began in 2006 when Riverbench Vineyard was purchased by four Santa Maria families, who have chosen to remain anonymous.
According to Riverbench Vineyard and Winery general manager Laura Booras Mohseni, the families were previously involved in running an asphalt company before getting involved with the wine industry.
From the start, the owners of Riverbench have left the management of the vineyards and winery to wine industry veterans. From their first vintage up until his retirement in 2011, their wines were made by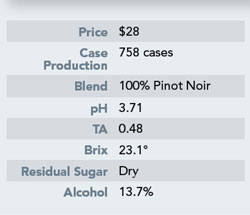 the legendary Chuck Ortman. Ortman was a pioneer in California winemaking, being among the first to advocate barrel fermentation for Chardonnay. His career began at Heitz Cellars and took him to several other Napa Valley properties, including Spring Mountain Vineyard, Far Niente, Shafer and St. Clement, before he moved to the Central Coast and became the founding winemaker at Meridian Vineyards.
"Chuck had brought in the fruit for the Meridian label back in the day when he was doing that, so he knew the vineyard really well. He was the perfect person to start making our project," said Booras Mohseni. "From the beginning we thought we'd be more of a Chardonnay house, just because Chuck Ortman was known as 'Mr. Chardonnay.' But we are definitely about half and half because people love our Pinot Noir as well."
Upon Ortman's retirement at the end of the 2011 vintage, winemaking duties were taken over by Clarissa Nagy, formerly the winemaker at Bonaccorsi Wine Company.
The full story on Riverbench ~ and all our Hot Brands ~ will be available in our February 2014 issue of Wine Business Monthly. You can find it here starting Feb. 1, or come by our booth (#1324) at Unified and pick up a copy. Click here to subscribe to WBM.

See other 2013 Hot Brands:
Cowhorn Vineyard & Garden
Drew Family Cellars
Frogtown Cellars
Lake Sonoma Winery
LangeTwins Family Winery and Vineyards
Matthiasson
Rack & Riddle