When Wine Business Monthly creates its annual Hot Brands list, we aim to celebrate the breadth and diversity of our industry. We seek out wineries that have superior wines, creative techniques, unique sites or heartfelt philosophies behind their brands. We look for winemakers that are willing to take risks and commit to their vision regardless of the whims of the market. We like wineries and winemakers that love what they do and want to honor that love with well-developed, meaningful wines.
This year we have 10 wineries from four states and six different regions in California, and virtually all of our Hot Brands are dedicated to sustainable, organic or Biodynamic practices, and several to natural or hands-off winemaking techniques.
We are releasing the Top 10 Hot Brands in alphabetical order, one per day, leading up to the Unified Wine & Grape Symposium (plan your walk on the trade show floor here). Wine Business Monthly will be serving these wines to winemakers, grape growers and industry members at our annual gathering Bottle Bash during Unified on Tuesday, Jan. 28, 5:00-8:30pm at cafeteria 15L (1116 15th Street, Sacramento).
Cowhorn Vineyard & Garden
2012 Spiral 36 Viognier/Marsanne/Roussanne, Applegate Valley, Oregon
Biodynamic Applegate Valley Farmers That Let the Land Be Their Guide

When Berkeleyites Bill and Barbara Steele decided to leave their careers in finance in 2002 (his as a Wall Street analyst, hers as a CFO for a manufacturing company) for a farming lifestyle in southern Oregon, they sought only a property that could fulfill their wish list for creating a Biodynamic-certified farm of any type.

Averse to taking out healthy plants from an existing location and with concerns about chemical drift from nearby farms, the couple looked for a property with water rights that was isolated and relatively undisturbed. They eventually found the 117-acre ranch in the Applegate Valley that they named Cowhorn Vineyard & Garden. "It was an abandoned property that had been left alone for 15 years," said Bill. "There was nothing on it except for weeds, rocks and metal parts. So we set out on a series of analyses to find out exactly what we had."

A portion of the land was rich, fertile and ideal for food crops. There they've planted 2 acres of asparagus as well as 2 acres of cherry, hazelnut and peach orchards. This aspect of the farm is part of the perennial polyculture that is a necessity for a working Biodynamic farm.
However, the couple also found that much of their land was rocky, with soils that had poor nutrient value and limited ability to hold water. Barb called upon Biodynamic consultant Alan York, who advised them that the site was ideal for grapes, specifically Rhône varieties. I don't want to say we fell into it, but we let the land tell us what to grow."

Letting the land guide their choices is an outgrowth of the Biodynamic farming philosophy that is an intrinsic part of how Cowhorn Vineyard & Garden developed. Bill said their path toward Biodynamics began with the organic, homeopathic lifestyle they were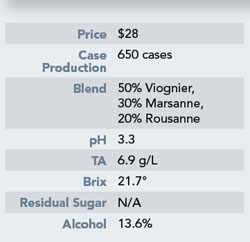 leading in the Bay Area. "But what really cinched the deal was when Barb went to a Biodynamic farmer's meeting in Sonoma," said Bill, who later became a board member of the Demeter Biodynamic Trade Association, which has certified Cowhorn as a Biodynamic farm. "She called me up and said, 'These people are our friends.' They have the same reverence for the earth, the same analytical thought process. What still gives me goosebumps is what an inclusive group of people they are."
Bill admits that public perception of Biodynamic methods is often different from the actual practice. "A lot of people want to talk about the calendar and the cow horns and everything. That's about 5 percent of what we do. It gets the media going, but that's not what we do," said Steele. "We do all the sprays, and we embrace all the techniques, but Biodynamics is not a silver bullet. It's not that easy. Not all Biodynamic wines are good. Some are pretty bad. I think what differentiates Biodynamics is the analysis."
The full story on Cowhorn ~ and all our Hot Brands ~ will be available in our February 2014 issue of Wine Business Monthly. You can find it here starting Feb. 1, or come by our booth (#1324) at Unified and pick up a copy. Click here to subscribe to WBM.