Introducing the 2012 Top 10 Hot Brands ~ Two Shepherds
January 29, 2013

For the tenth year, Wine Business Monthly has compiled its list of the Top 10 Hot Brands.
The Hot Brands list is our chance to honor wineries that are innovative, curious, adventurous and, of course, delicious. These winemakers can be trailblazers or traditionalists (and are often both), but most of all, these are people who have dedicated themselves to crafting the best wines possible from their unique sites.
We've found ourselves quite taken with each of these brands this year. These are, as we like to say, wines that we'd serve to winemakers.
This year, we are releasing the Top 10 Hot Brands in alphabetical order.
Wine Business Monthly will be serving these wines to winemakers, grape growers and industry members at our annual gathering Bottle Bash during the Unified Wine & Grape Symposium. Tuesday, Jan. 29, 5:00-8:30pm at the Pyramid Alehouse in Sacramento.
Two Shepherds
2011 Grenache Blanc, Santa Ynez, California
Blogger Becomes Fruit-focused Winemaker Passionate About Rhône Wines
Like many in the wine industry, William Allen of Two Shepherds started out as a keenly interested wine consumer, learning about wine, wine regions and winemaking as a hobby. What is unusual was Allen's move from a wine consumer to a popular wine blogger to a winemaker with a successful, attention-commanding brand in just four years—and he still has his day job in technology sales and marketing.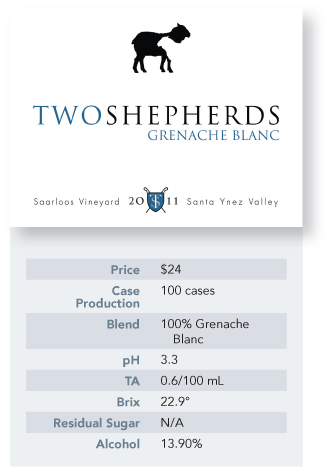 What started as an interest in Russian River Valley Pinot Noir grew to encompass Viognier, then Marsanne and Roussanne and other Rhône varietals. "Then I found Grenache Blanc from a producer in Paso Robles. It was my epiphany wine. It was like, 'Okay, this is the wine. I have to make this,'" he said. He moved from consumer to student, immersing himself in classes, training and education. He'd been a garage beer maker for several years, and that grew into home winemaking, too.
After moving permanently to Sonoma County four years ago, friends encouraged him to share his love for wine, particularly Rhône varietals, with a blog. Called "Simple Hedonisms," Allen said he wrote about his wine passions: Rhône varieties and balanced, nuanced wines made in an Old World style. He focused his homemade wines on the beloved Rhône varietals, particularly his favored white, Grenache Blanc. He even planted a vineyard.
The blog quickly established Allen as a leader in social media in the wine industry, a position that found him being invited to give lectures and lead industry seminars to help guide wineries on the subject. It also afforded him the opportunity to make connections with and learn from the winemakers and industry leaders he respected and admired.
His garage winemaking project also grew, to the point where he realized he needed more space, help and equipment than he could manage on his own. Moving to a bonded winery for custom crush, the brand has grown from 175 cases in his first commercial vintage to 600 cases now, his third. Each year has found Allen making Two Shepherds at a new winery. "It's a chance to work with different winemakers, learn different things and different equipment," he said.
Over the next five years, Allen plans to slowly increase production to settle in somewhere between 2,000 and 5,000 cases.
"I wish I could say I had this big master plan, but I think part of the reason the brand has launched so fast is that I was well known already from the Rhône industry and the blog. People already knew and trusted my palate," he said. "I think social media is a big asset to the wine industry. To a little guy, it's a chance to look much bigger than you are and to extend your reach much broader. It would have taken me five to 10 years without social media to get where I've gotten in a year."
---
The full story on Two Shepherds ~ and all our Hot Brands ~ will be available in our February 2013 issue of Wine Business Monthly. You can find it here starting Feb-1st. Or come by our booth #1324 to get your FREE copy.