WBM Hot Small Brand Number 8: Veritas Vineyard & Winery
January 20, 2012
Wine Business Monthly has identified today's most exciting top 10 brands from small and medium-sized wineries during 2011 in our upcoming February issue. We gravitate toward wineries and brands that represent market trends or innovation, that take a leadership position in their regions, or that make unusual varietals or unexpected wines. There are some larger wineries on the list now, as well. Basically, these are wines we think other winemakers should taste.
We will also be serving the top 10 chosen brands at our Unified Symposium Bottle Bash party on January 24 at the Pyramid Brewery in Sacramento, California. The party starts at 5, and the winemakers for these brands will be in attendance.
We will be releasing our list on our blog one brand at a time. We started on Wednesday with #10; yesterday with #9 and here is #8:
8. Veritas Vineyard & Winery
Virginia's Rising Red
2009 Petit Verdot, Monticello, Virginia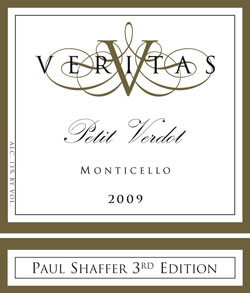 Petit Verdot has been gaining recognition as a top Virginia wine—and some say it should be the state's signature grape. That led us to check out a number of Petit Verdot wines.
We liked the 2009 Petit Verdot from Veritas Vineyard & Winery for its intensity of color and richness of flavor—and also because it's a rising star in a state that has long been known for Viognier and Cabernet Franc.
"Petit Verdot is the hope and the future of Virginia winegrowing," said Andrew Hodson, owner and winemaker emeritus of Veritas Vineyard & Winery. "I feel that way because Petit Verdot has the DNA, the sort of natural inborn ability, to be a noble grape here."
Veritas Vineyard & Winery is located on 25 acres at the foot of the Blue Ridge Mountains in Afton, Virginia. Hodson, a retired neurologist, and his wife, Patricia, who owned a medical billing business, opened their winery in 2002. He took responsibility for winemaking and she for the year-round cultivation of the vines. Their oldest daughter, Emily Pelton, recently took over as winemaker; though, as Hodson said, "It's my palate and her palate against the world, and we get on very well." Their youngest daughter, Chloe, manages weddings and special events and runs the tasting room. Last year, 70 weddings were held at the winery, which brought 400 new people to the winery on weekends for weddings alone. They produce 15,000 cases annually.
"We planted it, expecting to blend it," Hodson explained. They have since pulled out some Cabernet Franc and replanted with Petit Verdot.
"We have made a name for ourselves with Cabernet Franc, and now it is nice to have another competitive red that is not as mainstream as other varietals," Pelton said. "I feel like we have beauty and the beast, with the Cabernet Franc being elegant and Petit Verdot being our bigger, beefier red. With Petit Verdot, I can use a lot of aggressive winemaking techniques, which includes a pretty significant oak and aging regimen. It eats oak alive. Even aged in 100 percent new oak, the grape still comes through."
Pelton likes working with Petit Verdot because of its massive intensity of color and richness. "What I am looking for in reds to determine quality at harvest is the ripeness of the tannins. I am looking for intensity, so I like to have a good number of tannins, but I also want them to be supple and interesting, not green and aggressive. What I love about Petit Verdot is that these tannins are inherent to the grape; and unlike other varieties, Petit Verdot seems to have less 'green' qualities in these tannins."
Pelton has been making Petit Verdot from the same fields since she started her career. This enables her to hone her winemaking techniques "to allow the wine to speak for itself while at the same time taking it to the next level." The two fields on their property are harvested two weeks apart, with the field harvested first bringing a lot more fruit, fresh natural acid and vitality to the wine. "This has become a stylistic goal and a real part of my blend," Pelton said. "The field that is harvested later has a much higher level of tannin maturity but lacks the freshness and the brightness of its counterpart. Put together, these wines complement each other and bring a complexity to the wine that neither wine had alone."
Hodson so believes in Petit Verdot that he gave a lecture on it to the Virginia Viticultural Association a couple of years ago to encourage more wineries to plant it—and several have already done so. More wineries are also winning gold medals, Hodson said, including at the Governor's Cup in 2011, where Petit Verdot won more gold medals than another variety.
"This is no petite wine," Hodson emphasized. "The grape is actually masculine. The smallness is referring to the size of the berries. It has a lot of skin in relation to the pulp of the grape, so you get much more flavor and flavor intensity from grapes that have small berries."