WBM Hot Small Brand Number 9: Barrister Winery
January 19, 2012
Wine Business Monthly has identified today's most exciting top 10 brands from small and medium-sized wineries during 2011 in our upcoming February issue. We gravitate toward wineries and brands that represent market trends or innovation, that take a leadership position in their regions, or that make unusual varietals or unexpected wines. There are some larger wineries on the list now, as well. Basically, these are wines we think other winemakers should taste.
We will also be serving the top 10 chosen brands at our Unified Symposium Bottle Bash party on January 24 at the Pyramid Brewery in Sacramento, California. The party starts at 5, and the winemakers for these brands will be in attendance.
We will be releasing our list on our blog one brand at a time. We started yesterday with #10 and here is #9:
9. Barrister Winery
Emerging Washington Red Wine Variety
2009 Cabernet Franc, Columbia Valley, Washington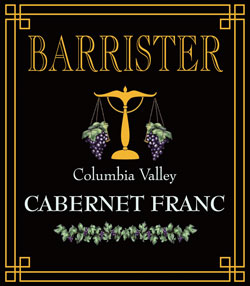 Producing premium wines from the highest quality grapes is the focus of Barrister Winery, founded in 2001. As its name implies, Barrister Winery is owned by two attorneys, Greg Lipsker and Michael White, who carried over their meticulous attention to detail required when practicing law to their wine business—from selecting grapes to choosing yeast and barrels.
Lipsker and White are also best friends, and together they make 4,000 cases of red and 300 cases of white wine annually in their downtown Spokane, Washington winery.
The winery is housed in a 100-year-old, three-story building on property purchased from the Burlington Northern Railroad. Trains chug over the barrel room, gently vibrating the barrels thousands of times annually, settling out sediment and serendipitously contributing to Barrister wines' signature softness. The historic facility, with its high, beamed ceilings, brick walls and original planked floors, is also rented out for weddings, dinners and cultural events.
Barrister Winery's flagship wine is Cabernet Franc. It is the fourth most widely planted grape in Washington, behind Cabernet Sauvignon, and is traditionally used for blending. However, Lipsker and White said the grape reaches optimum ripeness in their region, enabling it to stand on its own. "The vineyards we source our fruit from are adept at bringing this fruit to perfect ripeness, enhancing the berry-like components so that it can be used as a wine in its own right, rather than as a blender," Lipsker explained.
The two winemakers had early success with this wine. In 2002, 2003 and 2004, Barrister's Cabernet Franc won Best of Show awards in Los Angeles, Washington and Oregon. A judge who had tasted at all three shows said, during his third tasting, the wine was so consistent he could pick it out blind.
"The thing we found out fairly quickly is that Greg and I have similar, but complementary, palates. We found that we liked the same flavor profiles as we did the sampling, tasting and blending," White noted.
For the 2009 vintage, Lipsker and White blended 90 percent Cabernet Franc with 10 percent Cabernet Sauvignon. They achieved their goal: "to produce a bold, fruit-forward Cabernet Franc with a soft mouthfeel and a long, rich finish."