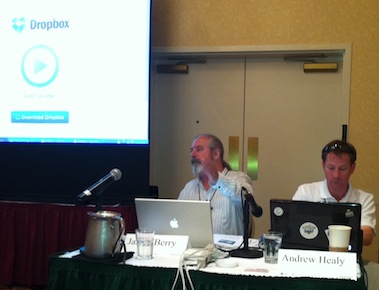 It's amazing how many free and low cost technology tools there are out there on the web these days - really powerful stuff for building websites, web analytics, social media marketing, office productivity, graphics, photos, project management, ecommerce, you name it. If you're building a website, you can do lots of things free.
Here's a link to a nice list from the 2011 Wine Industry Technology symposium.
If you have time, take a look at the websites on this list.
I knew about and had even used a few of the tools that are listed but some I hadn't heard of.
James Marshall Berry of JMB Web Consulting and Andrew Healy with Vino Cartel went through the list during WITS. They blew through it in an hour.
It is amazing what these free tools can do, but building a good website, like so many things, still requires time and/or money - as in the old saying that you can get it good, quick or cheap, but usually can't get all three. That's why consultants are helpful. They're the specialists.
"The question is, 'how many of these things you want to do yourself,'" Berry said. "If you don't have money but you have lots of time, you can do every one of these things. If you don't have the time and you need it done by Friday, we can get it done. It's just going to take money."
"This isn't a sales pitch. You can do this," said Healy about creating websites, though he also said, "We come in at the end quite often and end up having to clean up the mess."
One thing Berry reminded folks they really should pay for, if nothing else, is anti-virus and malware protection software.
Things are moving so fast it seems like there could be something new to add to the list every week. It'll change considerably by the time the next WITS symposium comes around.