Jake Ootes of Celista Estate Winery Endorses WBM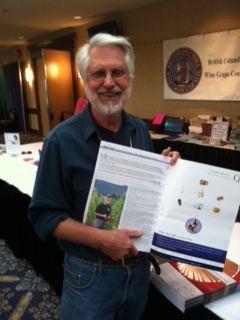 I ran into Jake Ootes, owner of Celista Estate Winery in British Columbia, at the BC Wine Conference earlier this week. Jake was featured on our back page of the July issue of Wine Business Monthly. (Pictured on the left is Jake at the BC Wine Conference holding up the page he was featured on.)
The winery is located in Celista, British Columbia, and their vineyard is planted to Gewürztraminer, Madelaine Sylvaner, Ortaga and Marechal Foch. See the page in the July issue here.
From Jake:
Wine Business Monthly is one of my nighttime reading resources. As a result, your publication has become very useful. I recently purchased a power post driver (reviewed last summer); an electric pruner (February 2011 edition); and now I am reading the articles and advertisements on accounting and point-of-sale systems in the most recent edition.
From Wine Business Monthly I have not only learned about winemaking products and processes, but also about the whole spectrum of the industry – from grape planting to marketing. I have benefitted from a review on trellis systems (the time it takes per acre for staff to hang catch wires); and, the list goes on.
For me, Wine Business Monthly – reviews, columns, articles and advertisements – is informative and useful.