Inside the World's Largest Winery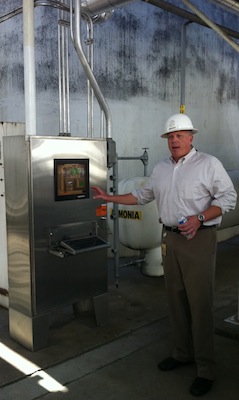 Kent Mann talks about refrigeration
It can process an average of about 7,000 tons of grapes a day and employs as many as 450 people (300 seasonal workers) during the height of the harvest. It processes 400,000 to 450,000 tons in a season; has nearly sixty large fermentation vessels; and 22 membrane presses.
There are valves, pipes, settling tanks, pumps, and centrifuges galore. More than a dozen winemakers can be found working there during harvest on at least that many winemaking programs.
The winery is quite the leader in sustainability and is a Cal/VPP Star facility, which means it is considered a leader in workplace safety too. It was the first winery to receive ISO 14001 certification, an international standard created to help companies reduce their environmental footprints.
Six acres of photovoltaic panels went online earlier this month, providing one megawatt of power – enough to supply half the winery's needs during the off season or ten percent during the peak season. The PV installation provides as much power as one recently installed by the Wine Group that was the largest PV installation at any U.S. winery.
Refrigeration accounts for the biggest share of energy use by far at this facility and some $13 million has been invested to reduce energy usage during the last three years. Energy usage at the winery has dropped by 25 percent. Water use has declined by 30 percent.
The winery even runs a little side venture producing 10,000 tons of organic compost every year.
From afar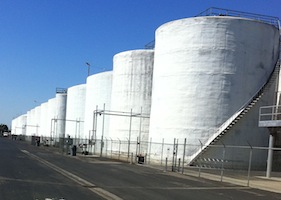 the mini mountain of compost looks massive. Really impressive.
Care is taken to treat grapes gently, especially with the reds, even though wines are made in large lots. Employees call the facility "the world's largest boutique winery."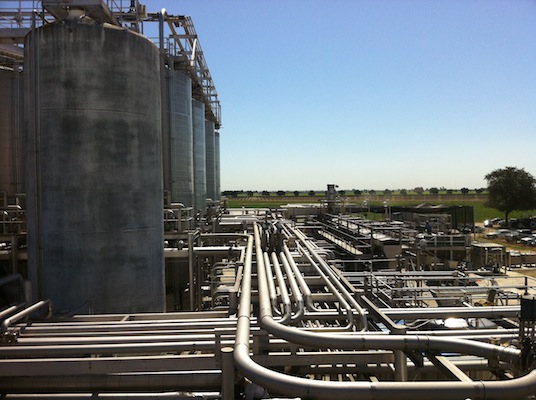 The winery is located in Livingston California.
It is the largest of seven winemaking facilities owned and operated by E&J Gallo, accounting for perhaps 40 percent of domestic production.
As the world's largest privately held wine company, E&J Gallo has always tended to keep a low profile, leading by example and when working on industry issues -- doing it behind the scenes.
Winery employees say E&J Gallo has been environmentally minded from the beginning.
In the past, E&J Gallo for the most part has eschewed publicity. I've often joked about the aura of secrecy at E&J Gallo. You'd think they were making computer chips or scud missiles. An affable public relations man who served as Gallo's spokesman for two decades had an adopted middle nickname: journalists called him Dan "No Comment" Solomon.
The tendency to avoid press may be gradually waning, though, perhaps because of the influence of second and third-generation family members.
As many of our readers know, E&J Gallo collaborated with The Wine Institute and the California Association of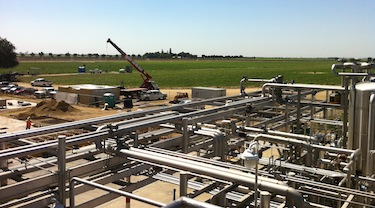 Winegrape Growers to develop the Code of Sustainable Wine Growing Practices.
This week, E&J Gallo hosted growers for a Sustainable Winegrowing Workshop at the Livingston Winery.
Coincident with the workshop, a small group took a quick "sustainability tour" of the winery with director for Central Valley Wineries & Brandy Kent Mann, who said saving energy is a prority throughout Gallo's wineries.
"It's nice to be able to talk a little bit about what we do," said Chris Savage, senior director of Global Environmental Affairs at E&J Gallo and the current chairman of the California Sustainable Winegrowing Alliance.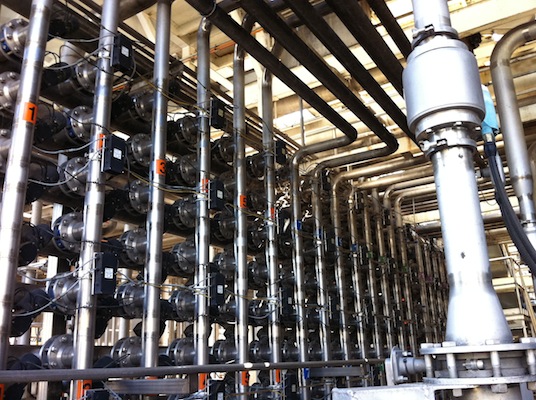 The "mother of all manifolds"