Packaging: Wineries Getting Hip to QR Codes
We just received a news release this afternoon from Hope Family Wines, calling attention to these new satirical videos for Candor Merlot and Zinfandel. There's a QR code printed on the back labels so smart phone applications will link to a website that plays the videos. Check out the videos. Here's a link to the video for pairing duck with Candor Merlot and pork with Candor Zinfandel.
The videos follow the Hope Family Wines' "Troublemaker" video parody that was used to launch Westside Red "Troublemaker" last year.
Few wineries that I'm aware of have taken the step of using QR codes on their labels but I'll bet we'll see dozens jump on the bandwagon this year. It's just such a natural fit for wine. It's a great way of connecting with consumers and explaining what the wine is all about – and you can customize and change it. There are all kinds of possibilities.
We're preparing an article for the next Wine Business Monthly packaging issue. We're going to be hearing about QR codes a lot.
King Estate up in Oregon has a super cool new label – heck the QR code practically is the label! Here's a sneak peak. Stay tuned. Those guys are sharp!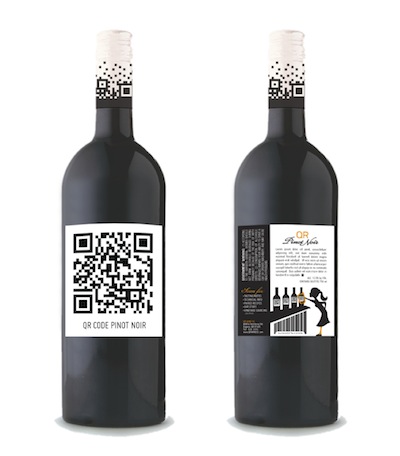 According to the news release from Hope Family Wines:
Smartphone technology is an important marketing resource, with smartphone sales expected to grow from 65 million units in 2010 to nearly 95 million units in the United States in 2011, according to a recent Gartner Inc. survey. QR codes have also experienced tremendous growth over the past year, becoming a popular choice for winery shelf-talkers and brochures. In a recent study by Mobio Identity Systems, QR code scanning grew an impressive 1,200 percent in the second half of 2010.
Wineries – we're working on that article – Paul Franson is the writer - so if you're implementing this new technology please contact us so we know about it. So far his list includes:
King Estate

Dry Creek
Justin Vineyards
Ferrari-Carano Vineyards
Jordan
Quivira Vineyards
La Follette
Childress Vineyards in North Carolina
Bowers Harbor Vineyards and Black Star Farms from Northern Michigan
J Vineyards
R. Stuart & Co. Winery Oregon
Hope Family Wines, the Paso Robles-based producer of Liberty School, Treana, Candor, Austin Hope and Troublemaker wines

Lion-Nathan:
Argyle from Willamette Valley, Oregon
St Hallett Faith Shiraz and Poacher's Blend from Barossa, Australia
Wither Hills Sauvignon Blanc from Marlborough, New Zealand
Argento Malbec from Mendoza, Argentina
MacRostie