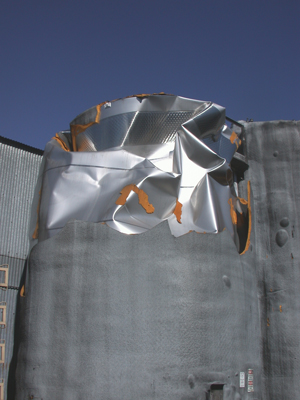 I was thinking of a contest where I ask how long it takes to empty 25,000 gallons of wine after a forklift driver has clipped the bottom, pomace removal door. The winning guess in these photos would have been between 3 to 4 minutes but since everyone within shouting distance was a bit preoccupied and no one had a stop watch, the numbers may not be exact. Actually the time would have been even less if the top manway had been open.
This was obviously an accident but the results are exactly the same if you forget to vent your shiny 304 stainless tank while unloading. In this case it was a huge screwup and no one was thinking they needed to vent. Other times cellar folks will point to the ventcap and say it was supposed to work. Sometimes they do, sometimes they do not. Assume nothing.
Anyway in my years in the wine game I have seen this far too many times, and not just fermentation or holding tanks, but quite a number of tanker trucks transferring wine. The driver is busy doing something and the cellar hand is in a hurry. Always remember to engage brain before the pump.
What is just as entertaining is to watch what happens when someone forgets to vent and is actually filling a tank.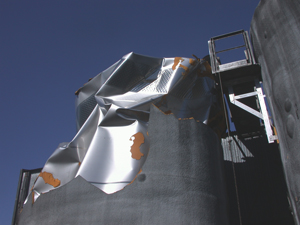 I promised the winery I would not divulge their identity if they would allow me to show everyone what happens. Possibly had something to with the insurance.
The message here is to slow down and remove the gum from your mouth if performing any transfers. Finally if you have tanks with this kind of exposure to forklift traffic it might be a good idea to consider some sort of curbs or bollards.
The worst part is I know what was in this tank and only wish I had been there with at least a bucket. Really good stuff.