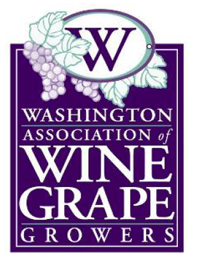 In Washington, 2010 was "the vintage of testing chemistry and patience," Lynne Chamberlain, chair of the Washington Association of Wine Grape Growers', said during a great session at the annual meeting and trade show last week. This "Year in Review" session examined the state of the Washington wine industry in 2010 to gain "instructive hindsight" from growers across the state on what they saw, wish they had known or wish they had done differently.
Lynne, also owner of Spofford Station Foothills Vineyards (JLC Winery), shared some general stats regarding the 2010 harvest:
She reported that, respectively, Riesling, Cabernet Sauvignon, Chardonnay, Merlot and Syrah were the state's top five varieties harvested. Also, the average price per ton was $1,040 – up from $989 for the previous crop. The harvest as a whole was up 2.5 percent.
"This will be the vintage we refer to for the next decade or two," said Russ Smithyman, director of Viticulture for Ste. Michelle Wine Estates. Russ reported that 2010 was below average in growing degree days, and that they were about 10 to 14 days behind. It was a cool year with long hang-time, he said.
Wade Wolfe Ph.D, winemaker for Thurston Wolfe winery, referred to the vintage as "the one that almost got away." Wade said that this growing season was the coolest since 1999 and that effects of the cool season included a delayed harvest, picking fruit at lower sugar levels, and grapes with higher acids and lower pH. But the grapes still had great color development, he added.
Wade said he finds the USDA "record crop" estimate hard to believe, which sparked debate and discussion at the end of the session. Robin Pollard, executive director for the Washington Wine Commission (WWC), was in the audience and stood up to report that the WWC numbers have been lower than the USDA for the past couple of years. Does anyone have any insight or more information to share regarding the USDA crop estimate for Washington?
Steve Synder, owner/winemaker of Hollywood Hills Vineyards (Woodinville, Washington, Puget Sound AVA), said that the growing degree days were off 20 percent from average and that overall crop levels were down significantly.
Pepper Bridge winery manager Tom Waliser gave the lowdown on the 2010 growing season in the Walla Walla region. He said the season started with a hard frost resulting in lots of bud damage with many primary buds lost -- anywhere from 5 to 10 percent and up to 60 percent loss. February brought rollar coaster weather, and a late spring resulted in irregular bud break. Extreme windy weather in May beat up the vineyards and a very wet spring caused high disease pressure with lower, loose clusters. There was also a late summer. Waliser said that the good news was that there was a crop, a warm fall, great fruit quality with good acid and pH levels, ripe fruit, great flavors and happy winemakers in the end.