Wine Business Monthly has identified today's most exciting top 10 brands from small and medium-sized wineries during 2010 in our upcoming February issue. We gravitate toward wineries and brands that represent market trends or innovation, that take a leadership position in their regions, or that make unusual varietals or unexpected wines. There are some larger wineries on the list now, as well.
We will also be serving the top 10 chosen brands at our Unified Symposium Bottle Bash party on January 25 at the Pyramid Brewery in Sacramento, California. The party starts at 5, and the winemakers for these brands will be in attendance.
We will be releasing our list on our blog one brand at a time starting today with #10:
10. GLORIA FERRER CAVES & VINEYARDS:
SPARKLING FROM SONOMA -- 2002 ROYAL CUVÉE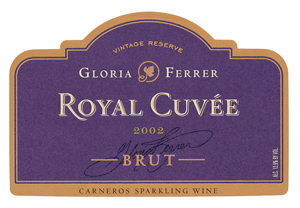 What's a party without bubbles? Gloria Ferrer Caves & Vineyards produces some of California's best sparklers—they've long been a WBM staff favorite—always a great choice.
We are breaking our own rules here. This winery isn't exactly up and coming: Gloria Ferrer is about to celebrate its 25th anniversary; its sparkling wines have plenty of visibility, have received numerous accolades, and are widely distributed. Gloria Ferrer, which annually produces roughly 140,000 cases of sparkling and still wines, is owned by a company in Spain that owns 18 wineries and makes millions of cases, Freixenet. As the first sparkling wine house in California's Sonoma Carneros region, Gloria Ferrer Caves & Vineyards was established in 1986.
Grapes used in The 2002 Royal Cuvée were whole-cluster pressed, the Cuvée was made exclusively with free-run juice and 16 base wines were blended to create the final Cuvée. The wine is 55 percent Pinot Noir and 45 percent Chardonnay. It was aged for more than five years on the yeast.
The first vintage of Royal Cuvée was 1984, released in honor of the King and Queen of Spain's 1987 tour of California. It's been poured at the White House too, and the glossy magazines have given it lots of points over the years. Cheers!