How Hyde Vineyards Does Night Harvest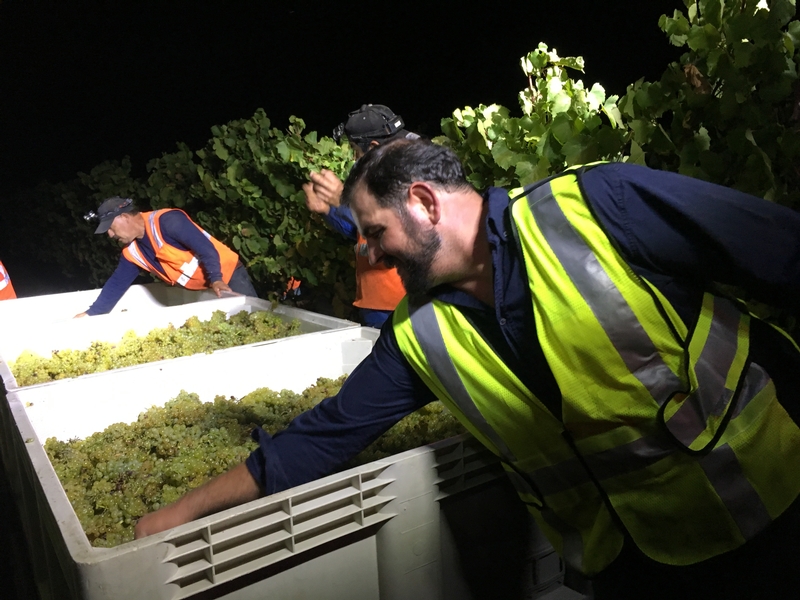 Chris Hyde of Hyde Vineyards & Winery checks his crew's progress in hand-harvesting Chardonnay at night in Carneros-Napa Valley.
The harvest was 60 percent complete at Hyde Wines & Vineyards in Carneros-Napa Valley on Sept. 24, according to owners Larry and Chris Hyde, who were out in the vineyard after 9 p.m. as a night harvest of Chardonnay by two of their crews began.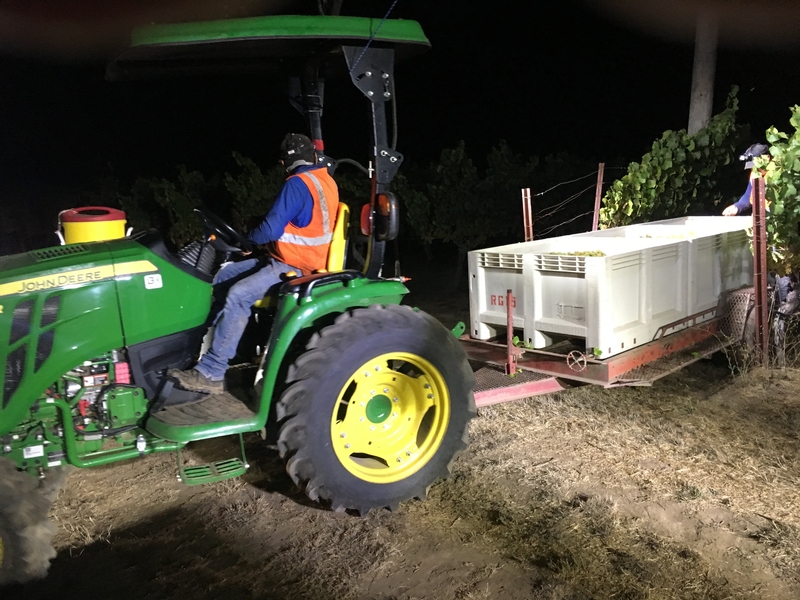 Hyde's crews use custom-made trailers that hold three Macrobins as they bring in Chardonnay grown on the Robert Young selection in Carneros-Napa Valley, Calif.
Five seasonal workers joined the year-round crew of 20 that works in the vineyards and winery of the Hyde family. The vineyard foreman, Jose Padilla, has been with Hyde since 1979 when he helped Larry Hyde planted the first few acres of Wente-clone Chardonnay in what has since grown to be almost 200 acres of Chardonnay, Pinot Noir, Merlot, Cabernet Sauvignon and other varieties in Carneros.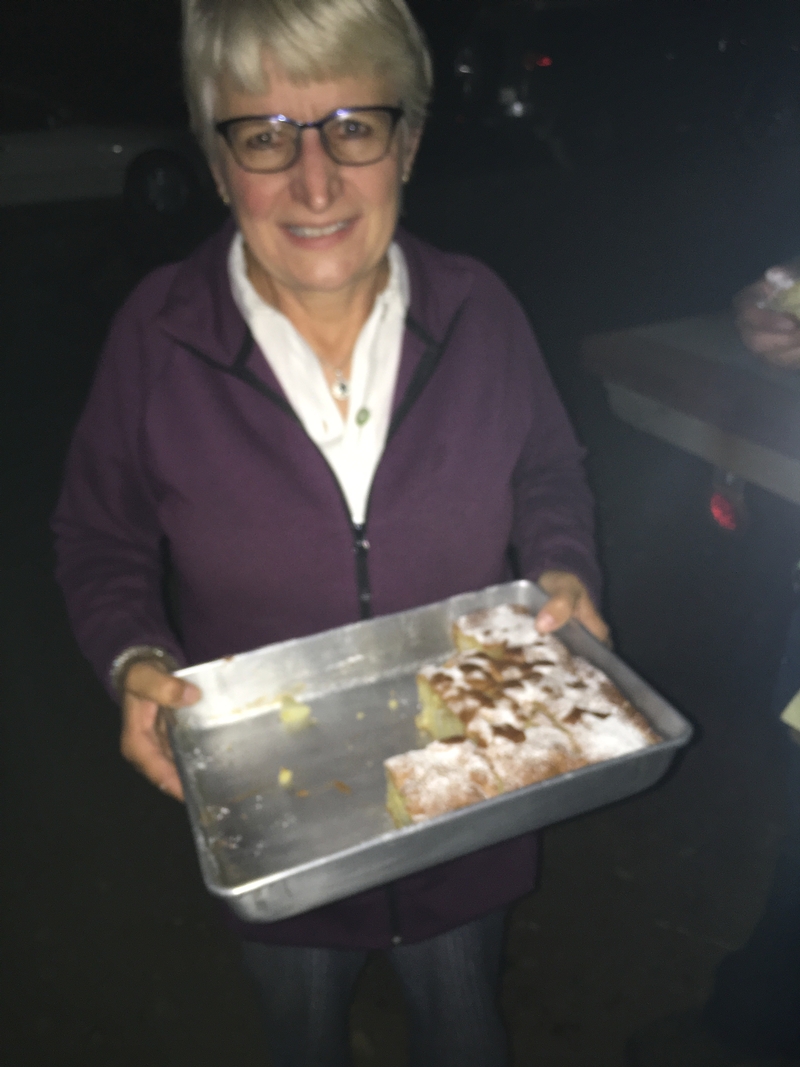 Beta Hyde brings homemade pear cake out to the crew before they start the night harvest.
On this night two eight-person crews were expecting to harvest 30 tons of Robert Young clone Chardonnay for Ram's Gate Winery in Sonoma. The harvest season has gone smoothly, Chris Hyde said, as varieties and blocks matured in stages well-paced for steady but not frantic work.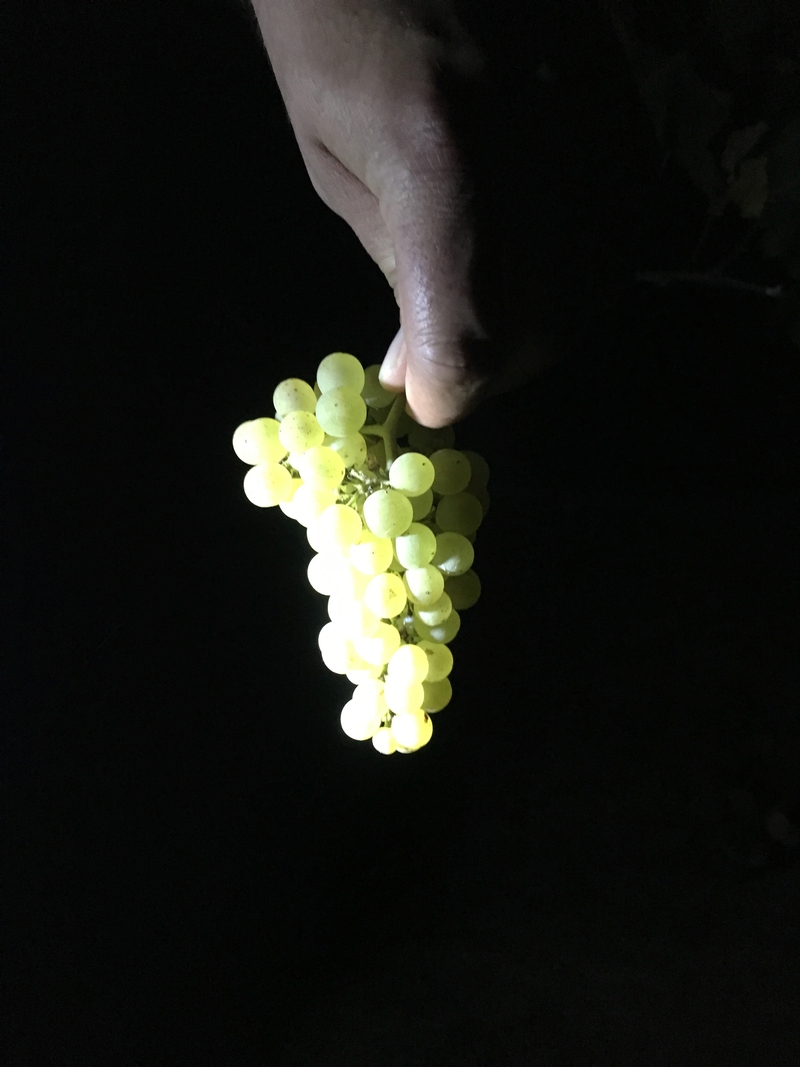 Small clusters are typical of the Robert Young selection, says Chris Hyde, and the small-cluster vines are the earliest to ripen. Hyde's harvest was about 60 percent complete early this week.