Touring Lodi with Sommeliers from Alberta, Canada, New York and Florida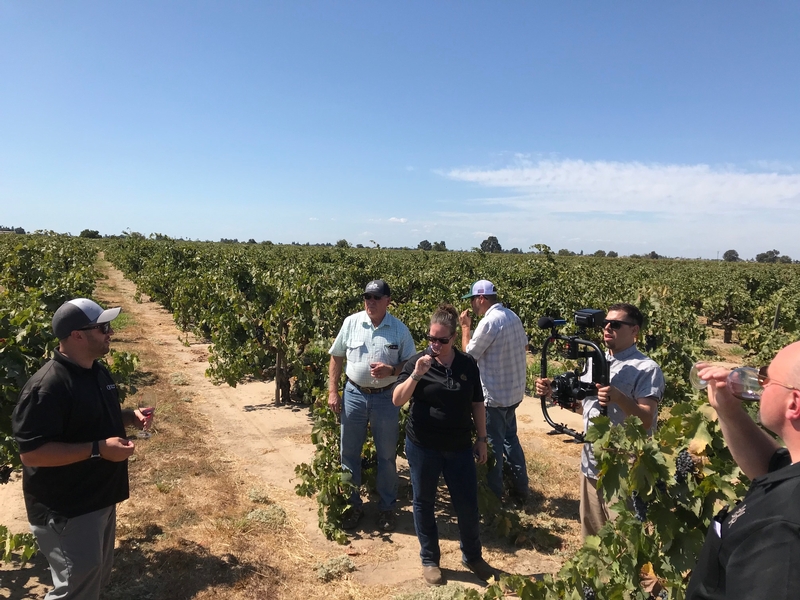 Twenty-four hours into her stay in Lodi, during her first trip to the Golden State, Chicago sommelier Ali Martin said the people are what has impressed her the most.

"Everyone is so happy," Martin said Monday during a short break at Harney Lane Winery. "Truly, everybody has just been so lovely."

"For me the people have been the biggest impression so far," Martin said, the growers and winemakers who have greeted Martin and her fellow sommeliers during the study tour of the wine region. "The wines speak for themselves."

Martin was among nine sommeliers from as far as Alberta, Canada, New York and Orlando, Florida, who are taking part in the tour which started Sunday and ends Thursday.

The Lodi Winegrape Commission and the Somm Foundation sponsored the journey which included stops at historical Zinfandel, Cinsaut and Carignan vineyards, as well as an early morning fruit pick and a nighttime ride on a grape harvester. As of Monday, between 35 to 40 percent of the crop had been harvested, said Stuart Spencer, executive director of the Lodi Winegrape Commission.

Randy Caparoso, editor-at-large, The Somm Journal, guided the group, pointing out the differences between Lodi's seven sub-appellations and the variations in the sandy soils between the east and west sides of Mokelumne River, Lodi's biggest AVA.

He and other growers during the tour also addressed current issues, including questions about the economic future of old Zinfandel vineyards. Unlike new plantings, which are mostly machine harvested, old Zinfandel vines are handpicked.

They also pointed to Lodi's uniqueness, including the wide range of varieties farmed in an area cooled by the Delta breeze. The region is home to 100,000 acres of vineyards and farmed by 750 wine grape growers.

"Lodi is a pretty cool spot," said Mike McKay, owner of McCay Cellars at Bechthold Vineyard, where he sources Cinsaut. "To me, it's a very spectacular spot," he said at the vineyard. "The vineyard is on its feet and happy."

Bruce Fry, vice president of operations at Mohr-Fry Ranches, said the old Zinfandel at Marian's Vineyard require "minimal" management. Farming including pruning the vines to two-bud spurs and thinning.

"They kind of know what to do," Fry said during a stop at his family's Marian's Vineyard which supplies Spencer's St. Amant wines. "They've been here longer than we have. They've been through these droughts and floods and everything else."

The group today was scheduled to visit a number of wineries, including Bokisch Vineyards in Clements Hills, LangeTwins Family Vineyards and Vista Luna Vineyard in Borden-Ranch-Lodi.