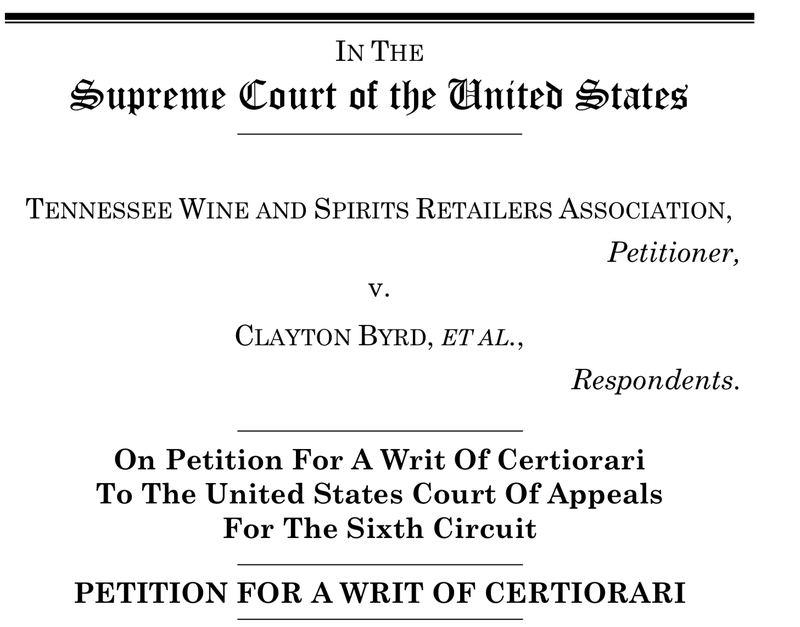 The U.S. Supreme Court granted CERT in Tennessee Wine & Spirits vs. Byrd Clayton, a case involving residency requirements for wine retailers that could have big implications for retail-to-consumer wine shipping.
The court will look at whether the Constitution's Commerce Clause protects retailers and wholesalers from discriminatory state liquor laws such as in-state versus out-of-state shipping, per the 2005 Granholm v. Heald decision that said states can't discriminate between allowing wine shipments to consumers, or not, from in-state versus out-of-state wineries.

Granholm led to more states allowing winery direct shipping but only fourteen U.S. states allow retail-to-consumer wine shipping. Consumers in thirty-six states don't have access to direct shipments of imported wines sold only by retailers.
The Byrd case isn't a straight wine shipping case. Tennessee has a law saying you must be a resident of the state for two years before you can get a retail license. The statue prohibits corporations and other businesses from obtaining a retail license unless every director, officer and shareholder of the business has been a Tennessee resident for at least nine years.
When Total Wine wanted to open a store in Tennessee and couldn't, Total Wine took its case to court and won. Then the Tennessee Retailers Association, which doesn't want Total Wine coming into Tennessee, appealed but lost.
The sixth circuit court said the Tennessee residency law was unconstitutional.
Then the Tennessee Retailers Association filed a Petition For A Writ Of Certiorari to the Supreme Court.
"I'm excited to see what the court does," Wine Institute Vice President and General Counsel Tracy Genesen said.
"We've been waiting a long time to revisit the question about whether retailers have the same constitutional protections as wineries," alcoholic beverage attorney John Hinman – a partner at the San Francisco law firm of Hinman & Carmichael, said. "It's in the context of a residency requirement in the Total Wine case, but the principal is identical."
"The question was always how (Granholm) would apply to the other tiers," Compli Vice President of Product & Marketing Jeff Carroll said. "It could be a watershed ruling if it goes in the favor of Total Wine."

Oral arguments in the Byrd case could occur sometime around January, with briefs due sometime in December, potentially leading to a decision next spring.
Not all industry stakeholders are in favor of a level playing field when it comes to retailer shipping.
Wholesalers, for their part, see overturning residency requirements as another threat to the sanctity of the three tier system.
"This is a big deal to the wholesalers," Hinman said. "They oppose it because this is another lynchpin of the three-tier system being pulled out – suddenly you have a retailer that can operate across state lines."
"Who would have believed it would have been Total Wine that would have driven this shift?" Hinman asked. "I'm glad they're doing it because they're one of the few retailers with resources to pursue this."

(Total wine also challenged state laws limiting it from doing business in Minnesota and Texas. Ed Cooper, a spokesman for Total Wine, said the company has "a company policy against commenting on matters that are in litigation.")
"No one knows where the Supreme Court is going to go, whether this will become a states' right issue with conservative justices – or a commerce clause issue," Hinman said. "Are we one national marketplace or are we a whole series of individual states? This one cuts across party lines. There are conservative justices who are originalists saying the states were given rights to determine their own future, especially under the 21st amendment, which guarantees them the right to establish laws to prohibit the importation of alcohol. "
It remains to be seen what the court will look like short-term, given this week's events in Washington.
Genesen, who was part of the legal team that created and implemented the wine industry's litigation strategy in the Granholm case with Kirkland and Ellis, said a ruling could be narrow, or broader - in essence saying discrimination at any tier isn't okay. The court could rule commerce clause scrutiny applies to tiers besides wineries - in this case the retail tier – distinguishing between producers and retailers - or could broadly apply the commerce clause non-discrimination principle to retailers.
Circuit courts have been reticent to extend Granholm beyond wineries. "This will be important for giving guidance to the federal courts that have been split on residency requirements about how far-reaching Granholm actually is," Genesen said. "It's a perfect storm for the Supreme Court to agree to take the case."