How to Make World-Class Pinot Gris
Pinot Gris is the second most popular white wine in America besides Chardonnay, the number one imported white grape variety. More than twelve hundred U.S. wineries make Pinot Gris or Pinot Grigio.
What if nine of the best producers of Pinot Gris were to share what they're trying to achieve stylistically with specifics on how they manage their vineyards and winemaking processes to achieve their differing stylistic goals? What if they got into specific details on sorting, crush format, yeasts, nutrients, acid additions, fermentation vessels, fermentation temperature, racking, barrels, cold stability, filtration and more?
This could be the most extensive article ever done on Pinot Gris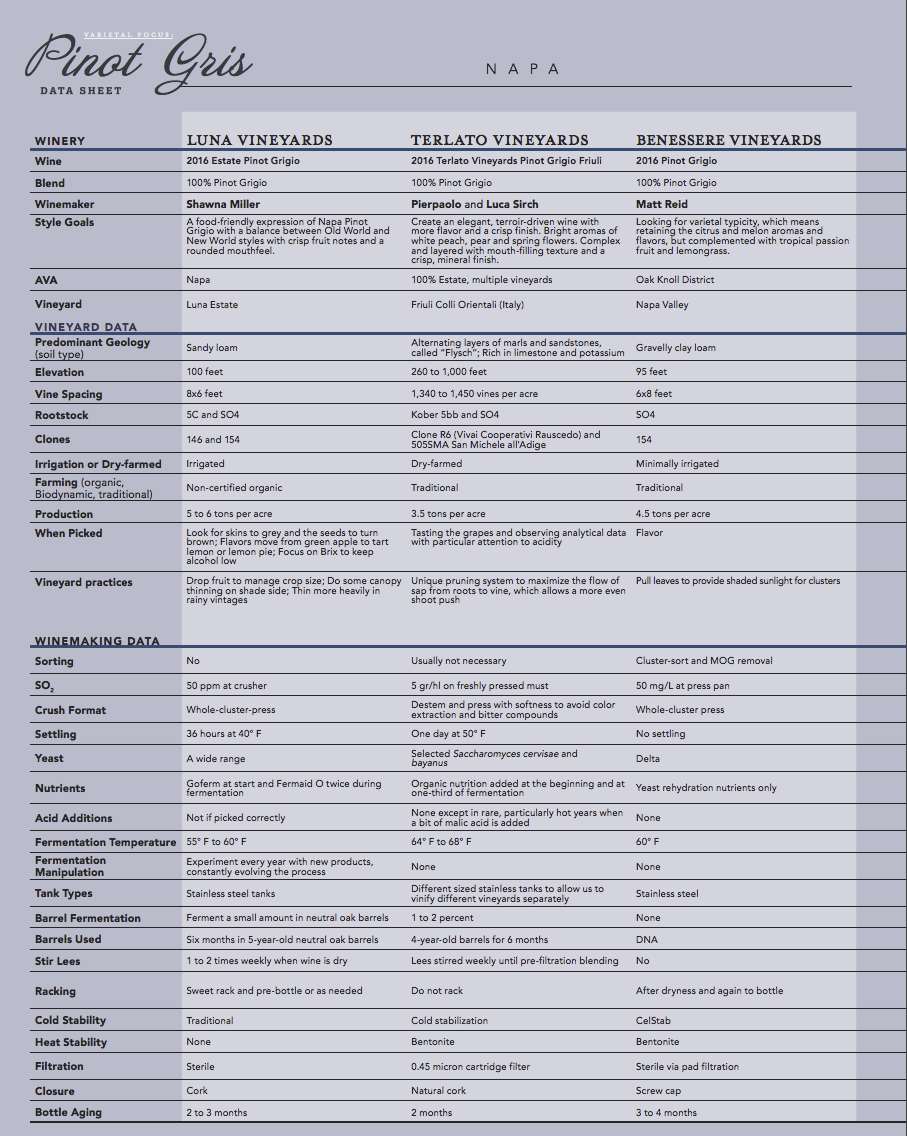 The Pinot Gris Varietal Report is in the August 2018 Wine Business Monthly.
Check out these varietal focus reports:
Varietal Focus: Cabernet Sauvignon

Varietal Focus: Sauvignon Blanc
Varietal Focus: Rhône Blends

Varietal Focus: Rose
Varietal Focus: Cabernet Franc
Varietal Focus: Red Wine Blends
Pinot Gris is grown throughout the world. In Germany it is known as Rulander, in Switzerland Malvoise, in Hungary Szürkebarat. Pinot Gris is grown in both the North and South of New Zealand. It is grown in California, Washington and, especially, Oregon, where since 2000, Pinot Gris has been the number one white grape variety grown in the state. David Lett of Eyrie Vineyards planted the first American Pinot Gris vines in 1966 and produced the first Oregon Pinot Gris in 1970. Richard and Nancy Ponzi, David Adelsheim and Don Lange were early proponents of the variety. In 1991 King Estate Winery brought Pinot Gris onto the national stage, and they now produce close to 250,000 cases annually.

Pinot Gris is usually produced as a varietal wine. It does best, quality-wise, in cool-climate areas. In warm regions or when it is over-cropped, it can produce bland, vapid wines. A fairly early ripener, it can be pretty vigorous. Depending on style and location, it can produce good quality fruit in the 3- to 5-tons per acre range. Flavors and aromas cover a wide spectrum, from lemon and lime citrus to stone fruit to floral blossom character. Oak is rarely used as a flavor component, but is often used in neutral forms, sometimes in conjunction with sur lie treatments and/or malolactic fermentations to increase mouthfeel and richness. Individual winemakers may leave a bit of residual sugar to balance acidity and increase palate weight. Because of its acidity, it lends itself to a wide range of foods.

For this varietal focus, we started in the Napa Valley, where the first question was, "Pinot Gris, why not Cabernet?" The obvious answer was, "We grow the Pinot Gris where the Cabernet does poorly." Shawna Miller from Luna Vineyards attempted a cross between Old World and New World styles. Matt Reid from Benessere Vineyards wanted to retain citrus and melon character, but enhance it with tropical notes of passion fruit and lemon grass. The Terlato family almost single-handedly created the Pinot Grigio category by importing Santa Margherita from Italy. Now their Terlato Wine Group is based in Napa, but they still make their Pinot Grigio in Italy. Doug Fletcher, vice president of winemaking, says they attempted to make a wine that showed fruit, but with richness and balanced acidity.

Oregon is Pinot Gris country. We got some of the true pioneers to participate in this varietal focus. Luisa Ponzi of Ponzi Vineyards took her family's old vine Pinot Gris and pushed it as far as she could texturally. Don Lange was also looking for texture when his Lange Estate Winery & Vineyards made the first Oregon Pinot Gris fermented in oak puncheons. King Estate Winery is the largest Pinot Gris producer in Oregon and winemaker Brent Stone said their Domaine effort is modelled in the Alsatian style. Corey Beyer said Archery Summit Winery used a concrete egg to create a mélange of the best styles in the world. Illahe Vineyards winemaker Brad Ford placed balance over aromatics for his Pinot Gris. Aaron Lieberman from Iris Vineyards tried to balance fruit and acidity to appeal to a broad audience. - Lance Cutler