Silicon Valley Bank's State of the Industry Report Released
Silicon Valley Bank released Rob McMillan's State of the Industry 2018 Report and it points to data indicating the growth rate of wine sales is slowing - wine sales are still growing to be sure - but the rate of growth looks to be tailing off a bit.
Some of the highlights and predictions per the report:
• Consumers continue to leave lower-price segments in favor of better-quality offerings, but total sales growth is leveling off.
• For the industry as whole, sales will rise by 2 to 4 percent, while volumes will increase up to one percent.
• Overall pricing will remain flat with price increases difficult to pass through to consumers.
• The premium wine segment – which we define as above $10 per bottle – will grow in the range of 4 to 8 percent, down from the estimate of 10 to 14 percent in 2017.
• Overall supply is balanced, with chardonnay demonstrating particularly strong demand. Cabernet is balanced with flat to downward pressure at the high end of the market.
• Increasing imports will continue in the lower premium price points.
• Acquisitions will cool somewhat from the torrid pace of the past three years. We still will see foreign purchases of US wineries and significant transactions for vineyard properties.
• North Coast grape prices, which have seen rapid growth in the past five years, should slow their growth rate.
The data is consistent with a lot of what we were hearing anecdotally from executives interviewed for the February Wine Business Monthly.
This is SVB's 17th annual state of the industry report. One of my favorite charts is the one below, because it shows actual winery performance - sales growth and profits from actual financial statements from clients and non clients. It indicates sales growth at premium wineries slowed between the third quarter of 2016 and the third quarter of 2017.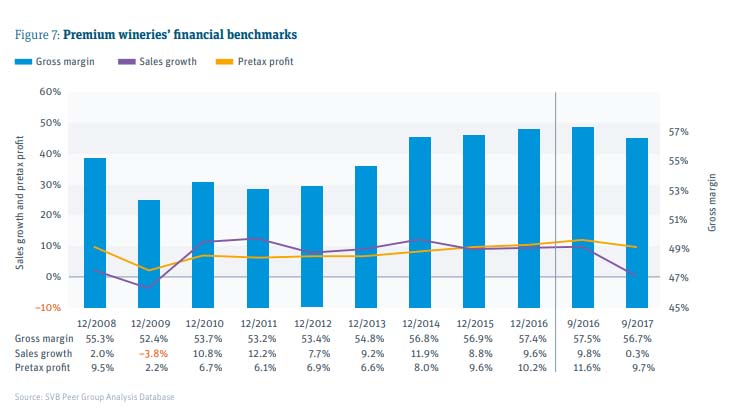 Average Winery Visitation Declining
While the report underscores the increasing importance of DTC revenues, it does raise a cautionary flag on DTC as well. Data showing a decline in winery visitation made little sense two years ago because winery DTC revenues were up across the board. The negative trend was attributed to better reporting from wineries being more focussed on tracking visitation, as reported in the July 2017 Wine Business Monthly. Declining visitation does seem to be a trend, in 2018, though. "After additional research and reflection, we are convinced that there is more going on than we first suspected," McMillan writes in the report. Wineries have been doing a better job of selling to the guests they host but the number of visitors is declining.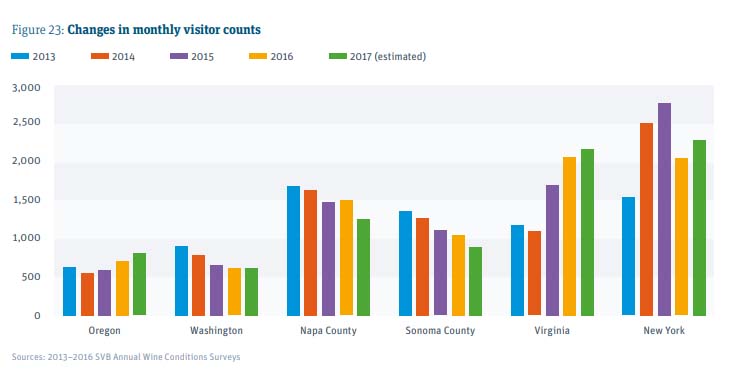 Changing demographics - i.e. younger consumers and retiring baby boomers are one of the factors at play.
The report says "successful wineries ten years from now will be those that adapted to a different consumer with different values." It also notes that a changing of the guard is underway when it comes to the demographics behind premium wine.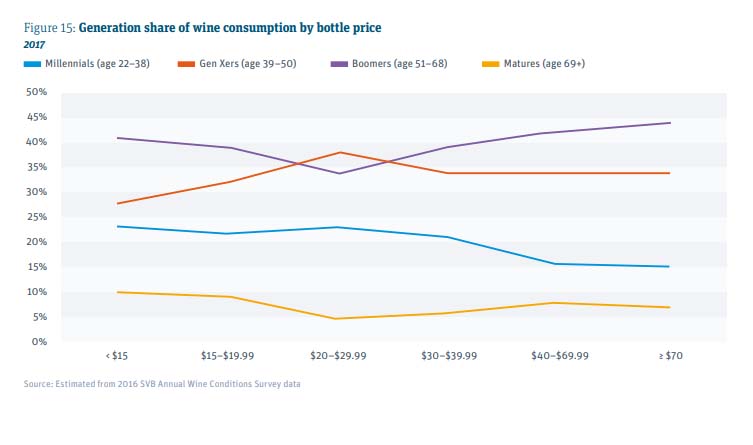 Rob McMillan alluded to much of this in a webcast a couple of weeks ago, here's the replay.