Three Takeaways from the Gomberg, Fredrikson & Associates - 2017 Review
January 11, 2018
Jon Moramarco, Editor and Partner with Gomberg Fredrickson & Associates, hosted a webinar today, reviewing recent wine market trends, much of it in detail. Some of the broad findings: Wine sales continue to grow, albeit not as quickly as they did last year; there are challenges in collecting industry sales data because consumers are increasingly shopping in channels that aren't easy to measure; Using Colorado as a test case, it appears that Marijuana legalization isn't having much of an effect on wine, beer, or spirits consumption.

Wine Sales are growing, they're just not growing as quickly

While the numbers are preliminary and include end-of-the-year projections, 2017 U.S. wine shipments rose 1.3 percent in 2017, reaching 403 million cases, compared to a growth rate of 2.7 percent in 2016.

Total alcoholic beverage volumes were down 0.4 percent. While wine volumes grew 1.3 percent and value rose 3 percent, the increases were less than 2016's increases of 5.8 percent and 2.6 percent growth in volume and value.

"Overall, 2017 was slightly softer than 2016 in terms of growth when you look at total traditional wines," he said.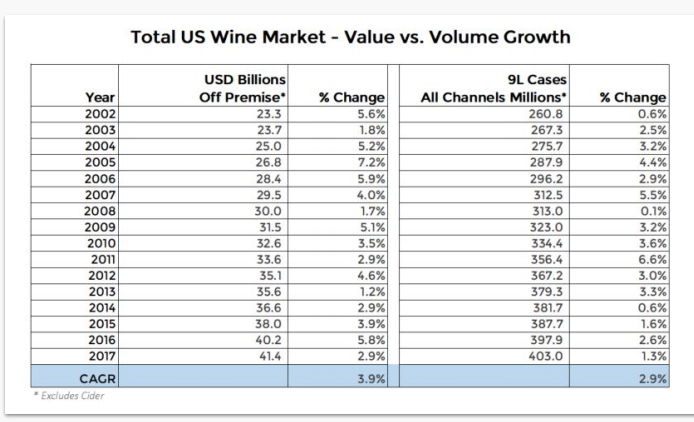 Moramarco released data indicating consumer expenditures on beer, wine and spirits reached $241 billion in 2017, compared to $235.5 billion in 2016.

The chart below puts the growth in perspective. The current growth trend of the California wineries started with the French Paradox presentation by 60 Minutes in the early 1990s. It shows the trends of shipment growth with traditional wines. It's grown consistently. Over the last 25 years, wine sales have grown 2.9 percent on an annual basis.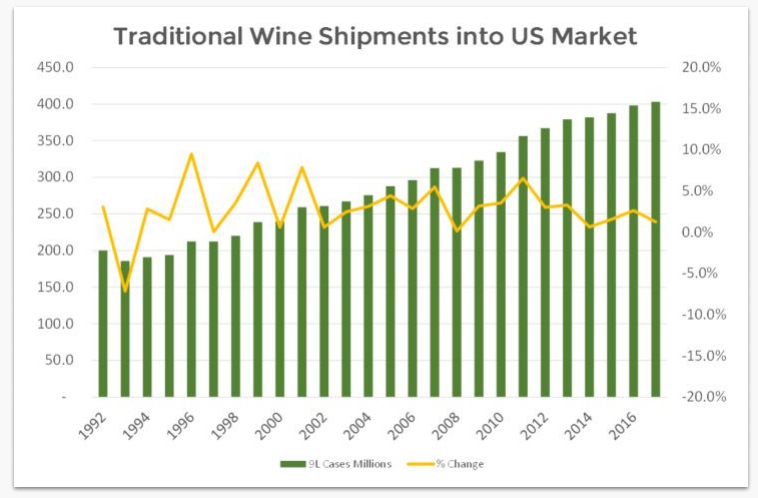 Channel Shifting

Jon Moramarco said it appears consumers are shifting some purchase decisions, shopping more in club stores and discount retailers such as Trader Joe's, and less in traditional grocery stores that are captured in scanner data. He said growth in direct to consumer shipments has outpaced the growth of total retail sales.

There are 240 million adults in the U.S. of legal drinking age. The Wine Market Council has been tracking who those consumers are and has shown that about 35 million people or about 15 percent of that 240 million drink 85 percent of the wine that's sold. "Obviously, it's only a sub-segment of these legal drinking age adults that most wines are sold to," Moramarco said. "The opportunities are in making sure we understand who that sub-segment is that drinks most of the wine, and then where the opportunity is to increase the number of frequent wine consumers."

Marijuana legalization probably not going to have much of an effect on wine consumption.

Amid questions about what's going to happen with wine shipments because of cannabis legalization, Moramarco looked at Colorado sales data going back to 2005. Colorado had a state amendment allowing medical marijuana use in 2000, established a medical marijuana code in 2010, and legalized it in 2014.

According to the data, Colorado represented 1.83 percent of total wine servings in the U.S. in 2005. By 2013, prior to legalization of marijuana, it was 1.89 percent. Today, it's 1.99 percent. Moramarco correlated population figures and total servings of alcoholic beverages. Data shows that in 2005, the total population of Colorado was drinking about 19 percent more servings of beverage alcohol than an increase in the population would justify. When marijuana was legalized at the end of 2013, those consumers were drinking 18 percent more, and today they're drinking 20 percent more.

"If you want to use facts for what's going to happen with cannabis, and this says to me that Colorado is a good test case" ... "It probably is not going to be a big impact on wine consumption or beverage alcohol consumption," Moramarco said.