Petition for Mount Pisgah AVA in Willamette Valley Sent to TTB
On Thursday, Oct. 12, the Alcohol and Tobacco Tax and Trade Bureau accepted as perfected a petition to create a new AVA in Polk County, Oregon: Mount Pisgah. The petition, written and submitted by Brad Ford of Illahe Vineyards, would establish Mount Pisgah as a new sub-AVA of the Willamette Valley.
Included in the petition are 10 vineyards and two wineries from the coast range foothills south and east of Dallas, Oregon: Amelie Robert, Ash Creek Vineyards, Croft Vineyards, Erratic Oaks, Fern Creek, Freedom Hill Vineyard, Mistletoe Vineyards and Open Claim, in addition to Illahe. In total, 530 acres of Chardonnay, Pinot Gris and Pinot Noir and other varietals comprise what could become the second-smallest AVA in the state.
"We've always known that we were growing Pinot Noir in a special part of the Willamette Valley because our wines and grapes have received high praise. Once we realized that we were sharing success because of the unique spot, we got together to work on the petition. We hope that Federal recognition of our area will alert many more wine drinkers to the excellent grapes and wines coming from our little mountain in Polk County," said Ford.
In terms of soil, Ford wrote: "The area is unique in the Willamette Valley for its shallow sedimentary clay soils, its geological distinction, and its calm, sheltered climate."
For more information from the TTB on this, and other pending AVAs, .
Illahe Vineyards was named one of Wine Business Monthly's Hot Brands in 2016. To read the profile on Ford and the 2014 Estate Pinot Noir, please click here.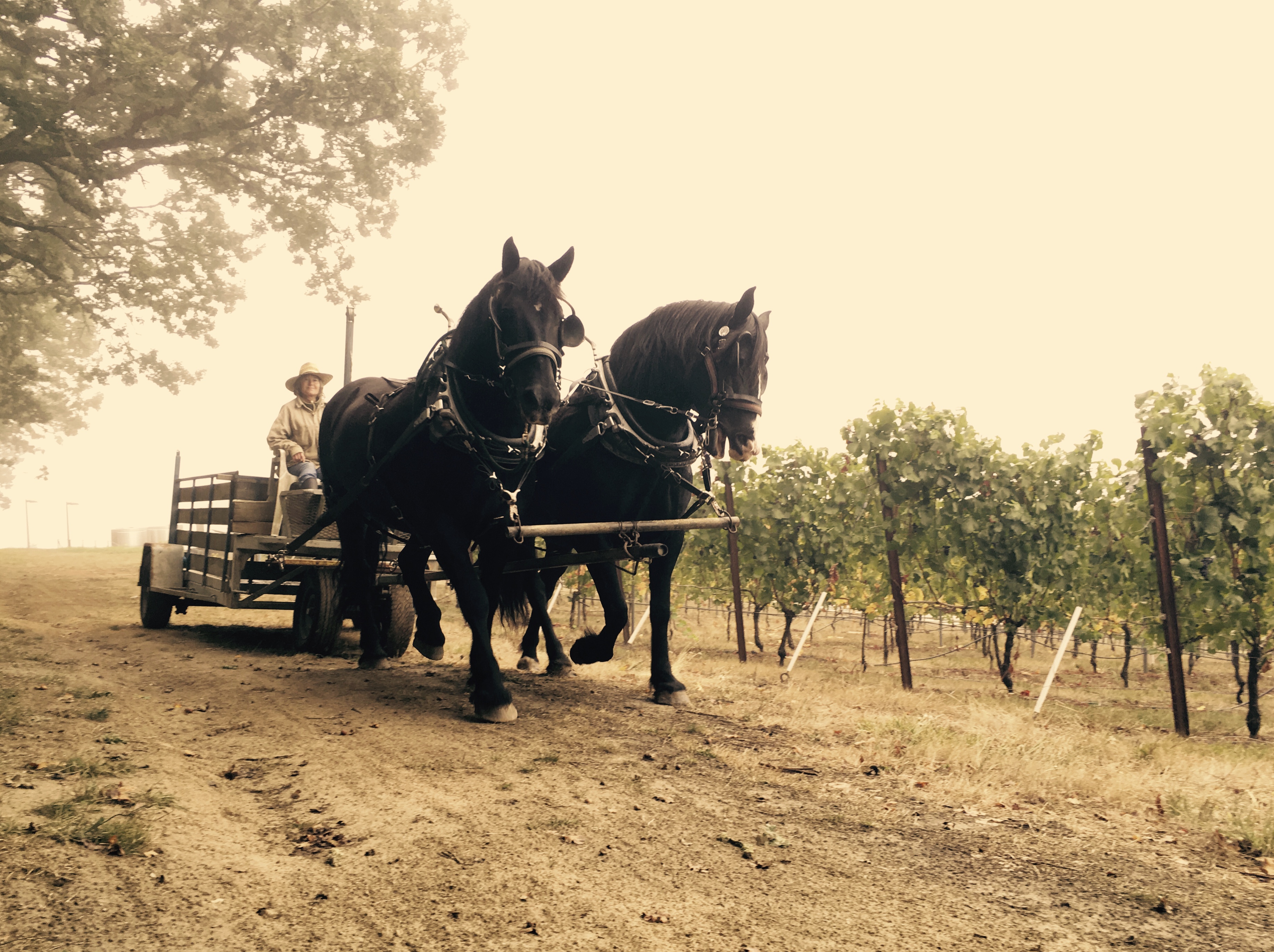 Horses set out to bring in Illahe Vineyard's grapes during the 2016 harvest on Mount Pisgah.
Photo courtesy Illahe Vineyards