Wineries decreased their job postings as of August 2017 according to the latest report released by Winejobs.com. Postings for all winery jobs on the industry's leading job site in August 2017 decreased 1 percent from August 2016, however, are up 5 percent year-to-date.
Harvest positions are up 11% year-to-date. This increase in harvest positions is a prime reason for the increase in winery hiring this year.
Winemaking positions saw the greatest growth in August 2017, up 17 percent from August 2016 and are up 15 percent year-to-date.
DTC, tasting room and retail (Hospitality) jobs decreased slightly in August 2017, down 3 percent from August 2016 but are up 4 percent year-to-date.
Sales & marketing positions decreased in August 2017, down 10 percent from August 2016, and are down 7 percent year-to-date.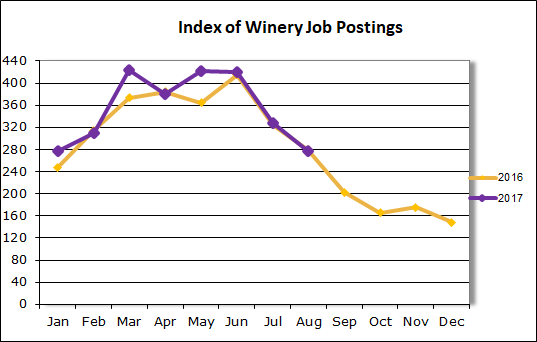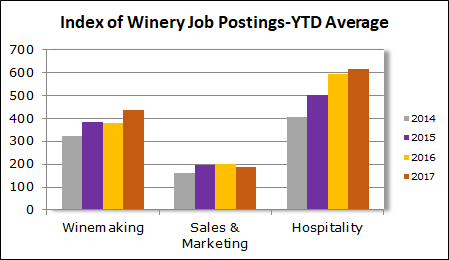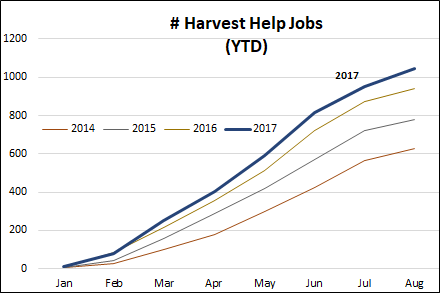 NEW- Winejobs.com NOW OFFERS RESUME TRACKING & STORAGE! Log into your winejobs account to see how many times your job was viewed and to review the applications to your job listing.
Click here to log into your winebusiness.com account.
About Winejobs.com
Winejobs.com is a resource for both job seekers and employers. Since the online job board is specific to the wine industry, retailers will find only the most serious and qualified job candidates. With more than 9,000 jobs posted in 2016, Winejobs.com is unmatched in usage by those seeking to advance their career or grow their company in the wine industry.

About the Winejobs.com Index
The Winejobs.com Index provides a way to measure and compare trends in the wine job market. March 2007 is set with a base index of 100. The following months' indexes reflect percentage changes since that base index, providing a quick way to gauge rises and drops in job postings. Derived from the leading online wine job board, these changes can be interpreted as industry-wide trends. In 2008, the Winejobs.com Index accurately predicted a severe drop in wine-related jobs prior to the economic recession.