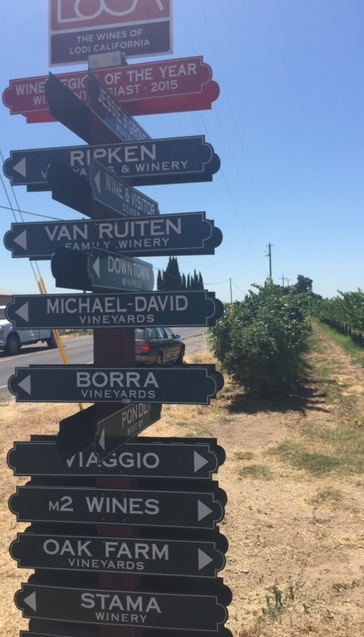 More than 150 people attended the second annual Lodi Vineyard and Wines Symposium. Presentations and panel discussions included deep dives into land pricing, grape pricing, marketing, promotions and succession planning. Lodi is a major player among California wine regions - well positioned given demand for quality wine-grapes and growing awareness of the region. Here are ten takeaways from the symposium:
Revenues are Going Up, So are Bottle Prices
In a survey of wine industry professionals conducted by the Wine Industry Symposium Group in the second quarter of 2017, 75 percent of respondents from Lodi said they experienced increases in revenue last year. The strongest growth was for grapes supplying bottles priced in the $14 - $20 range, though the region generally has the lowest grape prices outside of Fresno.
More 'Lodi' Wine Sold in Nielsen Channels
Most grapes sourced from Lodi are blended into "California" wines but Brian Tognotti, Assistant Client Director, The Nielsen Company, said wines labeled "Lodi" were up 9 percent in value and 7 percent in volume last year and sold for $10-$11 on average in scan channels. Lodi has wider distribution in major markets than it did a year ago too, with Kroger, Albertsons/Safeway and Publixs selling the most Lodi-labeled wine among the stores Nielsen tracks.
Less Discounting Good for Lodi
Nielsen is seeing consumer response to promotions declining, with temporary discounts becoming less effective because of fragmentation of the shelf- i.e. the number of items on the shelf is going up. An industry that's less reliant on promotions in general is probably a positive thing for Lodi.
Lodi's Place in the World
Global production is 40 million tons a year and California is roughly 4 million tons, accounting for about 10 percent of the world's production. Lodi produces about 800,000 tons – about 20 percent of California's supply or about 2 percent of the world's production. That sounds small but it's actually pretty significant.
The Angry Grower's Slide
Lodi wine grapes typically go into $7-$10 bottles – but increasingly go into bottles priced higher and the 'sweet spot' in the wine market right now is $10 - $20. If one takes the old rule of thumb that a ton of grapes should be worth about 100 times the retail bottle price, one might think Lodi growers would be getting at least $700-$1,000 per ton. Allied Grapegrowers vice president of operations Jeff Bitter said only about 100,000 tons of Lodi's 800,000 tons of grapes crushed in 2016 sold for more than $700 a ton – with exceptions for Petit Sirah, Pinot Noir, as well as Zinfandel, which can be more expensive to farm.
Stuck in the middle in Lodi, but things are looking up
Fungibility is a buzzword in the wine business these days, with grapes being allocated across appellations for different products and programs based on price. Lodi is in the middle of the state and has been flanked by sufficient supply in higher priced coastal areas, and excess supplies in the southern interior where prices have dropped. Allied's Jeff Bitter said that's really the big issue for Lodi but that with coastal inventories coming into relative balance, there's reason for cautious optimism. "Lodi has experienced a stagnant market, but that's behind us," he said.
Almonds are Hot!
Demand for land for almonds has been increasing, and has driven vineyard land prices in Lodi higher. John Duarte, owner of Duarte Nursery, said his nursery alone will sell about five million almond trees this year, much of it destined for Lodi, equivalent to 40,000 acres of almonds. Duarte will sell 5,000 to 6,000 acres worth of grapevines this year too, but nurseries across Califronia are basically just selling just enough planting material to replace wine-grape acreage that's being removed or replanted.
The Varietal Mix is Changing
Zinfandel prices in Lodi have been soft, which is too bad becuase it's what Lodi has long been known for. Petit Sirah acreage in Lodi doubled in a few short years with Petit Verdot increasing quickly on a small base. "Zinfandel is soft because of these red blends," Erica Moyer of Turrentine Brokerage said.
Triple Drinking Occasions
This isn't Lodi-specific but in a recent survey, Nielsen asked what percentage of the time people drink wine beer and spirits in the same drinking occasion: Turns out it's somewhat common among millennial females to have a wine, a beer and a shot of liquor on the same occasion.
Pssst. Plant Sauvignon Blanc?
Sauvignon Blanc is currently the fastest-growing wine grape variety in the U.S. market. It is a leading varietal for Lake County but not so much along the Central Coast. That may make it a good variety to plant in Lodi. "I think Sauvignon Blanc lands here," Bitter said. "It will land in the Delta and Lodi. Don't everyone go out and plant Sauvignon Blanc and ruin the market, okay?'