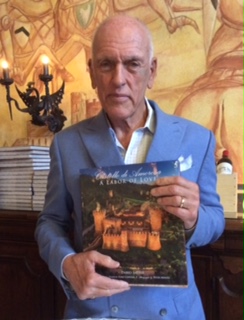 Napa Valley vintner Dario Sattui remembers walking up the hill behind his house one morning after a sleepless night a decade ago, all the way to Castello di Amorosa, the 13th century-inspired Tuscan castle he had built near Calistoga, gargoyles, watchtower, moat and all.

As he waited for the first paying visitor by the drawbridge, Sattui wondered if anyone should show up. Did he make a fool of himself?

"I mean who does (something) ridiculous like this," Sattui said April. "'Will anybody actually come here?'
The rest is history. On April 6, Sattui invited 70 guests to celebrate Castello di Amorosa's 10th anniversary where an estimated 400,000 people visit a year.

European artisans who had helped create the 136,000-square foot fortress set up demonstrations of their skills in the courtyard; wine writer and educator Karen McNeil led a wine seminar in the Grand Barrel Room; and a Michelin-star chef flown from Italy, Stefano Masanti, prepared a sit-down lunch served in the Great Hall, a banquet room decorated with Italian-style frescoes.

Sattui, a devoted student of medieval architecture, who estimates about 400,000 people come every year, purchased the 171-acre property in 1993.

"The castle wasn't any one idea. It was a composite of everything I'd seen over a period of years," Sattui told his guests. "It was my fantasy, my invention."

At first, Sattui wanted to replicate a monastery.

But people don't want a monastery, he reasoned. "They want a castle, right? And I was the same way. So after two, three years we changed the plan...started building a castle."

Sattui, who has 29 acres planted, pursued his plans overcoming logistics, financial obstacle and self-doubt during the 15 years it took to build the castle, which features 107 rooms, including torture chamber, an armory and a chapel. Workers hand chiseled 8,000 tons of stones from two quarries in Napa County. About 70 percent of the building is underground.

In 2006, Sattui was running out of money. But in 2007, Napa County issued a temporary occupancy permit, allowing the first paying visitors to the castle and enabling Sattui to finish the project.
During the celebrations, MacNeil, author of The Wine Bible, led a vertical tasting featuring 10 years of Castello di Amorosa's Il Barone Cabernet Sauvignon, beginning with the 2003 vintage.

Sattui spoke on his philosophy on winemaking, including his determination not to follow the latest trends.
"We're striving to make flavor full, elegant, balanced, memorable wines, wines that aren't over-oaked, wines that don't have extra high alcohol," he said.

MacNeil said the wines are "very European" in style. "It's very masculine," she also said. They are "more intriguing than I anticipated, actually," she said later during the two-hour plus luncheon, which featured hand-made hen ravioli, roasted strip loin of beef, accompanied Il Barone Cabernet Sauvignon from the Napa Valley from 2013 and 2014 and other wines.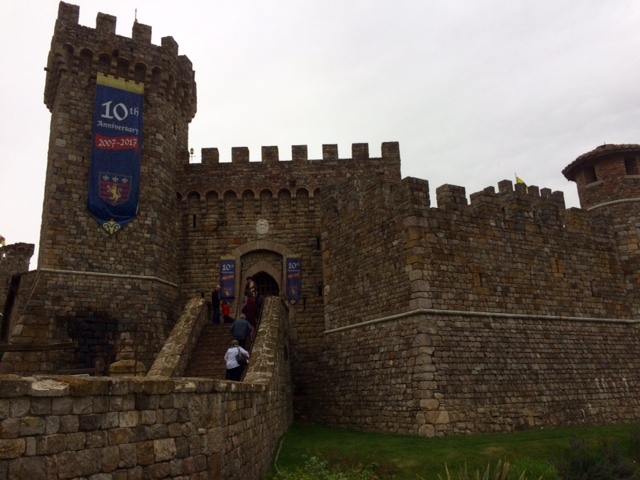 U.S. Rep. Mike Thompson, D-St. Helena, sent his congratulations by video. Sattui also received a framed a resolution from California Sen. Bill Dodd.

As guests headed to lunch in the Great Hall, singers with Opera D'Amore sang pieces by Verdi, Rossini, Mozart and Puccini.

Among those watching the scene was visitor Mihai Ungureanu, He said he and his wife, Cristina, found the castle's authenticity impressive. They expected kitsch, said Ungureanu, a Romanian who is moving with his wife from South Carolina to Palo Alto.

Instead he and his wife were really surprised. "(It) brings a lot of memories of home…unexpectedly," Ungureanu said.

To mark the 10th anniversary, Sattui has written a book, "Castello di Amorosa A Labor of Love," detailing the project's history. As he signed copies of his book, Sattui said he had no idea the Castello would be the success it has been. Exactly what led him to build it? "It's something inside of me (that) made me do it," he said, before presenting a signed copy of his book to a guest.