As the 2016 wine grape harvest gets underway, a new 57,000 square foot custom crush facility is opening in the northern part of Sonoma Valley just outside of Santa Rosa, specifically designed with the small, hands-on winemaker in mind. The facility, still under construction, will process an easily manageable 450 or 500 tons this fall, though its use permit allows for 125,000 cases, or about 2,000 tons.

The project was just an idea 20 months ago, building permits were issued seven months ago, and the facility – abuzz with activity - is already processing Sauvignon Blanc. It's organized chaos.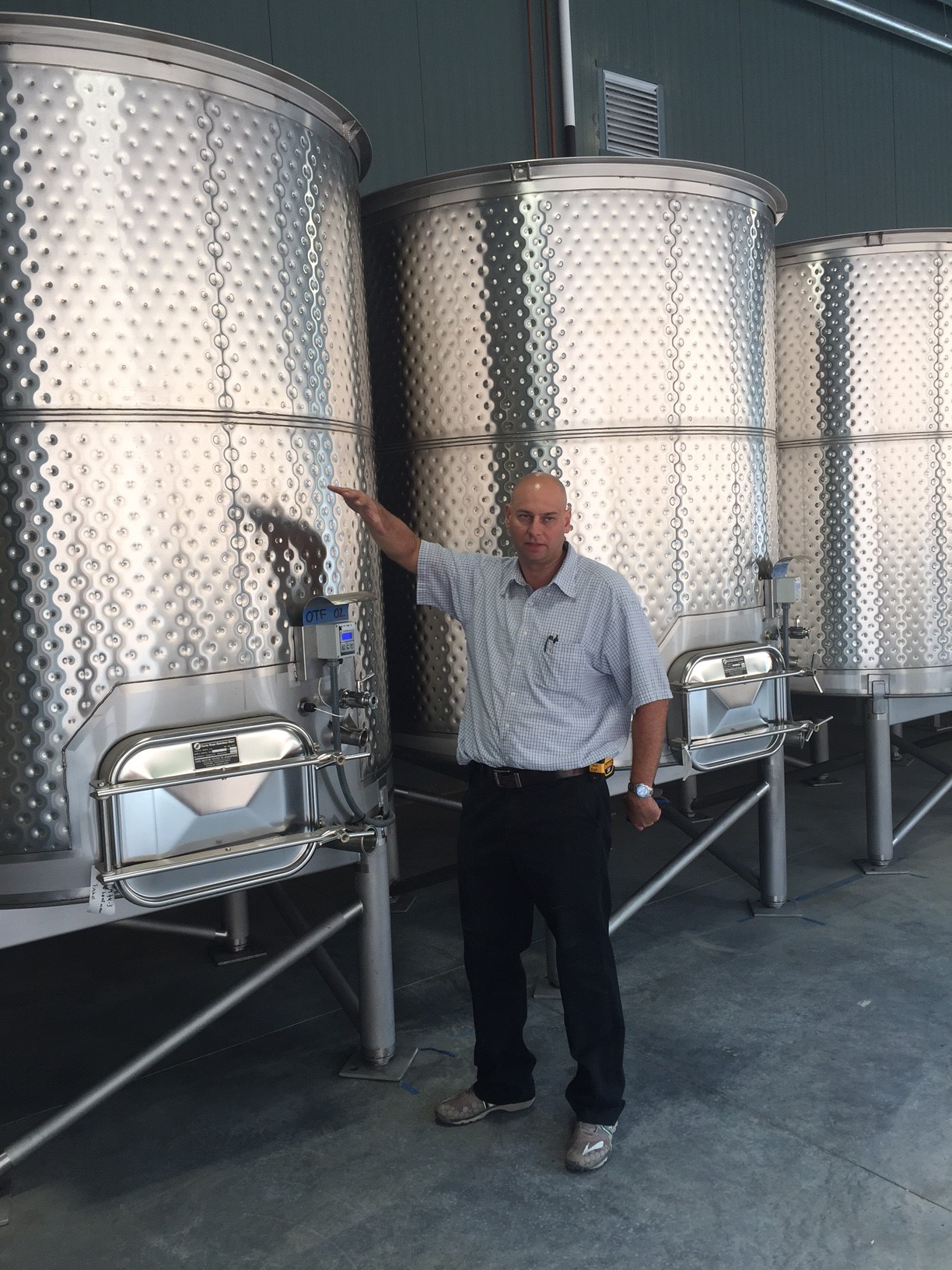 Sugarloaf Crush is specifically designed to handle small lot fermentations with some of the latest equipment: A Bucher Vaslin Oscillys press, an optical sorter, small-lot concrete-stainless steel tanks, multiple membrane presses, and for one client - oak fermenters, along with three separate temperature controlled barrel rooms.

General Manager and Winemaker Ronald Du Preez, (left) previously with Jordan Vineyards & Winery joined Sugarloaf Crush in March. He's been in the custom crush business since 2012 and studied viticulture and enology at Stellenbosh University in South Africa. The 10,000 hectoliter Bucher press at Sugarloaf Crush is the same model Du Preez worked with at Jordan for 12 years, simple, easy to work, and capable of handling whole clusters in batches of 8 or 10 tons.

To be ready for the 2016 crush, contractors focused considerable attention on creating a covered crush-pad outside of the main building. Eventually the tanks will move inside.
Outside sit 10 open-top tanks, ideal for 3.5 to 5.5 ton lots, that can be picked up with a forklift. Next to them are another 10 specially designed custom hybrid open top tanks with 36" doors on top that swing open for punch downs. Du Preez worked with Santa Rosa Stainless Steel and custom designed the tanks. The hybrid tanks can be used for Pinot Noir, and work well for cold soaks. They're good for pump-overs with Cabernet Sauvignon too. With the tops down, they can be pressurized so work for storage, blending or for filtering before bottling. Next year, the winery will likely add a pneumatic punch-down device.

The building is designed with built-in flexibility specific for the custom crush industry. A huge cold room can keep a couple of trucks of fruit in storage at 40 degrees if unexpected equipment issues ever cause a delay. Tanks connect to a heating and cooling system with spring loaded ball valves, not solenoid valves, so they automatically close yet can be manually opened in the event of a system failure.
"In this business, there are no mistakes," De Preez said. "There cannot be mistakes – so you always have to be 100 percent perfect."

All of the tanks in the winery will eventually be connected through Tank Net. The vision is for the winery to be completely accessible. Clients will have access the status of their lots via their phones. Sugarloaf Ridge went with InnoVint wine cellar management software (see Product Review: Cellar Management Software, WBM, February 2016).

There will be a bottling area in the future – for now, clients are working with mobile lines.

Sugarloaf Crush has a 5-ton minimum.

What makes Sugarloaf Ridge truly unique, according to De Preez, is that a second construction phase will include hospitality facilities with a licensed kitchen so custom crush clients can entertain. The winery is permitted to host up to 20 events per year.

Custom crush capacity is increasingly difficult to find, in part because big wineries - one from Modesto in particular - have been buying it up (see "Will Custom Crush Prices Increase?" in the February 2016 Wine Business Monthly and WBM's Directory: Custom Crush Facilities, June 2014).

"A custom crush business looked like a good business and a bunch of things fell together. We found a piece of land, we found Ronald, the investors, a bank, a general contractor, the subs, and found the clients," Sugarloaf Crush founder Joe Reynoso said. "It was a piece of cake," he quipped. "57,000 square feet in Sonoma County? Anybody could do that."