Madrigal Tasting Salon Continues California Artist Series
January 12, 2016
January 12, 2016, Sausalito, CA – On Friday, January 22nd, Madrigal Family Winery Tasting Salon in Sausalito will host a reception to celebrate the opening of its third art and wine installation, entitled "The American Car: A Family Portrait". The Salon exhibit features large paintings focusing on the American car and its role as a "beloved member of the family" as interpreted by recognized local Northern California painter Gale S. McKee. The installation will be on view through February 19, 2016.
In countless vintage photos, families, couples, and even dogs are posed in front of their cars -- as if the vehicle itself is a member of the family. These photographs show both pride and affection and Americans' on-going love affair with the automobile, since it's inception, as an integral part of American life. Fascinated with the car as a symbol of status, movement and freedom, McKee uses them as the starting point for a series of works conveying the human relationship with the machine.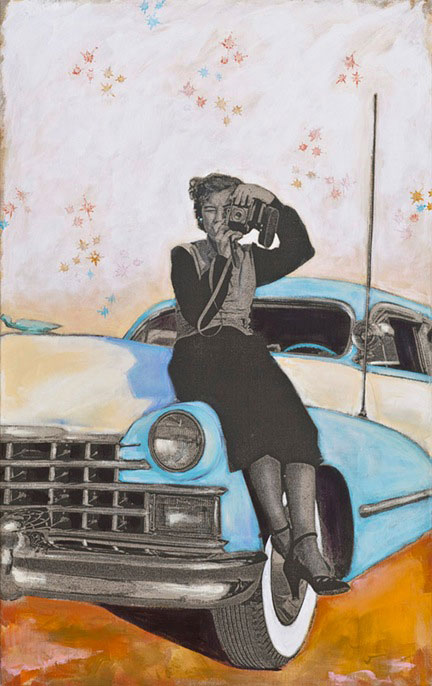 McKee's work has been exhibited extensively in both solo and group juried shows at museums and galleries, including Triton Museum of Art, the Marin Museum of Contemporary Art, Bedford Gallery, Icehouse Gallery, Atrium Gallery, and Gallery Route One, She has won many competitions and received numerous awards. A San Francisco native, McKee attended the Croydon College of Art in London, and received a BFA from the University of Denver.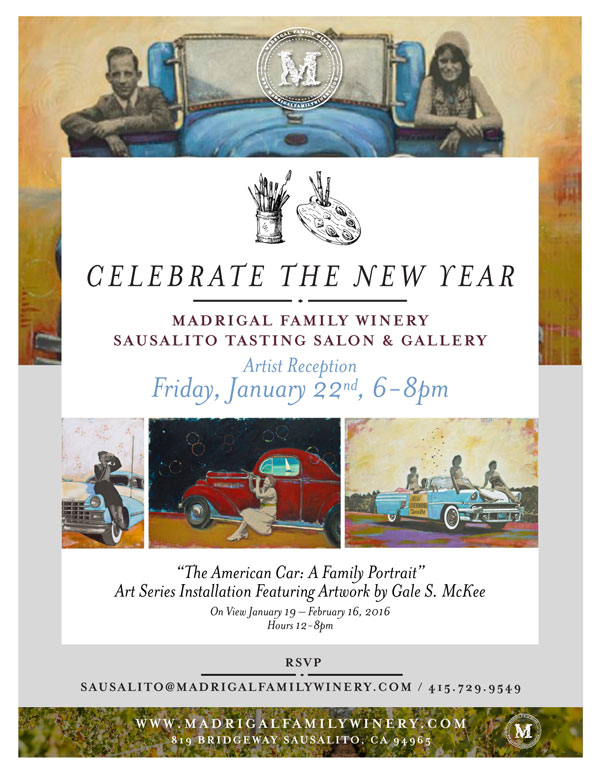 Entrance to the Madrigal event is complimentary.
RSVP to Patricia Gatti sausalito@madrigalfamilywinery.com
The Madrigal Sausalito Tasting Salon & Gallery is open from 12-8pm Thursday through Tuesday.
For information, contact Patricia at (415) 729-9549 or pgatti@madrigalfamilywinery.com
About Madrigal Family Winery
Located on Highway 29, halfway between Calistoga and St. Helena in the renowned Napa Valley, the Madrigal Family Winery continues the family tradition of viticultural leadership and wine production. Since the 1930s, the family has been building its reputation and earning recognition for their vineyard management program as well as their wines. Situated on 40 acres of estate vineyards, the state of the art Madrigal Winery specializes in Cabernet Sauvignon, Petite Sirah, Zinfandel, Sauvignon Blanc, and small lots of single vineyard and estate wines. Today, Madrigal Family Winery is run by Chris Madrigal, the family's 3rd generation.