The California Agricultural Statistics Service's preliminary crush report for 2014 indicates that 3.91 million tons of winegrapes were crushed, a decrease of 7.6 percent compared to the 4.23 million tons of winegrapes crushed in 2013, a figure that fell within expectations.

"It's kind of what we thought," Glenn Proctor, a partner with the Ciatti Company said.

The crush report of course, is a good indicator of supply and demand and is referred to by wineries and growers for making planting decisions and setting prices by region and varietal.

Even if the 3.91 million ton number wasn't unexpected, some interesting trends are reflected in the report. Coastal areas saw slight price increases for most but not all varieties, while California's Central Valley saw prices fall sharply. Table 10 of the report shows pricing in coastal regions up anywhere from 2 percent to 8 percent while prices in the Fresno and Bakersfield were down 12.5 percent and 23.4 percent, respectively.
Just three or four years ago there was a different dynamic: Wines coming from the Central Valley were highly sought after because the value end of the wine business was booming. Shifts in pricing seen in the crush report mirror sales trends seen on retail shelves where scanner data shows sales of wines priced for less than $9 slipping and wines priced above $12, and especially wines priced above $20, gaining ground.

Cabernet in Demand, Napa Average District Price Tops $5,815, Sonoma's Record Cab Crush
It was the third-largest Cabernet crop ever in Napa County and the largest ever Cabernet crop in Sonoma County – but in both regions prices rose.

With demand for Cabernet Sauvignon growing in general, the average price paid in California was up five percent, reaching $1,412.92, while tonnage was down 2.5 percent. In Napa, the closely watched "district average" number hit a record $5,815.41, up 7 percent with tonnage up five percent.

Sonoma County Cabernet tonnage rose by six percent, the largest Sonoma Cabernet crop since 2012, while average prices for Sonoma County Cabernet rose by 4 percent to a record $2,555.85.

"We've had big crops in Napa County and we continue to have strengthening prices, which shows that Napa Cab is nearly bullet proof," Brian Clements with Turrentine Brokerage said. "History shows that we get big crops when we don't need them. We usually get big crops like we did in 2000 and 2005 when sales are slow. We've had a robust case sales market for the last three years, and we've had above average crops every year and prices have continued to rise."

"Napa Cabernet Sauvignon momentum, in terms of varietal leadership and world class status, is displayed in several ways," George Schofield with George Schofield & Associates commented. "Clearly, a price of $5,930 per ton asserts dominance over Chardonnay and Pinot Noir, which sell for less than half the price.

"Napa Cabernet Sauvignon will exceed other counties in California, with the $2,605 average price per ton in Sonoma being the closest," Schofield said. "The total 2014 crop value of Napa Cabernet Sauvignon is estimated at $409 million and accounts for 58 percent of the entire Napa Country total for all grapes of $706 million. Clearly, Cabernet Sauvignon contributes, and means a lot, to Napa and helps substantially to maintain its image internationally."

Sonoma County Pinot Noir prices, for their part, rose by 5 percent to, $3,254, a record price, while tonnage fell by 14 percent.

Not that average prices in the crush report always translate to realistic asking prices for growers – they don't.

Zinfandel Tonnage Falls by Twenty-five Percent

Zinfandel tonnage state-wide fell nearly 25 percent - by almost 100,000 tons in 2014, and nearly half of that decrease occurred in Lodi. Yields were down substantially, which potentially will help the variety longer term, Proctor said.

Merlot Tonnage Hits Ten Year Low

Merlot tonnage fell by 19 percent. Proctor pointed out that Merlot tonnage is now equivalent to 2004 levels, while all other major varieties: Chardonnay, Pinot Gris, Riesling, Sauvignon Blanc, Petit Syrah, Zinfandel, Cabernet, etc., have seen double digit growth during that time.

Muscat Demand Dips

Tonnage of Muscat Alexander doubled over two years, according to the crush report, following a rush to meet rising demand. Prices for Muscat Alexander, however, fell 17 percent this year.

Balancing Supplies in the Central Valley

"From a valley perspective, the argument could be that (the crush) wasn't light enough, given bulk wine inventory," Proctor said. "Buyers will not come into the market until they're really sure they have a need. That's really the product of three larger crop sizes the last three years, and some weakening of demand in some of these $9 and less wines, and some of the case goods seeing weakness: that seems to be the bigger dynamic there.

"My take is we've had three pretty good crops," Proctor said. "We just don't know what 2015 is going to bring, so this market can change relatively quickly. We always have to be cautious of that. If we have a couple of countries that come in lighter and we have a short crop, things can change pretty quickly."

Bulk Wine Inventories Rising

One of the effects of the three healthy harvest that we have experienced – 2012, 2013, 2014 – is that the bulk market, which after the 2011 harvest had extremely low inventory and was very tight, has now backfilled with the three large harvest and we have seen a steady increase in bulk inventory over the last three years. (First Slide).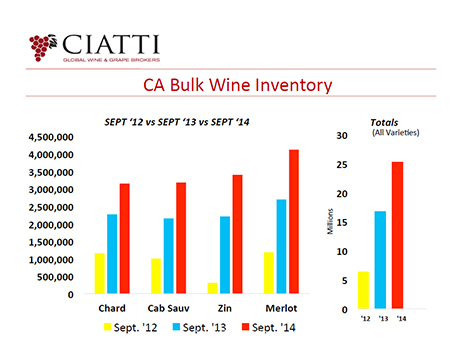 We look at September because that is when the market is usually stable and inventory is at a fairly steady state level before crush – as we can see for some of the major varieties and for all varieties in total the bulk inventory levels have been steadily increasing over the last three years.

When we look at where we sit today with current inventory (Second Slide) we see that we have significant inventory, potentially at the highest level we have seen in the bulk market, some of this inventory is needed and will be utilized by growing brands, and we have seen a decline this past year in imported bulk wines as wineries have had plenty of supply in California to meet their needs.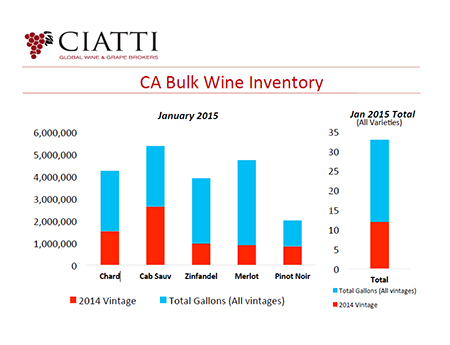 But there does appear to be some varieties that have significant inventories and one thing that we look at is how much is current inventory – 2014 – vs older inventory – 2013 and before. As you can see there are a few varieties that we are concerned about because their inventory is concentrated in some of the older vintages. We think, that at least initially, we will see slowing activity on the bulk market – especially the California appellation wines and this could also have some effects on the grape market as wineries are only going to buy when they know they have a real need – and given the inventory levels they are going to be cautious at least initially.

We expect the effects to be greater in the California – Central Valley regions of the market on grapes and wine. Also in this area we have seen a decline over the last two years in sales of the "everyday wines" at $9 per bottle and less – this has made the demand a little softer so it will affect those areas more. The North Coast and Coastal areas may fare a little better and we have seen relatively good activity on grapes and wine in the North Coast especially – but the demand has been growing faster in the $12 and above price points – so this demand is helping to use some of the inventory and we see that region in better balance than other regions of the state.

This is what it looks like today – but as we go into the next year – we all know that things can change quickly. It is hard to believe we will have another "Big" crop like the last three – but we have said that the last two years. -- Glenn Proctor