Introducing the 2014 Top 10 Hot Brands ~ Skinner Vineyards
January 23, 2015
Every year, when Wine Business Monthly chooses our annual list of the top 10 Hot Brands, we look for vintners, growers, wineries and wines that are making a statement in our industry. While quality is always our first and foremost consideration, Hot Brands is not simply a list of the best or most interesting wines we've tasted during the year. This list delves more deeply into what it means to be a part of the American wine industry. These are wineries that best exemplify their region or variety, or that dared to take big risks (with big rewards) in creating a new category or technique. In 2014, that common thread was that these wineries are all pioneers in some way. Each of the wineries on this list are helping to forge new paths that will be used for generations to come.
We are releasing the Top 10 Hot Brands in alphabetical order, one per day, leading up to the Unified Wine & Grape Symposium. Wine Business Monthly will be serving these wines to winemakers, grape growers and industry members at our annual gathering Bottle Bash during Unified on Tuesday, Jan. 27, 5:00-8:30pm at cafeteria 15L (1116 15th Street, Sacramento).
Skinner Vineyards
2011 Dry Diggings (Syrah, Grenache, Mourvedre blend), El Dorado County, Somerset, California
Chance Glance Leads to Family Winemaking Revival
For Mike and Carey Skinner, becoming winery owners was a twist of fate, or perhaps destiny. For as long as Carey had known him, Mike Skinner was interested in genealogy and discovering more of his family history. So when their son Kevin and his wife were driving back from Tahoe and spotted a dot called "Skinner's" near Placerville, California on an old atlas map, they figured they ought to check it out.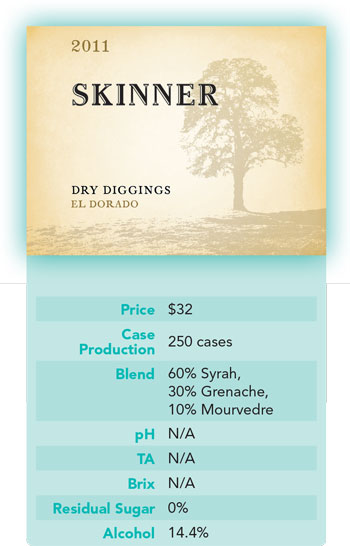 As it turns out, Skinner's was the former site of one of America's earliest wineries, established by Scottish immigrant James Skinner in 1861 in Rescue, California. Though the winery closed in the early 1900s, the original stone cellar still stands at the site. The Skinner family investigated and found that James was Mike's great-great-great-grandfather. Mike's interest was piqued, and within weeks, he and Carey flew from their Southern California home to El Dorado County.
"I teased him at the beginning," said Carey. "I said, 'Now that we've seen the land, is that enough or do we really need to own it and rebuild it?' He wanted passion in his life again, and we were both really passionate about wine, so we decided to revive the family legacy."
In 2006, the couple bought a 25-acre property a few miles away from the historic cellar, dubbing the site White Oak Vineyard. In 2007, they also added Stoney Creek Vineyard, a 67-acre mountaintop site at 2,740 feet in the nearby Fair Play AVA. The Skinners were determined to honor James' memory by farming in the same area and with many of the Rhône varieties he produced. "What James saw in the 1800s is true today," said Skinner, who believes the region is particularly well-suited to Syrah.
Between the two properties, the winery has 34 planted acres, including relative rarities that were originally farmed by James, like Trousseau, Carignan and the Skinner clone of Petite Bouschet. Fruit from the higher-elevation volcanic soils of Stoney Creek Vineyard tends to have more acidity and minerality while the White Oak Vineyard produces more of a full-bodied, rounded wine.
Winemaker Chris Pittenger, who has been with Skinner Vineyards since its first vintage in 2007, is charged with blending the vastly different profiles into a harmonious wine. He espouses a natural, fastidiously clean, minimalist winemaking technique. Sales manager Stephanie Simunovich calls him a "mad scientist," describing how he separates fruit into micro-blocks by 10-foot elevation changes and ferments them separately (with wild yeasts) then later blends them together for an optimal flavor profile. Wine that doesn't meet his and the Skinner's high standards is donated to the Catholic church for use as sacramental wine.
"One of the things that impressed me about the Skinners is not only their commitment to the history of this family, but their commitment to this region and really fully embracing being part of El Dorado County," said Simunovich. "They've really recognized the quality of the fruit and the land and the wines and wanting to be part of that tradition as well."
Carey Skinner serves on the board of the El Dorado Winery Association, and the family takes every opportunity to give back to their local community in other ways. "When we got into this project, I told Mike that we would only go forward if we would make an impact with the local community, and we were always conscious about giving back," said Skinner. "That's just the way we live." When the opportunity arose in late 2014 to finally acquire James' original winery site, they once again demonstrated their commitment to their neighbors. The property is being renovated to match its original condition then largely used by local charities for educational outreach, farmer's markets, as a food distribution center for low-income residents and possibly for an occasional winery event. "We think that James has got to be pretty proud of us; it's inspiring," said Skinner.
The full story on our top 10 Hot Brands will be available in our February 2014 issue of Wine Business Monthly. You can find it here starting Feb. 1, or come by our booth (#1620) at Unified and pick up a copy. Click here to subscribe to WBM.