Introducing the 2014 Top 10 Hot Brands ~ Halter Ranch
Every year, when Wine Business Monthly chooses our annual list of the top 10 Hot Brands, we look for vintners, growers, wineries and wines that are making a statement in our industry. While quality is always our first and foremost consideration, Hot Brands is not simply a list of the best or most interesting wines we've tasted during the year. This list delves more deeply into what it means to be a part of the American wine industry. These are wineries that best exemplify their region or variety, or that dared to take big risks (with big rewards) in creating a new category or technique. In 2014, that common thread was that these wineries are all pioneers in some way. Each of the wineries on this list are helping to forge new paths that will be used for generations to come.
We are releasing the Top 10 Hot Brands in alphabetical order, one per day, leading up to the Unified Wine & Grape Symposium. Wine Business Monthly will be serving these wines to winemakers, grape growers and industry members at our annual gathering Bottle Bash during Unified on Tuesday, Jan. 27, 5:00-8:30pm at cafeteria 15L (1116 15th Street, Sacramento).
Halter Ranch
2012 Cotes de Paso (Grenache, Syrah, Mourvedre, Tannat), Paso Robles, California
Paso Robles Winery Focuses on Estate-Grown Fruit for Long-Term Growth
Located in the newly established Adelaida American Viticulture Area on the west side of Paso Robles, Halter Ranch is a winery in the midst of transformation. Over the next five years, plans call for Halter Ranch to increase production from its current 15,000-case level to 40,000 cases of estate-grown wine. It is the final step in what will be, at that point, a nearly two-decade-long journey of careful planning and investment into the business.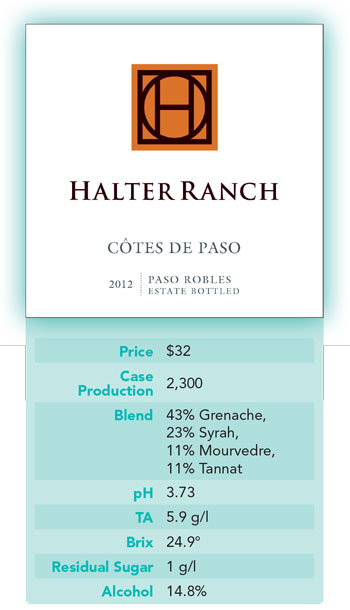 In 2000, Halter Ranch's owner, Hansjörg Wyss, acquired the 1,600-acre property dotted with Gold Rush-era buildings. Initially, the site had just 40 acres of vines, planted largely to Rhône varieties that were sold to neighboring vintners. By 2005, Halter Ranch had expanded vineyard plantings and production for Halter Ranch wines, opening their tasting room in May of that year. They also began planning for a new, high-end gravity-flow winemaking facility. Built with a night-air cooling system and water reclamation and filtering systems, the new, sustainably designed facility opened in September 2011. Also arriving at that time were general manager Skylar Stuck and former JUSTIN winemaker Kevin Sass.
"Phase one of Halter Ranch was establishing a tasting room, wine club and a little bit of wine sales. In September of 2011, we started phase two," said Stuck. "That marked the new change, when we got a new winemaker and the new state-of-the-art winery, and really started becoming the winery we are now."
One of the first major projects for Sass and Stuck was to overhaul the property's vineyard program. "When I was making wine at JUSTIN, we were producing almost 60 percent of the fruit off this property," said Sass. "So I was very familiar with the ranch and what blocks I particularly liked and what blocks I particularly didn't like. From the start of 2011 all the way until February of 2012, we were developing and redeveloping the property to put the proper rootstocks and clones and grape varieties in the right spot. It was a very big project. Now, the great part about it is that in this last vintage we are finally starting to see this fruit. We are really excited about what the future holds."
Sass said that the level of control he has over every aspect of the estate-grown fruit has been a "blessing" for his work. He's a researcher by nature and is continuing to build up his knowledge by, for instance, fermenting different clones separately. "That's the excitement of having the ability to experiment here and having blocks that are all their own," he said. "You can really see the differences between the clones and even sometimes clones reacting to where they're planted."
Halter Ranch currently stands at just over 281 planted acres, which is about the maximum possible for the property's oak-covered rolling hills. It's about a 60/40 split between Bordeaux and Rhône varieties, with some blocks devoted to other grapes particularly suited to the area, like Tannat, Tempranillo or Petit Sirah. "We're not playing a bureaucratic game of 'Are you making Bordeaux or Rhône?'—We're in California," said Sass. "We're just trying to make the best fruit we can."
As Halter Ranch reduces the amount of fruit they sell to other wineries, they will begin to grow their own case production to 40,000 cases. Stuck said their sales plans for the production increase will rely on bolstering direct-to-consumer sales, of course, but also in continuing to obtain distribution in somewhat non-traditional wine markets, like Alabama or North Carolina. "We're really looking at opening markets," he said. "I think when people in five years are looking at our distribution maps, they will wonder why we decided to be in Alabama instead of Chicago. A lot of people have no idea Alabama is a really sophisticated, thriving wine market. We love being in these interesting niche markets. We would rather be more meaningful to distributors in fewer states than insignificant in 50 states."
The full story on Halter Ranch ~ and all our Hot Brands ~ will be available in our February 2014 issue of Wine Business Monthly. You can find it here starting Feb. 1, or come by our booth (#1620) at Unified and pick up a copy. Click here to subscribe to WBM.