Wine Business Monthly's 10th Varietal Focus features Merlot, and the tasting is happening right now! For each Varietal Focus article, contributing writer/winemaker Lance Cutler selects a varietal, picks three regions known for that variety and invites three winemakers from each region to participate in discussing their vineyard and winemaking practices as well as taste and critique each other's wines.
The tasting today is happening at Januik Winery in Woodinville, Washington. The Merlot Varietal Focus features wines from Napa, Washington and the North Fork of Long Island. The winemakers attending the tasting today are all from Washington:
Mike and Andrew Januik - Januik Winery, Kevin Mott - Woodward Canyon Winery and Casey McClellan - Seven Hills Winery. Merlots from each of these Washington wineries are being tasted in addition to: Duckhorn Vineyards, Provenance Vineyards and Burgess Cellars from Napa; Bedell Cellars, Blackbird from Anthony Nappa Wines and Shinn Estate Vineyards from the North Folk of Long Island.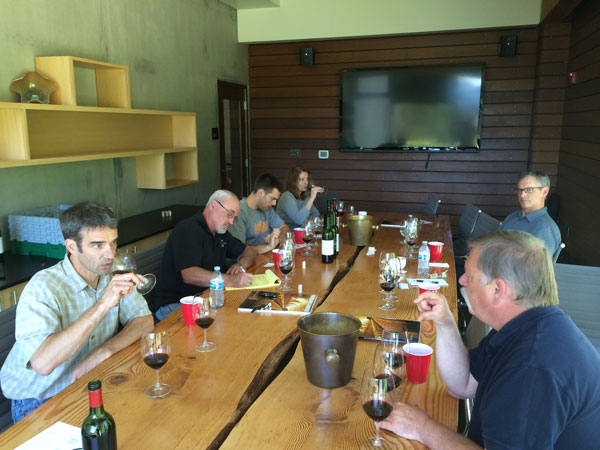 Pictured from left to right: Kevin Mott, Lance Cutler,, Andrew Januik, Mary Jorgensen,
Casey McClellan and Mike Januik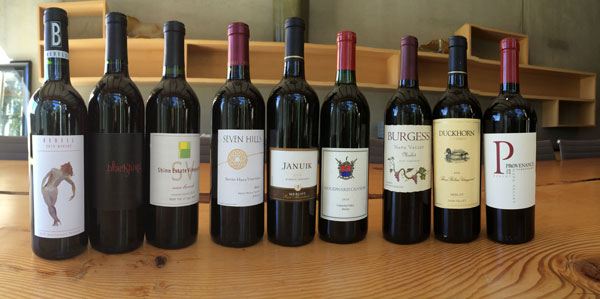 Wine Business Monthly's popular Varietal Focus Series is published twice a year in the January and September issues. The Merlot edition will be published in the January 2015 issue of WBM. Go to the WBM archives page to check out past Varietal Focuses, including, Syrah: (Feb 2011), Pinot Noir: (Sept 2011), Chardonnay: (Jan 2012), Zinfandel: (Sept. 2012), Cabernet Sauvignon: (Jan 2013), Red Blends: (Sept 2013), Riesling: (Jan 2014) and Grenache (coming Sept. 2014). Click here to subscribe to WBM.