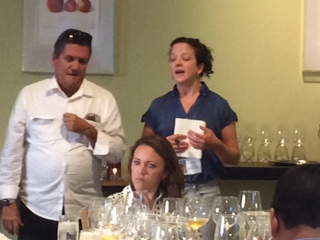 This week's trip by Cuban sommeliers through Napa and Sonoma continues and Tuesday's adventure took them to dinner at Healdsburg's Dry Creek Kitchen. The evening's wines included a Cabernet Sauvignon from Parellel Napa Valley, a Russian Hill Estate Pinot Noir, and a Chadonnay from Rarecat Wines. Rounding out the evening was a wonderful 12-year-old brandy , Korbel 12, brought to go with the Cohiba cigars that the sommeliers offered guests.
Paula Kornell, representing Parallel Napa Valley, Ed Gomez, owner of Russian Hill Estates, Sharon Harris, owner of Rarecat Wines, and Korbel 's Executive Vice President, Margie Healy, spoke to the intimate group of wine industry professionals and media about their delight in sharing the fruits of their labor, their ideas, and their knowledge with the Cuban delegation, many of whom have never been to the United States before. Fernando Fernandez (pictured with translator)– an eminent Cuban professor, master sommelier and internationally-known expert in cigars and rum, spoke for the group and conveyed his appreciation to all who are involved in helping to make their journey meaningful.
Wednesday, they were off to the Fred MacMurray Ranch (named after the star of the "My Three Sons" 1960's tv show) for a tour and tasting by MacMurray's daughter, Kate.
"We have them going to as many wineries in both Sonoma and Napa, as we can," said Steve Burns, marketing and event coordinator who helped organize the tour. "We are also bringing representatives from wineries in other counties here to meet them. We are learning a lot and having so much fun!"
Apparently lots of fun. On the return bus ride the driver decided to play the top ten Cuban songs and the sommeliers began to call out Bailar! Bailar—and everyone got up and danced!
Providing an opportunity for mutually beneficial exchanges between Americans and the Cuban people, the trip has been put together by Sonoma-based nonprofit Californians Building Bridges in partnership with the Napa Vintners Association and the Sonoma Vintners and Wine Institute—fantastico!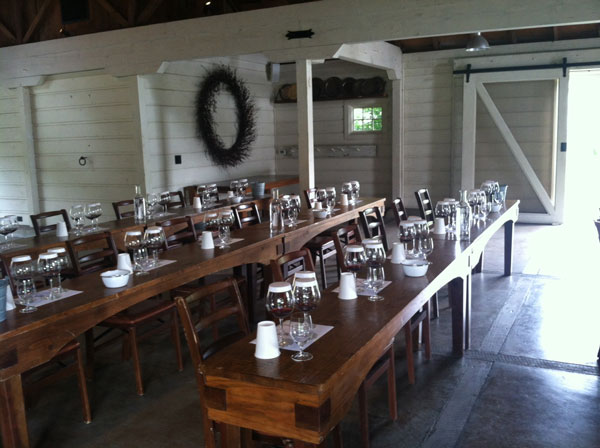 Tasting set up at MacMurray Ranch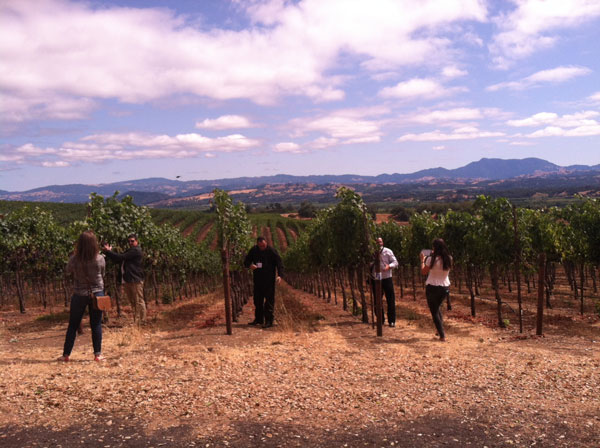 The Cuban group taking photos in the vineyards at MacMurray Ranch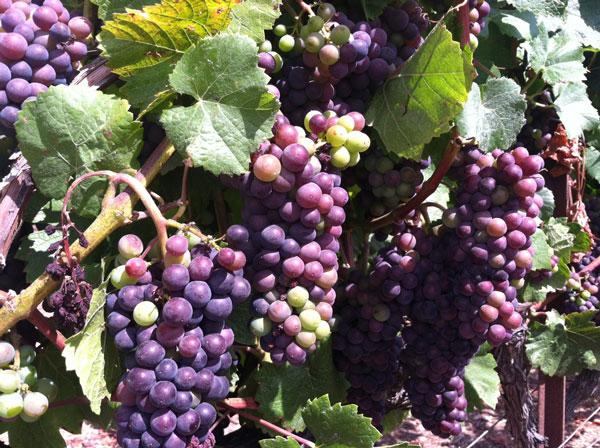 Pinot Noir going through Veraison at MacMurray Ranch