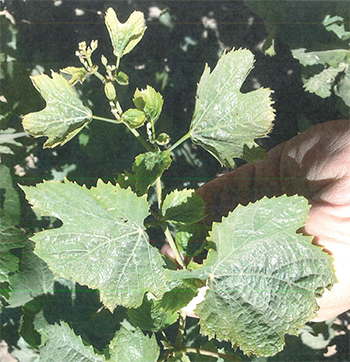 Growers in the Lodi area and in Solano County continue to assess potential damage resulting from an unprecedented pesticide drift incident that occurred in late May when a mixture of pesticides were sprayed in an attempt to eliminate weeds on Bouldin Island in the Sacramento-San Joaquin River Delta.

Amid reports that the drift caused damage in vineyards 35 miles or more, apart, thousands of acres of grapes could potentially be affected from the aerial spraying, but growers are evaluating the situation. They're trying to determine if they've been affected, what the effects are, and where to go from there.

While vine growth is an issue, the big question is whether residue from these pesticides – even in minute amounts - will show up in grapes. That's because the pesticides are not approved for use in grapes: any wine produced from contaminated grapes would be unfit for sale. The pesticides at issue also don't have maximum limits established for export countries, so residue in grapes would mean any wines made with them could not be shipped globally.

Acting San Joaquin County agriculture commissioner Gary Caseri said his department is investigating, coordinating with the department of pesticide regulation, and hopes to issue a report sometime in July. "We want to find out the full extent and reach of what happened," Caseri said.

The incident occurred after Wilbur-Ellis, an international distributor of agricultural products, animal feed and specialty chemicals, recommended an application of chemicals, reportedly for Delta Wetlands Properties, a private water investment company that owns Bouldin Island. The chemicals were applied in an effort to eliminate vegetation so the island could be flooded.
Sandra Gharib, a spokeswoman for Wilbur-Ellis, said via email that the company was engaged by the Semitropic Water Storage District to eradicate vegetation from Bouldin Island.
In response to our customer's request, we recommended two herbicides (Roundup Custom and Polaris SP), a surfactant, a modified seed oil, and a drift control agent. Polaris SP was included in the mix because it is effective against the type of vegetation found on the island.

Wilbur-Ellis sold the products to the grower, and the application was performed in May by an aerial applicator hired by the grower; Wilbur-Ellis was not involved in the application and does not have any information about it."

Wilbur-Ellis supplied product to the grower but we were not involved in the application. We don't have many facts from the grower on the application, and we are not in a position to know what mistakes may have been made during the application.

The matter is still under investigation by the San Joaquin County Ag Commissioner, and Wilbur-Ellis has undertaken its own investigation, but neither the County nor Wilbur-Ellis have reached any conclusions so we are not yet in a position to comment on what further actions we may take.

A June 10 letter issued by the company provides the following information:
Dear Customer:

We wanted to provide you with the information we have on the recent drift issues in the area around Lodi, California. We know many of you are concerned about the effects on your crops and while we don't have all the facts yet, here is what we do know.

On May 7, 2014, Wilbur-Ellis recommended an application of Roundup Custom, Polaris SP, In-Place, Cayuse, and Hasten to non-crop areas in San Joaquin and Contra Costa Counties. The producers were applied during the period May 16-20 (edited via hand to read May 15-28) by a third party applicator engaged by the owner of the target filed. We understand that some of these chemicals may have drifted east and north of the target fields, onto crops for which they may not be labeled.

The County is leading the investigation of this incident. In an attempt to determine what crops have been affected and what damage has been done, Wilbur-Ellis is conducting its own investigation. Although some effects have been identified, we do not yet know what real damage has occurred and it may take some time for this data to emerge. Any grower who believes their crops have been affected should report the damage to the County Ag Commissioner's office, so that responses can be coordinated.

If we determine that Wilbur Ellis has made any mistakes, we will correct them; Wilbur-Ellis stands behind its actions. Even if this does not prove to be the case, we are cooperating with our customers and other third parties to determine how best to proceed and we will try to update you as events warrant.

"This is a bigger problem than people realize," Bronco Wine Company chief executive Fred Franzia said. "It could be potentially devastating in the Lodi area. People can tell you, 'Fred has an axe to grind because he's got inventory,' but I don't think people are realizing the ramifications of this thing."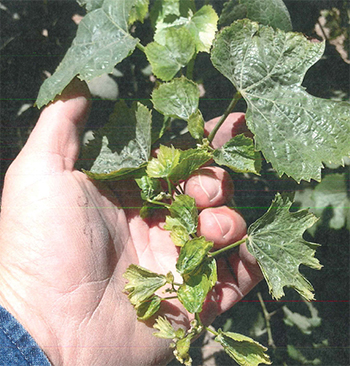 Early Reports of Damage, Residue in Vineyards
Damage varies considerably, according to one Lodi-based vineyard manager, but at the moment is affecting the external leaves and shoot tips in the canopy. Some growers think that at current damage levels, there should not be much of a quality impact. Other growers have already conducted testing with third-party labs, with samples turning up traces of Imazapyr and Glyphosate.

At least one Lodi-based crop consultant is seeing newer shoot growth now pushing secondary leaves, which is abnormal for this time of year.

The consultant says the damage is extensive and that he's advising all accounts experiencing symptoms to file loss of crop claim forms with the county and to seek legal counsel to plan for the worst case scenario while hoping for a positive outcome. He says secondary leaf growth in the vineyards may translate to potentially less fruitfulness next year or could delay maturity this year, but that it's a huge unknown, though there are reports that Polaris may cycle out of plants in 60 days.

A senior vineyard manager with a large California wine company active in Lodi said he isn't sure the incident will ultimately have long term implications, except in newly planted vineyards. "The information that is starting to filter back is that while it's stunted in some vineyards, particularly young vineyards, established vineyards are not showing any Polaris residues, there may be some Glyphosate (roundup) residue, but that could be from a number of sources," he said. "My opinion is this will come and go. What is going to happen is interested wineries will form an analytical group to sample and evaluate fruit between now and harvest looking for residues. They will be proactive. That in combination with the work Wilbur-Ellis is doing, should, provide pretty good direction prior to harvest."
"We know that there is damage," Rachel Ashly, vice president for grape resources with Treasury Wine Estates said. "We don't own any vineyards in the region but are working with our growers to monitor this."

"Most growers don't want to look for it, they want to pretend it's not on their vineyards," Franzia said. "We're going to look at every vineyard to make sure we've got grapes that aren't contaminated."

Hoping This Doesn't Get Blown Out of Proportion
Typical was a comment from Lodi Winegrape Commission Executive Director Cameron King, who said, "The region is really concerned about not raising or elevating the story."

"The individual growers are trying to keep this a little under wraps, and rightfully so, until we know something," Steve Dorfman, a partner with the Ciatti Company, a brokerage firm for bulk wine and grapes, said. "Nobody is really aware what the overall impacts will be because this is not a product that was ever used on grapevines."
While there was a recent incident in Oregon, nobody contacted for this report could recall a drift situation of this size affecting California vineyards.

Dorfman pointed out that incidents such as this can often get blown out of proportion – and that perception can become reality. He recalled the situation that occurred in 1989 after 60 Minutes reported on Alar, a coating that was used on some apples. The apple industry was decimated.

Similarly, a television report that aired in Sweden last December (link to replay with English subtitles) sensationalized the issue of "chemical residues" in wine. Sales of the largest wine brands mentioned in that report are still recovering.
"Perception is reality and we have to be very careful what comes of this until we know," Dorfman said.