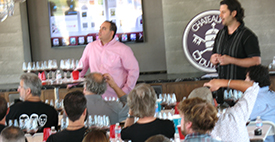 Rising from the ashes of Hospices du Rhône, which stopped producing its largest event in 2012, was the soft launch of of the first 'A7' meeting. Held June 4-5 at Paso Robles's Law Estate, 60 winemakers and viticulturists from California and France shared ideas about and wines made with Rhone varieties.
Designed to champion and bridge France and California, Jordan Fiorentini of Paso Robles's Epoch Winery welcomed the attendees explaining the intent of developing it for following years with other special guests. Ian Adamo, the sommelier at Paso Robles's Bistro Laurent, kicked things off with a blind exploration of smell and taste of varieties and blends as they appear in France and California utilizing methodology garnered from his studies in both the MS and MW programs. After lunch at the host winery Law, presentations followed including one with Victor Coulon of Beaurenard telling of his Rhone estates.
Guillaume Fabre of Paso Robles's Clos Solene shared that, "it's a good get-together to share ideas on growing and making, why we're different and similar. I think more people should come from both countries; we always learn. I'm sure we'll bring others from Australia next year."
A7, named for France's Lyon Marseille highway, is the brainchild of winemakers Fiorentini and Anthony Yount of Denner and Kinero, with his Eno Wines and Rhone fan Sasha Verhage of Google. Inclusive of meals the cost for the 2-day gathering was $250.