It's a great time to be a grower – especially in the premium segment. Demand for grapes remains strong in 2014; grape tonnage is increasing even through coastal vineyard acreage hasn't; and, though there's still a long way to go before harvest, there are signs that 2014 could bring an unheard-of third bumper crop.

Those are some observations from David Freed, chairman of The Silverado Group, who will be releasing results of the 2014 Vineyard Economics Seminar Survey on Wednesday.

Generally speaking, 2010 was not a great year in terms of demand from a grower perspective and 2011 was a disaster for many growers. Interest in grapes surged in 2012, however, as wineries scrambled to meet demand. With a record crop in 2012, one might have expected demand to wane in 2013 but that didn't happen even when 2013 brought a second bumper crop in a row. Grape demand continued to be strong until wineries ran out of room in their tanks at the end of the 2013 harvest. Demand for grapes continues to be strong in 2014.

"Usually things kick off after (the Unified Wine & Grape Symposium) but the phone started kicking off in December and it hasn't stopped," Freed told winebusiness.com. "We ended 2013 with people saying, 'No, no. We have no more room.' Suddenly they woke up in January with some of the weather anomalies and people started getting nervous."
Despite the demand for grapes, not a lot of acreage has been planted. Acreage has been relatively flat for ten years, although yields and tonnages have been increasing.

"We're getting better at what we do, are replacing tired vines with new vines, and wineries are willing to look the other way in terms of tonnages and volumes," Freed said.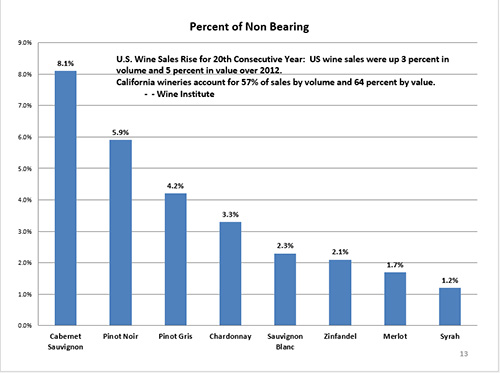 The 2014 Vineyard Economics Seminar Survey asked growers how profitable they expect to be over coming years. While 39 percent of respondents expected grape prices to go up in 2014, 68 percent think grape prices will increase in 2015 and 62 percent expect prices to increase in 2016. Freed said his own outlook is that 2014 is an incredibly strong year. "I think it's in people's minds that it's going to be a short crop," he said. "The green bar on this should be higher for 2014 – there already is a lot of pricing pressure."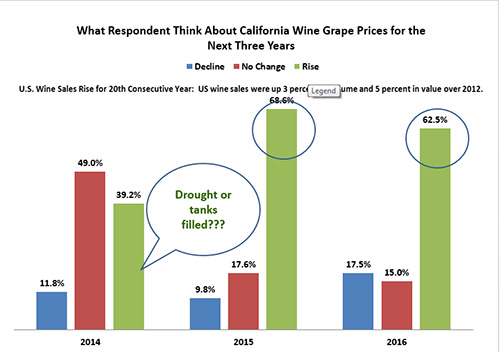 Similarly, 58 percent of respondents said they believe 2014 will be more profitable for growers than 2013 was. (The survey was taken more than a month ago - before cluster counts indicated it could be a large crop for a third year in a row in some regions).
"It's a long way from May to September, but we're using the words above average," Freed said. "It's amazing."

The survey asked about hurdles to replanting: Interestingly, Red Blotch has dipped as a possible hurdle to planting, as has the rootstock shortage, while the price of land and water availability are on most growers' minds. So how are growers dealing with the water availability issue? 71 percent are adding water saving technology in the vineyard, 42 percent are seeking previously untapped water resources, 12 percent are investing in on-site water recycling systems, and 20 percent admit that they are not prepared.