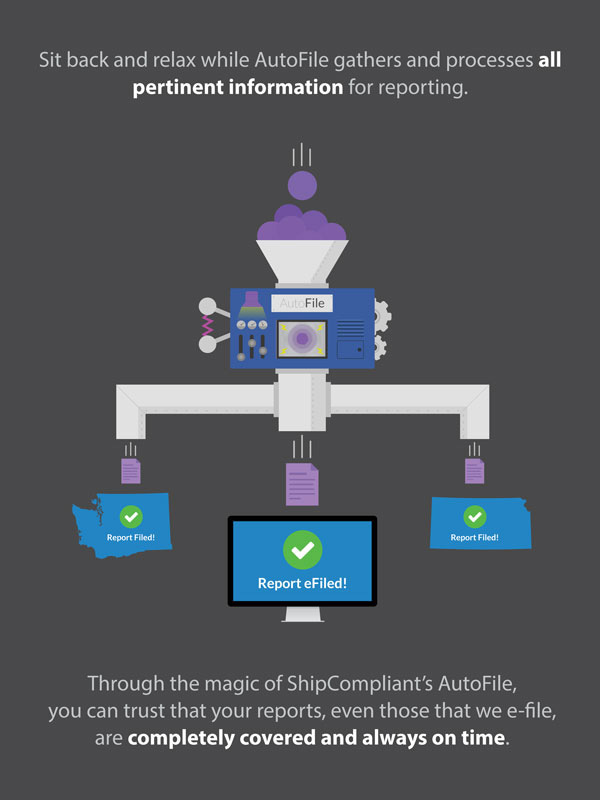 As we've reported in reader surveys, compliance related to wine shipping is considered the biggest barrier to maximizing direct-to-consumer shipping's potential.
Well, ShipCompliant has announced that it has essentially eliminated this barrier with the launch of AutoFile - technology to allow wineries to completely automate reports and tax payments for direct-to-consumer wine sales to state agencies across the country. AutoFile is being unveiled at ShipCompliant's 9th Annual DIRECT Users Conference and Seminar tomorrow in Napa Valley.
WBM spoke with ShipCompliant chief executive and founder Jason Eckenroth about the launch.
WBM: What is AutoFile?
JE: AutoFile is a new capability from ShipCompliant that means never having to touch another tax filing, another shipping report, another form, another sales tax payment, not writing another check, and not re-typing your information into a state website. All of those tasks are handled for you.
WBM: How will this save wineries money?
JE: The greatest challenge for 95 percent of wineries today is where to find the time, money, and staff needed to focus on growing their business. Even though ShipCompliant has played an integral role in assisting wineries in understanding, adhering to, and executing a compliant direct-shipping program, there still was a lot of work that had to be done. It was not a completely seamless experience. We're the first in the industry to have ever fully automated the complete compliance process end-to-end. Now direct-to-consumer compliance is on cruise control for wineries. They can focus 100 percent of their energy on growing their businesses.
Direct-to-consumer wine shipping is one of the most-regulated or highly-regulated industries in the United States and that burden is placed on small, medium, and large wineries – wineries of all sizes – wineries of all resources and capabilities and staffing. The average winery has to submit 300 reports of various formats, lengths and input methodology - per year. Some wineries submit as many as 800 reports each year. An irony of the move to e-government services is that more and more government websites are requiring our clients to retype their direct shipping and excise tax information into these online websites – which is great for the government but completely un-scalable for wineries.
WBM: What had to happen to make this happen?
JE: One of the breakthroughs came in being able to securely manage the funds remitted to the various states. This took coordination with various state agencies, it took a tremendous amount of energy and follow through into the various processes to operate a solution like this at scale.
By lowering the barrier to adhere to these rules and regulations, we hope that even more wineries will begin to ship to more states that they currently find burdensome.
WBM: So the result could be more wineries shipping to more states?
JE: It sure could. We continue to hear – particularly from small wineries – that the burden and expense of direct shipping keeps them from having full access to the market.
WBM: How will it work?
JE: Once the system is activated and the funding account is chosen by the winery, from which funds will be remitted to the various state agencies, at the end of the month, the winery will receive an email notification summarizing their direct shipping activity and their various state liabilities. If they wish to review the activity before AutoFile remits the information and the funds to the states, they can click a button, log in and review all the various reports and funds and activities that will be remitted all over the United States in detail.
If it all looks good to them, there's nothing they need to do. By the tenth of the month, all of their previous monthly, quarterly, or annual activity, depending on when – are automatically remitted around the country in all the various formats.
Later, all that information is stored per state regulation for a period of up to five years or longer if the winery wishes, in an auditable format. This is great for the accounting department – One of the big burdens is many times, wineries are cutting checks to states for less than the price of postage it takes to send it. It eliminates the inefficiency of making check requests to accounting; accounting cutting those checks; remitting it back to compliance; compliance assembling, collating and mailing that stuff in; and then the state inevitably coming back to them and saying, 'hey we didn't receive it' – and those various departments doing the research to locate the check. All of that data is available online. It's like online banking. They can even view copies of the checks that have been cut to the various states.
Some of our customers have said, "Their compliance is now on cruise control." Someone yesterday told us, "This is like Turbo-tax for wine."
What's so monumental about this, is we had been brainstorming, how we take what we do for customers to the next level. And out of that brainstorm, out of listening to our customers, came this concept of AutoFile. By automating the entire compliance process end-to-end, it feels almost like we solved it. We put this challenge of compliance for wineries to bed. It allows them to do a lot of exciting things with their business. It allows us to do a lot of exciting things with our business – and we've relegated this huge barrier to live on – like the way payroll tax lives. We don't pay attention to payroll tax – it just happens – it just goes on in the background. I'm optimistic about how fast the industry, our customers and our business can grow, now that this challenge has been met.