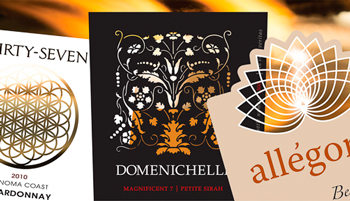 I find this laser cutting technology amazing. The intricacies of the cuts are so detailed and the extra depth they provide to a label's design add a whole new range for your package design. And, Paragon Label is the only company in the world to offer this technology. So, wineries and designers who are looking to stand out on the shelf can use this technology, and the added benefit is no one can duplicate your work.
Here is an excerpt from their web page:
Yes, we own the only Laserweb in the world. That is a pretty exclusive club. Laser cutting has been around for years and is gaining popularity quickly since it can produce some outstanding designs. What all the other laser cutters in the world cannot do, is offer interior laser cutting that will work on a high speed packaging system.

What does this mean? Our laser can cut a label to look like lace. It can cut the exterior shape of the label and also make interior cuts on the label at the same time while removing the excess material inside those cuts. This leaves a clean, delicate label that can be applied very easily. The laser does not cut into the liner so that there is no danger of liner breakage during application. A sales representative can explain this to you in greater detail, or you can come in to our factory and actually see the laser in operation. It is hard to explain, but amazing to witness.

Laser details are also good for preventing counterfeiting since no one else has the capability to create this kind of label. That's just one little benefit tied to the huge advantage of having a very distinctive look to your packaging that nobody else can duplicate.

You can read the full write up and video from Paragon Label in our Unified Guide here.
To view all product listings in our 2014 Unified Guide, start here. You can search by category or company name. Don't forget to vote for what you think is cool -- click on the target on the left.