When Wine Business Monthly creates its annual Hot Brands list, we aim to celebrate the breadth and diversity of our industry. We seek out wineries that have superior wines, creative techniques, unique sites or heartfelt philosophies behind their brands. We look for winemakers that are willing to take risks and commit to their vision regardless of the whims of the market. We like wineries and winemakers that love what they do and want to honor that love with well-developed, meaningful wines.
This year we have 10 wineries from four states and six different regions in California, and virtually all of our Hot Brands are dedicated to sustainable, organic or Biodynamic practices, and several to natural or hands-off winemaking techniques.
We are releasing the Top 10 Hot Brands in alphabetical order, one per day, leading up to the Unified Wine & Grape Symposium (plan your walk on the trade show floor here). Wine Business Monthly will be serving these wines to winemakers, grape growers and industry members at our annual gathering Bottle Bash during Unified on Tuesday, Jan. 28, 5:00-8:30pm at cafeteria 15L (1116 15th Street, Sacramento).
Vino Noceto
2008 Noceto Sangiovese, Amador County, California
Amador County Pioneers Prove the Range of Sangiovese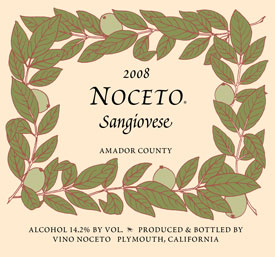 When Jim and Suzy Gullett, proprietors of Vino Noceto in Amador County's Shenandoah Valley, purchased their first parcel of vineyard land in 1984, a 21-acre walnut grove, they set themselves on a path of crafting Italian varieties in their favored Old World style. The winery's name is even a nod to both the property's past and its future, as noceto means "walnut grove" in Italian.
The Gulletts initially sought help about what to plant from wine merchant and expert Darrell Corti, who suggested the couple visit Italy on a research trip. "We knew our area was already producing Zinfandel, and we wanted to do something different," said Jim. "Darrell and a few others had swayed us toward looking at Italian varieties, particularly Sangiovese or Chianti-style wines. So, with two- and four-year-old boys, we traipsed off to Tuscany. The people we met, each spent a day with us, teaching us. We learned a lot about how we should approach Sangiovese in a California environment."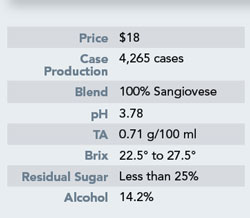 The couple planted their first vineyards in 1988, with their first vintage in 1990. Around that time, they also purchased the adjacent 18-acre property to expand their footprint in the region. Currently, they farm 24 acres of grapes (95 percent of which is Sangiovese) on 40 acres, along with walnuts, olive and lilac trees.
Sangiovese also satisfied the couple's desire to set themselves apart. "With the Sangiovese, when it started, we were one of the pioneers," said Jim. "The area was heavily Zinfandel, and there were a couple Barberas, from legacy operations. We just got more and more into Sangiovese. Also, too, it was the beginning of when everyone was excited about Italian things."
Though the trend was definitively moving toward Italian varieties, the Gulletts were more interested in being true to what their property could produce. "We wanted to make a Chianti-style wine, but you may recall in the early 1990s a bunch of folks jumped on the bandwagon, and then many of them jumped right back off. They were all trying to make wines along the lines of what Americans were expecting from Cabernet Sauvignon or Zinfandel. What we felt what was really needed was a good Chianti-style wine with good acid, a good food wine, not necessarily as extracted. That's really been our mantra.
The full story on Vino Noceto ~ and all our Hot Brands ~ will be available in our February 2014 issue of Wine Business Monthly. You can find it here starting Feb. 1, or come by our booth (#1324) at Unified and pick up a copy. Click here to subscribe to WBM.

See other 2013 Hot Brands:
Cowhorn Vineyard & Garden
Drew Family Cellars
Frogtown Cellars
Lake Sonoma Winery
LangeTwins Family Winery and Vineyards
Matthiasson
Rack & Riddle
Riverbench Vineyard and Winery
Rôtie Cellars