When Wine Business Monthly creates its annual Hot Brands list, we aim to celebrate the breadth and diversity of our industry. We seek out wineries that have superior wines, creative techniques, unique sites or heartfelt philosophies behind their brands. We look for winemakers that are willing to take risks and commit to their vision regardless of the whims of the market. We like wineries and winemakers that love what they do and want to honor that love with well-developed, meaningful wines.
This year we have 10 wineries from four states and six different regions in California, and virtually all of our Hot Brands are dedicated to sustainable, organic or Biodynamic practices, and several to natural or hands-off winemaking techniques.
We are releasing the Top 10 Hot Brands in alphabetical order, one per day, leading up to the Unified Wine & Grape Symposium (plan your walk on the trade show floor here). Wine Business Monthly will be serving these wines to winemakers, grape growers and industry members at our annual gathering Bottle Bash during Unified on Tuesday, Jan. 28, 5:00-8:30pm at cafeteria 15L (1116 15th Street, Sacramento).
Rôtie Cellars
2011 Southern Blend (Grenache, Mourvèdre, Syrah, Cinsault), Walla Walla, Washington
Complex Rhône Wines Showcasing Washington Fruit Made in a Minimalist Style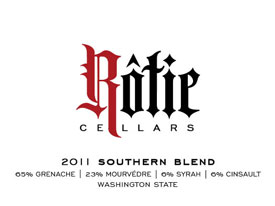 For Rôtie Cellars' winemaker-proprietor Sean Boyd, the wine industry was a welcome respite from a successful, if arduous, career as a geologist. "I was just chasing a paycheck, and it was soulless," Boyd said of the job that had him spending eight-month stretches at a time away from home. Needing to wait out a two-year, non-compete agreement that paused his life as a geologist, the Tacoma, Washington native and his family arrived in Walla Walla in 2004 with plans to learn the winemaking craft.
Within days of arriving and working in the shared cellar of two local wineries, Boyd said he fell in love with the industry. "When I got out here, I was just blown away by how open all the winemakers were," he said. "I came out with a buddy who had been making wine for about two years. I went to a barbeque, and there were three or four other winemakers sitting around a fire, roasting a large animal and talking about what they did. I knew then that this was the right step. You could feel that buzz that was happening. There was definitely a switch going off, and Washington was getting on the map. For me, I wanted to get on this before it's too late."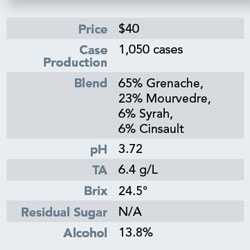 Though Boyd concedes that his geology background perhaps gives him some insight into the soils of Washington's wine regions, "my expense reports back in the geology days probably helped me the most," he laughed. "That's the main leg up: you try all of these wines and make your own opinion of what wine is. I'm not into a super-modern style of super-ripe with a lot of oak on it. I think that butchers it. I look for more subtleties and nuances."
Taking its name from the Côte-Rôtie in northern Rhône, Rôtie Cellars is an obvious homage to the Rhône varieties and style that Boyd has always preferred. The brand was launched in 2007 with two Rhône-style blends: the Northern Blend (Syrah co-fermented with Viognier, as is traditional in the Côte-Rôtie) and the Southern Blend (a Grenache-based blend: the 2011 version is 65 percent Grenache, 23 percent Mourvédre, 6 percent Syrah and 6 percent Cinsault). Though Rôtie Cellars has expanded to about 3,000 cases, these two blends still account for nearly two-thirds of production.
Boyd has a clear point of view for his wines, looking for bright, red fruit flavors made in a minimalist style. To this end, he avoids racking, leaving the wine on the lees for up to 16 months. He also avoids additions, fining or filtration unless absolutely necessary. "We're not trying to chase fads here; we're just trying to make wines that we want to drink," he said.
The full story on Rôtie Cellars ~ and all our Hot Brands ~ will be available in our February 2014 issue of Wine Business Monthly. You can find it here starting Feb. 1, or come by our booth (#1324) at Unified and pick up a copy. Click here to subscribe to WBM.

See other 2013 Hot Brands:
Cowhorn Vineyard & Garden
Drew Family Cellars
Frogtown Cellars
Lake Sonoma Winery
LangeTwins Family Winery and Vineyards
Matthiasson
Rack & Riddle
Riverbench Vineyard and Winery