Introducing the 2013 Top 10 Hot Brands ~ Rack & Riddle
January 22, 2014

When Wine Business Monthly creates its annual Hot Brands list, we aim to celebrate the breadth and diversity of our industry. We seek out wineries that have superior wines, creative techniques, unique sites or heartfelt philosophies behind their brands. We look for winemakers that are willing to take risks and commit to their vision regardless of the whims of the market. We like wineries and winemakers that love what they do and want to honor that love with well-developed, meaningful wines.
This year we have 10 wineries from four states and six different regions in California, and virtually all of our Hot Brands are dedicated to sustainable, organic or Biodynamic practices, and several to natural or hands-off winemaking techniques.
We are releasing the Top 10 Hot Brands in alphabetical order, one per day, leading up to the Unified Wine & Grape Symposium (plan your walk on the trade show floor here). Wine Business Monthly will be serving these wines to winemakers, grape growers and industry members at our annual gathering Bottle Bash during Unified on Tuesday, Jan. 28, 5:00-8:30pm at cafeteria 15L (1116 15th Street, Sacramento).
Rack & Riddle
North Coast Blanc de Noirs, North Coast, California
Austere, Low-Dosage Sparkling Wines Primed for Category Growth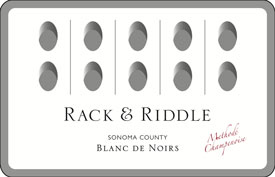 For long-time wine industry veterans and friends Bruce Lundquist and Rebecca Faust, creating their first branded sparkling wines together was a natural extension of their careers. The pair first partnered in 2006 to open what became known as Rack & Riddle Custom Wine Services, an idea that Lundquist had continually suggested over the course of their friendship. "I'd phone her up once every six months or so and say, 'Don't you think we should buy a winery?'" said Lundquist. "Eventually, around 2006, she became more interested about where that might lead."
Faust worked in finance, first as the controller at the sparkling wine house Piper Sonoma then as the CFO at Lambert Bridge Winery. Lundquist was general manager at J Vineyards, where he crossed paths with Faust, when J Vineyards purchased the Piper Sonoma winemaking facility, and was later a partner at Longboard Vineyards.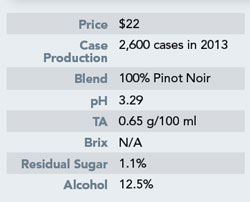 Rack & Riddle opened in May 2007 in the 100,000-square-foot Hopland facility they currently occupy. They've gone from eight employees to more than 50, growing from 70,000 cases custom-crushed to now more than a million. Rack & Riddle offers grape-to-bottles services for both still and sparkling wines. The company recently announced they'd signed a 10-year lease on a 67,000-square-foot space in Healdsburg, which will be used to expand sparkling wine operations.
Making branded wines was always planned. Because their backgrounds were in sparkling wines, they decided early on that their focus would be in that segment. With thousands of wineries in the U.S. and the explosive growth of new brands concentrated on still wines, Lundquist said that sparkling wine offers a better opportunity for growth. "I guess sparkling is kind of the tortoise as compared to the hare of still wines," he said. "It's slow and steady. There is a following for sparkling wines, and the category continues to grow, but it's definitely the tortoise as opposed to the hare."
Lundquist pointed out that the category features about 10 to 12 main producers, concentrated among the top four or five brands. Further, there has been little turnover and few new entrants into the field. "Rebecca and I look at the category and think it is plausible that if you have a well-made méthode champenoise product that you could one day find yourself with a reasonably decent level of sales and be at that 20,000- or 30,000-case level," said Lundquist. "Certainly we understand that they're not pulling the bottle once a week; but if we can get American wine consumers to pull a bottle once a month rather than three times a year, sparkling wine producers would have a hard time keeping up with demand. That's why we see the potential there."
The full story on Rack & Riddle ~ and all our Hot Brands ~ will be available in our February 2014 issue of Wine Business Monthly. You can find it here starting Feb. 1, or come by our booth (#1324) at Unified and pick up a copy. Click here to subscribe to WBM.

See other 2013 Hot Brands:
Cowhorn Vineyard & Garden
Drew Family Cellars
Frogtown Cellars
Lake Sonoma Winery
LangeTwins Family Winery and Vineyards
Matthiasson