When Wine Business Monthly creates its annual Hot Brands list, we aim to celebrate the breadth and diversity of our industry. We seek out wineries that have superior wines, creative techniques, unique sites or heartfelt philosophies behind their brands. We look for winemakers that are willing to take risks and commit to their vision regardless of the whims of the market. We like wineries and winemakers that love what they do and want to honor that love with well-developed, meaningful wines.
This year we have 10 wineries from four states and six different regions in California, and virtually all of our Hot Brands are dedicated to sustainable, organic or Biodynamic practices, and several to natural or hands-off winemaking techniques.
We are releasing the Top 10 Hot Brands in alphabetical order, one per day, leading up to the Unified Wine & Grape Symposium. Wine Business Monthly will be serving these wines to winemakers, grape growers and industry members at our annual gathering Bottle Bash during Unified on Tuesday, Jan. 28, 5:00-8:30pm at cafeteria 15L (1116 15th Street, Sacramento).
Drew Family Cellars
2011 Syrah, Valenti Vineyard, Mendocino Ridge, California
Using Sustainable, Natural Techniques to Create Meaningful Wines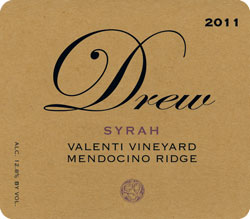 Winemaker Jason Drew, who along with his wife, Molly, owns Drew Family Cellars in the Mendocino Ridge appellation, has an extremely well-defined, spiritually influenced set of criteria in crafting his ideal wine. He seeks out challenging coastal hillside vineyards, aiming for the reward of a highly structured, complex and low-alcohol wine. It's nearly impossible to determine whether Jason Drew's chosen winemaking style leads to farming in these somewhat marginal sites or if his desire to make wines from these "edgy" sites dictates the style of wines. "It's more of a holistic situation," said Jason.
In 2005, Jason and Molly found a 26-acre heirloom apple orchard in the Mendocino County hamlet of Elk. The property now features 15 acres of organic apples, a seven-acre Pinot Noir vineyard and winemaking facilities that sit below the Drew family home. The winery's tasting room is located in nearby Philo.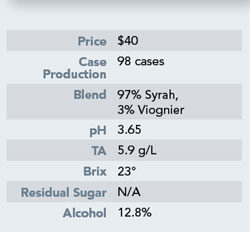 "We wanted to be on the coast because we wanted to grow cool-climate Pinot Noir and Syrah," said Jason, who was particularly drawn to the property they've dubbed Field Station Ranch because it's within sight of the Pacific Ocean. "We wanted to get edgy with the climate as far as being close to the coast. For me, it was important because I am very passionate about the structure of wine. Being in California, I wasn't concerned with getting adequate fruit intensity. I knew we'd have the fruit. The overshadowing part of it was we needed to have a place where we could count on intense structure, firm tannins and bracing acidity. If we have that, we could chisel away at other pieces."
Jason believes the "number-one feature" in winemaking is the location of the vines. His ideal vineyards are located on hillside slopes close to the ocean with thin soils and ample drainage. He prefers eastern-facing sites or ones that have ample cool sea breezes that hold vigor in check. "I think part of choosing these edgy sites goes back to structured wines and maturity of flavors," he said.
"I'm not afraid of low-alcohol wines," Jason continued. "You have to be okay with that."
The full story on Drew ~ and all our Hot Brands ~ will be available in our February 2014 issue of Wine Business Monthly. You can find it here starting Feb. 1, or come by our booth (#1324) at Unified and pick up a copy. Click here to subscribe to WBM.

See other 2013 Hot Brands:
Cowhorn Vineyard & Garden