According to early results of the 2014 Wine Busines Monthly Equipment Survey, 75.4 percent of wineries surveyed are planning on purchasing more tanks in 2014, likely a result of the large 2012 and 2013 harvests, which had a big impact on bulk wine prices and purchases. The full results of the survey will be chronicled in the March 2014 issue of Wine Business Monthly. To get your copy of the issue, subscribe here.
Have you taken the Equipment Survey yet? Your participation helps us, and all our readers, find a better pulse of what's going on in the industry. The survey won't take more than 10 minutes, and all answers are kept completely confidential. Click here to take survey!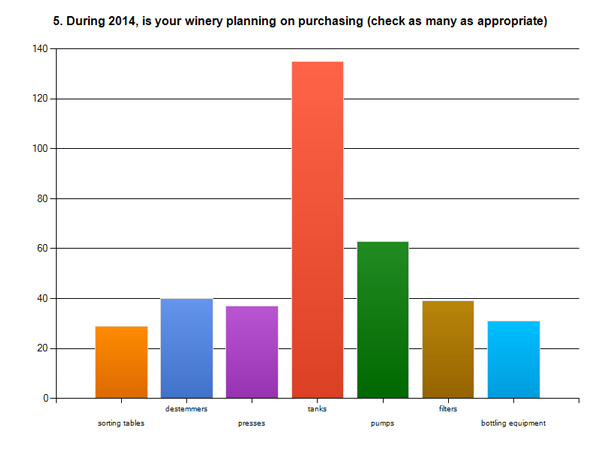 From Wine Business Insider,
"Bulk Wine Update: Prices ease as the season progresses, tanks fill up"
After two years of extremely high bulk wine prices resulting from small harvests, prices are taking a dramatic drop. The large harvest of 2012, and the expected harvest of 2013, have created high inventory levels of bulk wine, and there just isn't enough tank space to hold it. Prices have fallen accordingly, especially for late season buyers, and many are looking to sell the wine for a smaller price just to get it off their hands. This was the general consensus on the "State of Supply & Processing" Panel at the Wine Industry Financial Symposium.
"It seems like when we need the fruit we're unable to get it. Growers and wineries are open to increasing yield supply with various different growing techniques and it is changing what is happening in vineyard, when it comes to water, fertilizer, pruning and spacing," said Hugh Reimers, executive vice president and chief operating officer for Jackson Family Wines.
"Most of the bulk storage facilities are full, wineries are full, very tight, and we're seeing people make interesting decisions. We've had people say 'I really want to buy bulk wine but I don't have a tank to put it in.' and that's a challenge because that's a buyer and we'd like to sell them something, especially in this market," said Proctor. "I think basically the thought we have as we look at this bulk market in the near-term is that the 2013 crop and ensuing bulk wine it's going to produce is going to have some destructing effects on the marketplace for bulk. The question is, is that going to have a long term effect on grapes? I think that's hard to understand and it may just be more of a near-term effect versus a long term effect."
It's the spot grape purchases that have slowed as a result of the shortage in available tank space as well, and it's in this market that you'll see most of the pricing go down, according to Steve Fredericks, president at Turrentine Wine Brokerage. Prices have eased from preseason levels, and in some cases dropped $4,000 per ton.