An email from the New York Wine & Grape Foundation came across the newsdesk today, and it mentioned some bits about Riesling, which caught my eye.
Riesling is the most popular vinifera winegrape in New York State, accounting for 1,034 acres (23%) of the total vinifera plantings (4,430), with 849 acres (82%) of all Riesling in the Finger Lakes, and 341 of those (33%) in Yates County alone. The average yield is about 3.9 tons, with prices ranging from $1,300 to $1,750 per ton, and averaging $1,479.

Washington State is the largest U.S. Riesling producer, with about 5,370 acres producing 36,700 tons and about 1,500,000 cases. California ranks #2 with 4,452 acres producing 36,925 tons; and Oregon is #4, after New York, with about 700 acres, yields of 2.88 tons per acre, and price per ton at $1,090.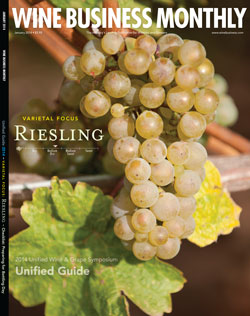 This caught my eye because it ties right in with our January issue, which we just sent to the printer last week. In our upcoming January issue, we published our next Varietal Focus by Lance Cutler, which features Riesling.
For this Varietal Focus we looked at three distinctive regions across the United States. New York state, which had some of the earliest plantings of Riesling in America, features Fred Merwarth from the iconic Hermann J. Wiemer Vineyard, Peter Weis from the equally iconic Dr. Konstantin Frank's Vinifera Wine Cellars and Nancy Irelan from Red Tail Ridge Winery. Washington state is the largest producer of Riesling in the United States and gave us Bob Bertheau and Wendy Stuckey of Chateau Ste. Michelle, Gilles Nicault from Long Shadows and Nicolas Quillé from Pacific Rim. After a long drought in popularity, Riesling has seen a resurgence in Oregon and brings Scott Neal from Coeur de Terre Vineyard, Chris Williams from Brooks winery and Nate Klosterman from Argyle Winery.
We also have two other articles on Riesling in the January issue: one covering Riesling plantings (by assistant editor Erin Kirschenmann) and another looking at Riesling wine sales in restaurants (by Liza Zimmerman).
And speaking of Riesling, in our February issue, we are publishing an Industry Roundtable on White Wine Balance (by Lance Cutler). In the roundtable, three winemakers discuss residual sugar and acidity as stylistic components and how consumer preference influence their winemaking decisions. But the discussion ultimately ended up being about Riesling. From the article:
"The first thing we learned after spending an afternoon with these winemakers is that they are passionate Riesling aficionados. Whether it was simply the three particular people we had invited, or something unique to the variety itself, conversation kept veering away from other varieties and settling on Riesling. While there were rare references to other aromatic whites, like Gewurztraminer, Muscat, Sauvignon Blanc and Pinot Grigio, when it came to the challenge of balancing residual sugar and acidity the discussion always returned to Riesling."
To read more about Riesling (and much more!), look for the January and Feburary issues of Wine Business Monthly. January will be hitting mailboxes soon, with February following next month.
Click here to subscribe to Wine Business Monthly.