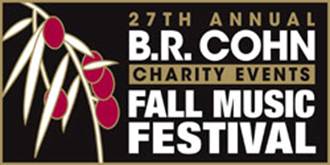 In an annual holiday tradition, philanthropist, vintner and concert promoter Bruce Cohn distributed a portion of the proceeds from his 27th Annual B.R Cohn Charity Events Fall Music Festival held in September at the B.R Cohn Winery Amphitheatre in Glen Ellen. The event is donating $35,000 to the Redwood Empire Food Bank (REFB), one of the many charities the event supports.
Each month, the Redwood Empire Food Bank provides food assistance to 78,000 children, adults and seniors in Sonoma County.
This year's festival was held in the memory of Bea Oliver, a long time stage manager of the Fall Music Festival. The festival's olive grove stage was renamed the Bea Stage. Performers this year were The Curly Wolf, Neverland Express, Paulie Hips and the Childbearers, Jaime Kyle and the Rowan Brothers.
Other proceeds from the event will go to Sonoma Valley Education Foundation, The Field of Dreams, The Guardsmen, The Station Foundation and American Legion Post 489.