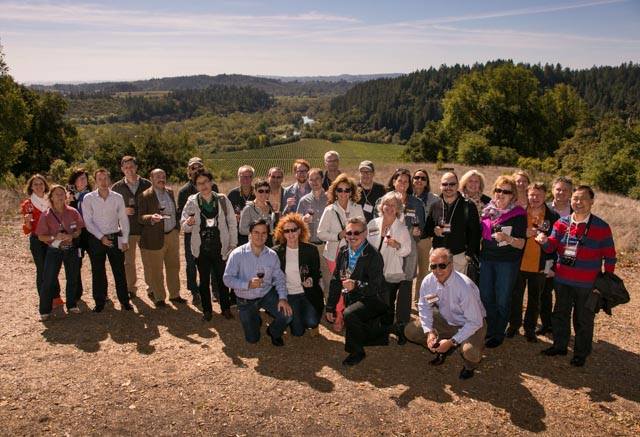 California Wine Summit at MacMurray Ranch, photos by George Rose
Wine Institute held its first international "California Wines Summit" last week, hosting international thought leaders – key buyers and journalists - from major wine export markets: Canada, the UK, Germany, Switzerland, Sweden, Japan and China. The weeklong summit of was about building California's worldwide reputation as a top wine producer.

Wine Institute has a very active trade and media visit program through its International Program, funded largely through the USDA's Market Access Program, and hosts as many as 300 guests each year. Visitors come from specific regions and the program typically includes stand-alone winery visits.

The summit was highly unusual, however, for a number of reasons. Not only did it combine representatives from several countries – many of whom are well-known and influential in the wine world, but it included the 'crème de la crème from those markets.

Each winery that hosted the group shared the stage with as many as a dozen producers. The group tasted 350 wines from more than 50 AVAs, presented by 150 vintners from across the state. They started the week with a presentation in San Francisco with included Lt. Governor Gavin Newsom, who has long been involved in the wine industry.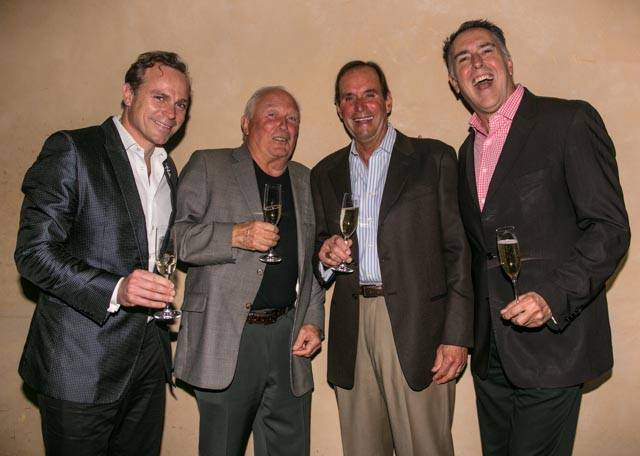 Je
an-Charles Boisset, Dan Duckhorn, Andy Beckstoffer, and Steve Burns, share a laugh at the California Wines Summit final dinner at Michael Mina in San Francisco, photo by George Rose
Another novel aspect of the program is that it included guided tastings where U.S. media served as faculty: Jon Bonné led a Chardonnay seminar, Karen McNeil led a Pinot Noir overview; Alder Yarrow presented a 2012 vintage preview; Sarah Schneider moderated a panel of Zinfandel superstar vintners from throughout California. Linda Murphy led a seminar on value wines; Charlie Olken led a tasting about age-ability.
While the group visited wineries in Napa and Sonoma, a who's who of vintners came from throughout California to participate. As Linsey Gallagher, Wine Institute Vice President of International Marketing, put it, "It was fantastic to have the industry step up at a very busy time. The guests were blown away by the full court press of the A-team of vintners that showed up."
Wine Institute is primarily a public policy organization; though in recent years it has been involved in some modest marketing programs domestically, most notably the California Wine Month program. Internationally, though, there's been a marketing program for about 25 years. Wine Institute is active in 25 counties around the world through 16 offices.

U.S. wine exports, 90 percent from California, were $1.4 billion in 2012, a record for the third straight year. Exports were up nearly 16 percent by value and on track for another record in the seven months through July 2013. The seven countries represented by the Summit visitors account for nearly 80 percent of California wine exports.