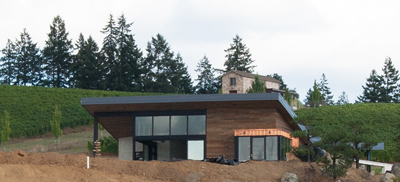 Saffron Fields, owned by two Texas-based engineers, opened its doors last week.
Sanjeev Lahoti and his wife planted the vineyard in 2007.
They still sell fruit to Tony Rynders, Chris Berg, EiEIO, and Van Duzer. The proportion of fruit they sell will decrease over time.
Tony Rynders of Tendril makes the Pinot and Chardonnay; Chris Berg of Roots wine makes the Riesling.
The vineyard and tasting room are located just down the road from WillaKenzie and Lenne Estate, in the Yamhill-Carlton AVA.
They have 22 acres of Pinot planted and 2 acres of Chardonnay. They are preparing a Japanese style garden around the very modern tasting room.
The tasting room will be open Thursday through Monday, 11 a.m.-5 p.m.