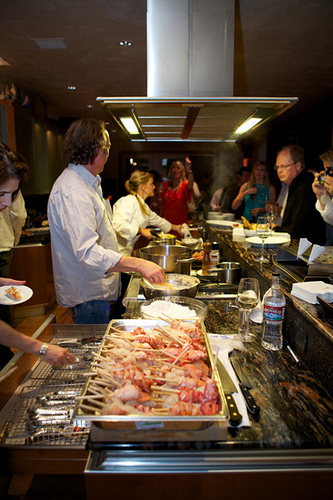 Taken at the 30/40 party at the
30th Aspen Food and Wine Classic.
Remember the lawsuit that was filed by Aspen homeowner Larry Saliterman against Jordan Vineyard & Winery and its national sales director Chris Avery last January? In a nutshell, Saliterman filed the lawsuit claiming that Jordan owed him $15,000 for "damaging his home" when the winery rented it for the 2012 Food & Wine Classic in Aspen.
You can read about the details of the full story here, but it turns out the case closed, Jordan didn't get sued and Saliterman will be paying the winery $1,519 for wrongfully withholding its security deposit, a judge ruled this week.
More important than the verdict, though, said Jordan's communications director Lisa Mattson, is that this kind of situation could happen to any winery.
Mattson said they felt strongly that the home owner was trying to take advantage of them as Jordan is a visible brand with money—and it was a company event thousands of miles from the winery, which would have made most businesses just pay off the homeowner so the lawsuit would go away. "But we fought it over the last nine months, and the court ruled in our favor," she said.
"We didn't want to see other wine or spirits suppliers get into similar situations at any wine festival where after parties are customary," Mattson continued. "This could happen to anyone in our business. We do hope that the wine industry hears about this lawsuit, so that wine suppliers pay more attention to whom they are renting homes from our business parties—and have attorneys review the rental contracts."
Below is a letter we received from Jordan's national sales director Chris Avery about this important case that Jordan Vineyard wanted to share with the industry: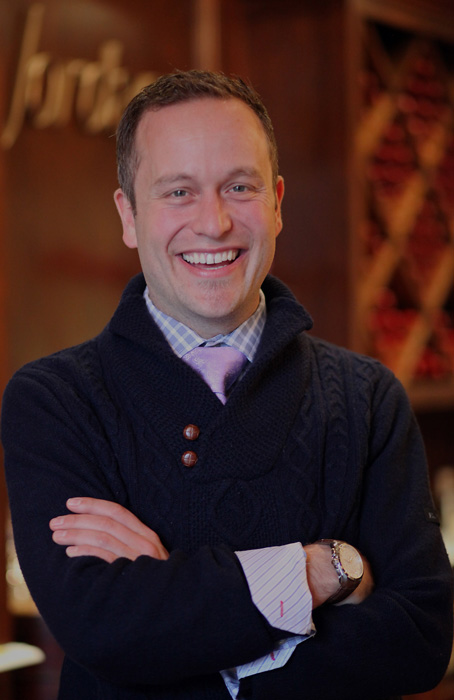 Food & Wine Classic home rental lawsuit: why we fought back and won

By Chris Avery

Like most sales directors for wineries, I rent a condo or house in Aspen each year for entertaining trade guests who are in town for the Food & Wine Classic at Aspen.

I never thought a typical wine festival business trip could put me in court, but it did. And it could happen to anyone in the wine industry. I feel compelled to share my story to hopefully keep colleagues from ending up in the same situation.

Last year, Jordan Vineyard & Winery's 40th anniversary coincided with Food & Wine's 30th anniversary, so I wanted a larger rental than usual. I ended up renting a vacation house near Wagner Park from a private individual. We agreed to a rental contract. I signed it, and it didn't seem different from any other rental transaction I've had during Food & Wine Classic at Aspen, or other wine festivals, for that matter.

Our private events hosted in Mr. Saliterman's rental property—a lunch, an evening wine tasting with hors d'oeuvres and a brunch—were all a huge success. Mr. Saliterman even came as a guest, invited friends and commented about how well the events were orchestrated.

We take our in-market hospitality as seriously as we do when entertaining customers at the winery. Our events always involve food—not just wine—and are tastefully done. It was not a raging bash. It was wine pros sipping and eating. We are professionals. The house looked great when we checked out—far better than what you'd find after six college guys spend a weekend ski vacation in Aspen. We wanted to ensure we left the house as we'd found it. After the events, our employees from the Jordan Winery staff stayed at the house and cleaned it as spotlessly as possible—even though maid service was a part of our rental contract.

Our staff, like many other winery employees, hopped on flights or in cars, and left Aspen on Monday morning pleased with another successful wine festival. That is one of the reasons why, I believe, wineries are targets for being taken advantage of when renting vacation properties far from their homes.

Soon, I learned that the home owner had refused to return our $6,000 deposit. He proceeded to file a suit requesting an additional $15,000. As a matter of principle, we decided to fight back. It would have been easier to just try to settle and make the whole situation go away, but we felt strongly we were being taken advantage of. Who really has the time or energy to argue with a home owner about whether or not the oven was dirty or the floor had a red wine stain when you are already thousands of miles away and on to planning for the next event?

Luckily, I live in Boulder, Colorado, so I was close enough to Aspen to personally deal with this situation. John Jordan, the owner of Jordan Vineyard & Winery, and I made the decision to refute the home owner's claims and see how far he was willing to take his preposterous claims on damages. After nearly a year of dealing with attorneys, summons and court appearances, our battle is finally over.

The judge ruled in our favor. As reported by the Aspen Daily News last weekend, the home owner didn't get the additional $15,000 in damages he sought, and the judge ordered him to pay us roughly $1,500 back of the $6,000 deposit he kept.

Items the home owner/landlord was seeking payment for included fees for refinishing bamboo floors, cleaning a piano, wall painting and repair, replacing a kitchen runner, and cleaning supplies, as well as penalty fees for additional party guests and additional cleaning costs. These claims were denied.

This legal battle did cost the winery in terms of legal counsel fees and my time, but we felt the expense was worth taking a stand against those who try to take advantage of weekend vacation rental occupants.

Food & Wine Classic at Aspen is an amazing event. We are honored to be a part of it, and absolutely love attending each year. The caliber of wine buyers, chefs and wineries it draws are second to none, and the event generates a great deal of money for local property owners and businesses. But what happened to Jordan is a reminder that destination wine festivals are big money makers for landlords who rent out their homes to wine industry managers who travel from around the globe to attend these events. Take my advice and make sure you rent from a reputable source—and make sure the rental agreement is reviewed carefully before signing.