Wine access device transforms how wine is served, sold, and enjoyed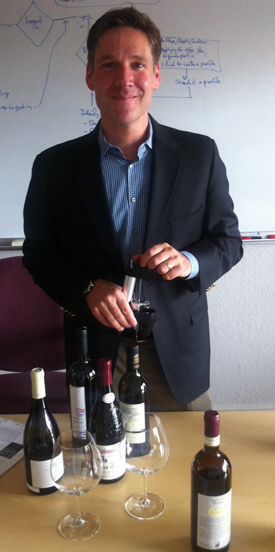 This man's invention will change the wine industry. It's downright transformational. It's a gadget that allows wine enthusiasts to enjoy wine by-the-glass without committing to the whole bottle. The device combines an advanced needle with argon gas and pressure to remove wine from a bottle while leaving the cork in place and safeguarding the wine from oxidation. Wine drinkers can enjoy and share the same bottle during multiple occasions, over weeks, months or longer without wasting any wine. They can access multiple bottles during a single occasion.

It's an overnight success to be that's been more than a decade in the making. Coravin wine access technology is launching after thirteen years of development.

At first blush, one might dismiss the notion of removing wine from the bottle without taking out the cork as a gimmick, too good sounding to be true, something that couldn't possibly work.

I was skeptical but when Greg Lambrecht demonstrated his invention, I was impressed. Lambrecht used the device to extract a couple ounces of Brunello from a bottle he'd first tapped in 2007. It tasted fresh, as if it had never been opened. Then it was my turn. I poured a glass of Martinelli Chardonnay from a bottle that had been tapped several weeks prior. It was a snap to use the device and the wine was very fresh.

Put it on the bottle, push the needle through the cork, tip the bottle, push a lever to inject gas, and the wine comes out. The gas displaces the wine in the bottle. You can pour as much as you want. When you're done, tip the bottle back up and pull the needle out. The thin, hollow needle passes through the foil and cork to access the wine. The bottle is pressurized with argon. Argon pushes the wine through the needle so it flows into the glass without letting oxygen in. When the needle is removed, the cork naturally reseals itself.
"Cork is an amazing material," Lambrecht says.
This doesn't work with screwcaps or synthetics.

Inventing A Game Changer
Greg Lambrecht is a medical device inventor and among other things, developed a vascular access port used in kidney dialysis, an implantable device that accesses the bloodstream with special needles. Lambrecht enjoyed great wine but was frustrated with wine preservation systems that didn't work after his wife became pregnant and temporarily stopped drinking wine. That's when he started to put his understanding and knowledge of needles together with his desire to have a great glass of wine without committing to an entire bottle.

Twenty-two prototypes later, there's a waiting list to order the units online, the price is $299 – argon canisters sold separately.

Winemakers have tried to use needles to pull wine from bottles in the past, but sucking wine out of a bottle creates a vacuum and basically doesn't work. Key to Lambrecht's invention was his realization that he could inflate the bottle like a balloon – that he could inject gas into the bottle, using pressure to push wine out.
The Academic Wino wrote about the patent for this device back in December.

Once he came up with this basic strategy, Lambrecht spent a decade trying to create the right combination of needle, needle size, and gas. He experimented with a variety of gasses before settling on argon. He experimented with different pressures to create a system that could deliver a great glass of wine.


"In my 34 years, Coravin is the most dramatic and transformational device ever developed to enhance our enjoyment and preservation of wine." – Robert Parker
Blind trials involved buying half-cases of the same type of a given wine. Lambrecht would access one bottle, taking out a glass. A month later, he'd come back to the bottle, pour another glass, go to another one of the six bottles – a fresh one that had never been touched - and draw a glass. Then he'd scramble the glasses, trying to taste to see if he could identify the one that had previously been poured. He'd repeat the experiment at three months, six months, a year, two years, and five years – until the right combination of needle, gas, and pressure was achieved so that he couldn't tell the difference between previously accessed wines – and wines that were brand new and untouched.

Lambrecht realized he wasn't the only person with an inhibition about opening great bottles of wine due to the dilemma of trying to finish them. He soon had his first group of investors. Coravin has raised about $11.5 million thus far.
"This Blows My Mind" - Robert Parker
Lambrecht met Wine Advocate founder Robert Parker in March. While Parker was skeptical at first, he was soon an enthusiast. Two demonstration videos of Coravin were posted to eRobertParker.com in early June. In the videos, Lambrecht demonstrates the device, while Parker calls the invention the most important in the wine world in the last 35 years and calls the possible uses "infinite." Parker notes that he's not an investor. "I just want to share this incredible discovery with Wine Advocate users," he says.
Transforming Wine Sales in Restaurants
Lambrecht envisions Coravin opening up the cellars of restaurants for serving any wine by the glass.

Restaurants that have tested it include Legal Sea Foods in Boston; Eleven Madison Park, Del Posto and Costata in New York; Acquerello, and Press Club Wine Bar and Lounge in San Francisco.
"Try Before You Buy"
Lambrecht expects Coravin will help wine retailers because customers can try before they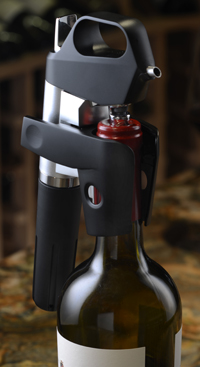 buy. "It's an incredible job to have to sell a bottle of wine for $50 or even $30 when the customer has no idea what it tastes like," he says.

Floribeth Kennedy, European Wine Buyer with The Jug Shop in San Francisco, has been experimenting with Coravin for three years. She recently made 150 wines available for customers to taste at any time. When she sent out an email explaining flights of these wines are available for tasting, some customers assumed there was a special event and that she forgot to include the date. "It's hard to comprehend this level of service at this point," Kennedy says.

Kennedy uses Coravin to pour flights focused on specific regions, philosophies, or types of wines to educate customers. That boosts sales - substantially. It's helped sell many types of wine, from Napa Cabernet to German Riesling to Borolo. The orange/natural wines that weren't moving before are now all sold. Customers no longer need to feel guilty about spending a lot of money on a wine when they don't know what it tastes like.

"It's much easier to sell a product when the people taste it and they know exactly what they're buying," Kennedy says.

Coravin will help winery and distributor reps too. Many already want the device because it can give them more time to show expensive bottles available in very limited quantities to sommeliers or chefs who are difficult to reach.

Kennedy recommends opening the bottle and finishing it off when there are just three or four ounces left because wine evolves faster with less of it in the bottle. In her experience a bottle can be accessed up to 30 times, depending on the quality of the cork (it works with punched natural cork, and with micro-agro and technical corks such as Diam).
Coravin in the Winery
Koerner "KR" Rombauer of Rombauer Wines has been using Coravin for a month and says it's a great tool for anyone in the wine business.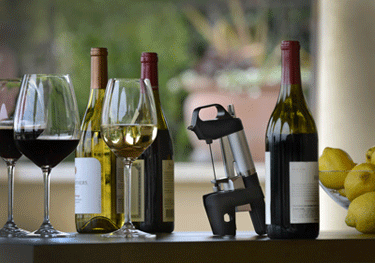 David Duncan, president and chief executive at Silver Oak Cellars, is also an early user. He calls it an "elegant solution for having a single glass of wine, noting that Coravin provides an opportunity to taste multiple bottles of wine at a time without opening them all."

"I have the ability to select and taste wines and not be like –'oh well that's a really nice bottle of wine and I don't have enough people here to share it with.'" Rombauer says. "I can access the wine and count an ounce, or half the bottle, write the date on the back of the bottle and come back to it a week later – a month later, or two months later."

"It really allows me to stretch and get so much more milage out of a bottle of wine," Rombauer says. "I'm always on the hunt for what's that next best bottle of wine. I drink wines from all over the U.S. and different parts of the world. We're never going to make better and better wines if we don't see what $50, $100, or $150 or $200, $300 or $500 bottles taste like."

Like Kennedy, Rombauer says sales staff will find Coravin helpful in terms of hitting key accounts. "This gives us the confidence to know we can sample, and or drink a wine and then open it, and that it's going to be good for a long period of time, which according to the Coravin guys, is upwards of nine months."

"What I like about the Coravin is you don't have to commit to a bottle of wine," Rombauer says. "You are just committing to a taste of wine. Then, depending on where you want to go with it, you can either open up the bottle or lay it down for three, four, five or six months."

Rombauer notes that winemakers will find the device handy for sampling bottlings for consistency without wasting wine. "If they want to sample wines from different days or times of bottling – they can line up a wine and try a number of different wines from different days and different palates and still have that wine to go back to or utilize in the tasting room."

"Let's say there's a five day bottling of a Merlot or a Cabernet and you wanted to try the morning, the mid-day break, and the end of the day wines against another day. It adds up. Now you can go ahead and try to access it knowing that you're going to sample that and here's some wine that's still good for other purposes for quite a long time."

"It's got a lot of applications that I think we'll all discover as we start moving down the path."