Paddywax, an artisan candle company that produces soy way candles and fragrance diffusers, just released its newest line of eco-friendly candles, ECO Green, made from upcycled wine bottles.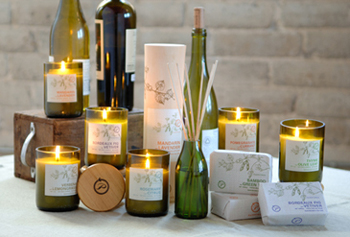 "Green and deliciously guilt-free, the ECO collection is featured in upcycled wine bottle containers and includes triple-milled shea butter and olive oil soap in 10 fragrance combinations, including two new fragrances: Grapefruit & Coriander and Blood Orange & Bergamot."
The collection includes 8 ounce candles, which retail for $17, and 4 ounce diffusers, which retail at $29, of 10different fragrances. Scents include Bordeaux fig/vetiver, rosemary/citrus and bamboo/green tea.
You can shop the Eco collection at www.paddywax.com/Shop/Eco_Green.
Other new collections include the Pattern Play (fragrances like Pineapple & Ginger, Lavender & Grapefruit and Vanilla & Wild Fig that will energize and revitalize the senses), Homegrown (features six new fragrances that blend earthy with gourmet for a farm-to-table experience) and Relish (a collection of colored, upcycled canning jars with signature scents that bring to life the fond memories behind today's trend for all things vintage).