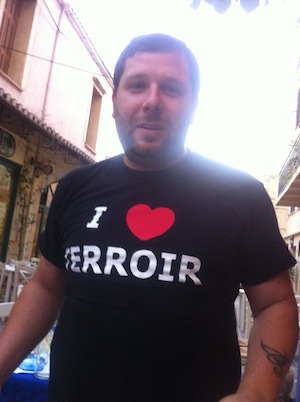 This is Afshin Molavi. Originally from Sweden, he's a sommelier living in Crete. As you can see, the front of his shirt says, "I love terroir."
The back of his shirt says, "Save Romieko."
Romeiko is a red Cretan variety, typically high in alcohol content, only grown in a small area. It is mostly used for the production of a traditional wine that is somewhat similar to a sherry.
I was told that people don't produce it the right way, that it easily gets oxidized and brown but that the old timers are used to drinking it that way.
Some young winemakers have decided to do it differently, though. They're making a tasty dessert wine. It's available only in small quantities. In the new style, winemakers collect the grapes and then sun dry them for approximately 12 days, then they ferment the grapes. Fermentation can be long – sometimes going until Christmas. The product ages in used oak barrels for quite awhile, often more than 36 months.